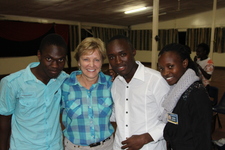 This is a guest post by Nancy Van Sciver, founder and executive director of Education For All Children, a partner of Segal Family Foundation.
When I first met Samuel, he was a street boy in Kenya. He applied for funding to attend secondary school through Education For All Children (EFAC), a Kenyan nonprofit organization (NGO) I co-founded in 2008. I'm proud to say, Samuel is another one of our success stories. He is now a local university student studying business.
Transforming a child's life comes from the support of the community, local NGOs and donors, but the real impact is seeing the systemic change that can start with just one student. Not only is Samuel a university student, he is also using his education and experience to mentor other street boys. He wants younger boys to know that there is more opportunity out there for them. They don't have to live on the streets.
I've seen Samuel's success every step of the way. As one of his advocates, I've been rewarded with one-on-one feedback, but I'm just one individual and EFAC is just a small NGO. I've struggled with a question that is all too common: Can small NGOs operating in developing countries really make a global impact if their reach stops at a few hundred beneficiaries?
My simple answer is YES. I believe that Education For All Children and similar grassroots organizations can create systemic change because of their unique understanding of the culture and communities in the countries where they work. Having local management creates trust in the NGO and their deep roots in the community ensure sustainability. EFAC has a local board and team on the ground that executes and designs the programs, ensuring that our programs are reinforced throughout the community. This intimate understanding of the local community is something that larger bureaucratic organizations have trouble duplicating.
Now that we know we CAN make a global impact, the question becomes HOW do small NGOs make a significant impact? Larger NGOs can measure their impact in the 1,000+ people they reach with their services. Smaller NGOs can't compete using the same metrics.
At EFAC, we've come to understand that even a few hundred students can create systemic change. We invest a lot of time and resources into our students. Our eight-year program provides scholarships from ninth grade through university. We also partner with 7 high schools and provide a robust and innovative year-round mentoring program for secondary and post-secondary students. The price tag of our hands-on approach and success rates is only $83 a month per student- a small cost for the opportunities gained!
Besides measuring graduation rates and enrolment in university, I measure our success in how students give back to their communities, by starting girls' empowerment programs, mentoring younger students and actively participating in the EFAC community service program. Two recent EFAC associated initiatives exemplify the kind of systemic change we create beyond the classroom.
Samwel Mwiko, an EFAC university student, founded Eagle Mentorship Group. Two other EFAC graduates helped Samwel organize a workshop with the mission of, Ensuring the youth make informed choices. The workshop had more than 75 youths in attendance. Samwel and his classmates are taking the skills they've learned into their communities to insure that other youths have the same opportunity for success that they had with EFAC.
Recently our Kenyan team, headquartered at African Nazarene University (ANU), sent six EFAC/ANU team members to assist a partner secondary school. The school was having a major issue with students' indiscipline. Our team engaged the students in focus group discussions on strategic issues and possible solutions to the problems. Working collaboratively with the school's administration and faculty, progress has been made along with a follow-up training for the peer counselors. Although this is not part of our formal program, our grassroots structure allows us to help the schools we work with to ensure a better education for the students.
Margaret Mead said, "Never doubt that a small group of thoughtful committed citizens can change the world; indeed, it's the only thing that ever has." At EFAC, we are making our global impact one student at a time. The growth is not linear, but exponential as the students and staff give back to their communities, creating positive systemic change.
Related
Popular in the Community