This post is part of the Relay for Kids in partnership with SOS Children's Villages. Each time you share this post, Johnson & Johnson will donate $1 (per action) to support children worldwide affected by crisis. Scroll to the bottom to find out more.
I have long been passionate about advocating for children, even before becoming a pediatrician over 25 years ago when I fought against child abuse as a medical student. Throughout my years as a health professional, I have had countless interactions with children that have inspired me. However, an unlikely encounter with one particular child in Harijan Basti (literally "God's children"), an urban slum in Uttar Pradesh, India, changed me forever; it deepened my commitment to giving all children an opportunity to be heard and to use their voices to change their world.
The purpose of my visit was to see the work of the Urban Health Initiative and their NGO partner, Pragati Sewa Sansthan, to increase women's access to modern contraception and family planning strategies. The lot of this low-caste community was to collect and pick through trash that was heaped in the village to identify anything potentially re-sellable.
Upon arriving in the community, I was greeted by 10-year-old Masooma, a slight girl with an engaging smile, twinkling eyes, and a presence that emanated well beyond her stunted frame. She approached me with an extended hand holding a hand-made toy parrot that she signaled was for me. As we toured the community to learn about the project, she constantly stayed by my side, persistently requesting, "I want to go to school," "I want a teacher," "Please, you can help me." Her voice and sentiment were echoed and amplified by her mother and other women in the community who deeply understood the fundamental importance of education and giving their daughters opportunities that they were never afforded. Although highly appreciative of the family planning options they now had, they knew that an education was the only way their daughters could gain upward mobility and a chance for a better life.
Masooma's request was heartbreaking, as the families were living on unregistered land -- they were nonexistent on the government's books -- without access to any services. Nearby educational opportunities were unaffordable, and many of the children, including Masooma, were tasked with caring for younger siblings and assisting with trash-picking to help keep their families afloat.
Despite the overwhelming circumstances, Masooma remained unwavering and focused on her goal. She exerted her voice with repeated requests for education throughout the day. I came to learn that she greeted each new visitor to her community with that enormous smile and her unfailing, single-minded request, "I want to go to school. Can you help us get a school and a teacher?"
Project staff decided that Masooma's request required a response. Working with the government, they found a way to get the community registered and to access educational funds. Today, the children in this community -- including Masooma -- are enrolled in school as well as receiving free school lunches, books and support with their uniforms, supplies and transportation.
I'm heartened by the dedication of the project staff who took it upon themselves to listen and act with determination to make Masooma's dream a reality. However, the image of Masooma -- a bright, young girl who understood that without an education she wouldn't have the chance to live a full and productive life -- remains most deeply etched in my mind and heart. She taught me that powerful advocates can come in very small packages, and often we don't fully appreciate or listen to the individuals who know best what they need and have the most at stake. She inspired me to be not only a better development professional with a greater appreciation for partnering with communities to create holistic solutions that meet their needs but also a better listener. She also encouraged me to dream big and remain steadfast, even when aspirations seem impossible.
I moved forward from that visit a changed individual, committed to ensuring that voices like Masooma's are given a platform and the opportunity to speak for themselves as well as others in their communities. Masooma's resolute voice and unrelenting spirit enabled the government, civil society and the community to work together to secure a viable educational future for all of God's children in Harijan Basti. With advocates like Masooma in communities throughout the world, what is there that we cannot do together when voices like hers are truly heard and responded to in compassionate and creative ways?
By sharing, you make a difference for kids in crisis: From March 23 until April 24, each time you 'like' or share this post via the social media icons above or comment in the section below, Johnson & Johnson will trigger a $1 donation (per social action) to SOS Children's Villages, the world's largest organization dedicated to orphaned or abandoned children, up to $30,000*. $1 provides food, shelter and medical care to a child in crisis. In addition, you can also Donate A Photo** and Johnson & Johnson will donate $1 when you upload a photo for SOS Children's Villages -- you can help raise up to $20,000 in seconds with the click of your mouse or snap of your smart phone.
Johnson & Johnson, SOS Children's Villages and The Huffington Post created the Relay for Kids to support children around the world who have been affected by poverty, conflict, disease and natural disasters. Visit www.sos-usa.org/relayforkids to learn more.
*Blogs must be shared between March 23 to April 24, via Facebook, Twitter, StumbleUpon, reddit, Tumblr and Google+ from the Huffington Post. Each share will trigger a $1 donation up to $30,000. There are no limits on how many times you can share a post.
** via the Donate A Photo app for iOS and Android. Johnson & Johnson has curated a list of trusted causes, and you can donate a photo to one cause, once a day. Each cause will appear in the app until it reaches its goal, or the donation period ends. If the goal isn't reached, the cause will still get a minimum donation.
Editor's Note: SOS Children's Villages is a partner of Johnson & Johnson, which is a sponsor of The Huffington Post's Global Motherhood section.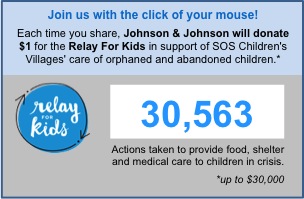 Calling all HuffPost superfans!
Sign up for membership to become a founding member and help shape HuffPost's next chapter