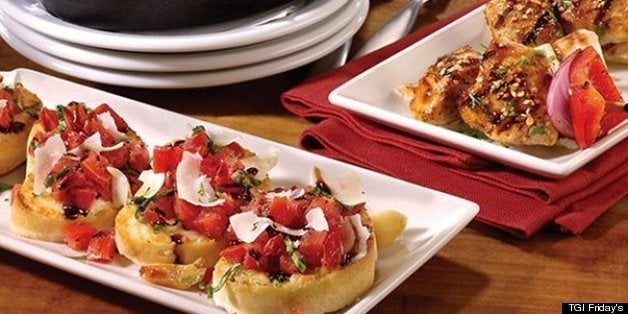 For people that go out to restaurants a lot, there's been a growing weariness of tapas-style dining. It seems like every menu has a section for "Bites" or "To Share," even prompting New York Times restaurant critic Pete Wells to offer a rant of sorts.
But while upscale diners may be ready for the next big thing in dinner-plate construction, (large-format feasts perhaps?), casual dining chains are starting to dive into small plate options.
In April, T.G.I. Friday's launched its first small-plates menu. The "Taste & Share" menu is advertised as "seven perfectly-sized, lower-priced selections that are great for splitting with friends and trying a bit of everything." The items -- which include ahi tuna crisps, garlic and basil bruschetta, and bacon mac and cheese bites -- are priced between $4.99 and $6.99.
Not to be outdone, Applebee's announced this week a "Take Two" menu, which features two dishes for the price of one, starting at $10.99. While this promotion isn't billed as small-plate dining, an Applebee's rep confirmed to The Huffington Post that besides the Green Goddess Salad, all portions on the "Take Two" menu are smaller than entrees. Red Lobster currently has a similar current offering; the Seaside Mix & Match features two dishes for $12.99.
Olive Garden also is testing a small-plates menu, reports the Orlando Sentinel. A Dallas location is offering a "Piccolini Small Plates" menu, featuring cheese and prosciutto-filled tortelloni in a parmesan cream sauce, and smoked cheeses topped with Italian sausage served with garlic ciabatta toast. The snack-sized meals sell for $4 each.
The Cheesecake Factory, a bit ahead of the game, debuted its "Small Plates and Snacks" menu back in 2009. In true Cheesecake Factory-style, there's a bit of everything, including beets with goat cheese, chicken samosas, mini corn dogs and Vietnamese tacos. Prices range from $3.95 to $6.95.
Unlike fine-dining restaurants, where small-plate offerings are slightly more experimental, casual dining chains are re-branding appetizers -- bruschetta at T.G.I. Friday's, for example -- or just creating entrees in small portions, as in the case with Applebee's and Red Lobster. It makes sense for the restaurant and the consumer, explained Darren Tristano, executive vice president of Technomic, a food and beverage market research firm.
"We've seen smaller plates coming because economically they are a lower price point for consumers," he said. "There is more customization not of the actual product but of the portion size."
Basically, people want to eat less and pay less, but sample more. Technomic's research has found this is especially true among millennials. Applebee's is taking such research to heart. The chain has just launched a campaign centered around the notion of "food envy", or wanting what other diners ordered. With "Take Two," diners can have their cake and eat it, too -- FOMO for the restaurant set.
But the restaurant also wins. While small plates are typically cheaper than entrees due to the smaller portion, they allow restaurants to make more money at higher margins.
Even as avid diners debate the future of menus, small plates aren't about to disappear anytime soon. Some of the hottest restaurants in the United States right now -- State Bird Provisions, Baco Mercat, Pearl & Ash -- are heavily devoted to the small-plate tradition. On the casual dining level, it's not just a fad, either. "We think it's here to stay," said Tristano.
So maybe instead of complaining about small plates, we should instead be worried about the end of the entree era.
Calling all HuffPost superfans!
Sign up for membership to become a founding member and help shape HuffPost's next chapter
BEFORE YOU GO
PHOTO GALLERY
Chain Food Showdown Wrap-Up