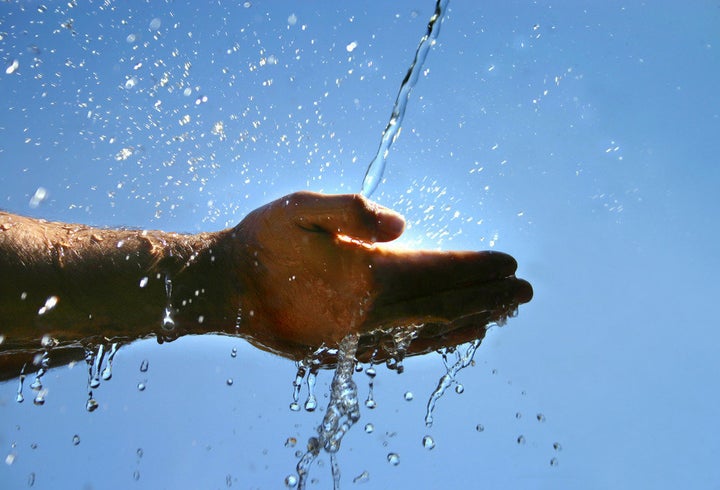 It is not uncommon for people to dismiss small steps as useless or not worth the effort. It's no different with the environment. It's easier to throw the plastic bottle in the trash than to find a recycling bin -- it's just one bottle anyway. We see it all the time. However, if lots of people think that way, that one bottle turns into a big landfill problem. But few realize that the other way around is also true: if lots of people DO recycle that bottle, then a lot less plastic ends up in the landfill.
When dealing with the environment, every small effort helps, because it adds up in so many interconnected ways. So when I see small conservation initiatives, I get excited. This is the case with rain gardens. After attending a conference at the Ronald Reagan Building in downtown Washington, DC, as I was making my way down Constitution Ave., something caught my eye: a rain garden! The Environmental Protection Agency has a rain garden outside its building, complete with an educational display: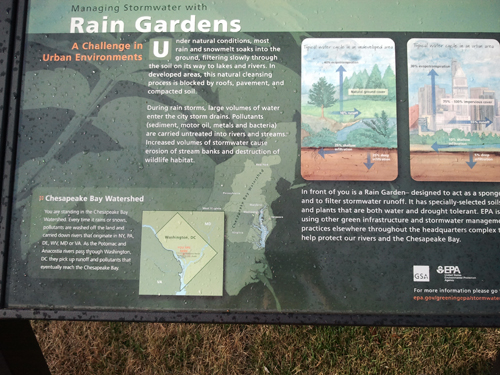 I thought it was fitting that the EPA would have a rain garden, but it crossed my mind that if most downtown buildings had rain gardens instead of plain grass lawns, the Chesapeake Bay might be faring a tad better when it comes to pollution from runoff.
For those of you who are not aware, a rain garden is a low-impact "green" infrastructure strategically placed to catch and purify runoff rainwater from impervious surfaces such as rooftops and paved areas. Not only the design but also the plants in a rain garden are chosen specifically because they have the ability to remove toxins from the water, therefore providing a buffer before it flows back to our waterways. A rain garden is easy to plant, and easy to maintain. I am sure you can see the benefits of a rain garden -- plus it IS beautiful landscaping.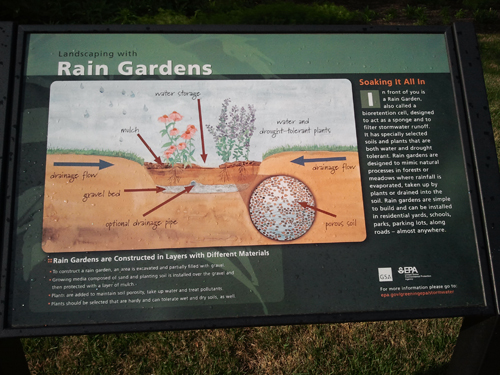 So why don't we have more of them? Probably because a lot of people don't know about them.
Enter the Youth Environmental Coalition, or Youth ECo Rain Garden Initiative, a program created by students for students, school staff and the community to learn about and engage in sustainability education and activities. This high school student-led initiative aims to spread the word about rain gardens as much as it can, and ultimately get the community involved in sustainability issues. It is starting with schools in Howard County, MD, where it planted its first rain garden this past Saturday. The long term goal is to not only educate K-12 students and communities about rain gardens, but also provide an opportunity for students to fulfill their environmental literacy requirements and to engage in an important conservation practice. The youth of today will inherit the earth of the future, and what better time to start taking care of it? They can do it, one garden at a time.
(Note: the Youth ECo Initiative is supported by the Green Building Institute, where I am a member of the Board of Directors. Photos by the author.)

REAL LIFE. REAL NEWS. REAL VOICES.
Help us tell more of the stories that matter from voices that too often remain unheard.