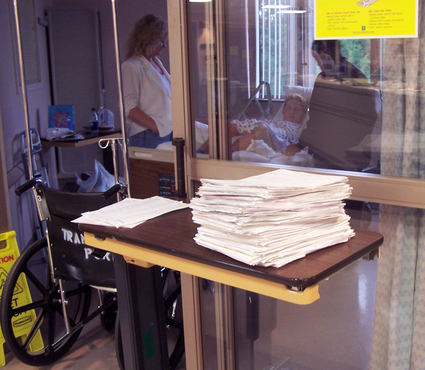 Behind the large stack of my medical records, I'm sitting in my hospital bed in room 19 of the ICU (Summer 2004) and talking with my mom and a nurse.
"I've learned that people will forget what you said, people will forget what you did, but people will never forget how you made them feel."
― Maya Angelou
Ever since I left the Intensive Care Unit, I have been on a mission to make an impact in the field of healthcare education by bringing awareness to what the patient and family are going through in the hospital setting.
As a former ICU patient, I believe in healthcare. I have ventured through the many levels and departments of the healthcare system. I have seen it up close and observed it from a distance, and I have come to understand that what it comes down to is people helping people. In some point in their life, these men and women in scrubs or lab coats were inspired to pursue this career, this calling of helping others. And in some point in their life, these people, either sick or injured, needed help.
On July 6, 2004, I was one of these people who needed help, and I needed a lot of it. After undergoing fourteen lifesaving operations in the span of two months in a coma and on life support, I awoke to a new life that was constantly being assisted and supervised by dozens of determined health care providers. This view from the world is what inspired me to want to become a healthcare advocate. I wanted to highlight the bond and friendship that can exist between a patient and their care team. I wanted to share the appreciation that a patient has for their healthcare provider and vice versa. I wanted to focus on the types of things that can ultimately improve the patient experience.
These things, can be big like learning how to walk again, or small like twitching a finger on command. In time, whether big or small, these various improvements will gradually change lives forever. I have witnessed this on a personal level many times, and that is why I'm very excited to be partnering with BMJ Quality on their Small Things Big Wins campaign. Based in London, their goal for this campaign is to celebrate the small things that people are doing to improve healthcare and make a real difference for patients. They have given me a platform to be able to share my ideas and insight regarding the patient experience, and I'm grateful that there are organizations like this that are willing to bring awareness to this issue. What I like most about the Small Things Big Wins campaign is the fact that BMJ Quality is focused on supporting the practical projects at the front line that do bring about small, meaningful changes and have the propensity to grow.
When it comes to the recovery of a patient, no matter how small an improvement is, there is still a level of improvement that is taking place. Something as subtle as the blink of an eye can be a monumental milestone because in that split second you are witnessing a speck of light in a world that had the possibility of remaining in complete darkness.
REAL LIFE. REAL NEWS. REAL VOICES.
Help us tell more of the stories that matter from voices that too often remain unheard.