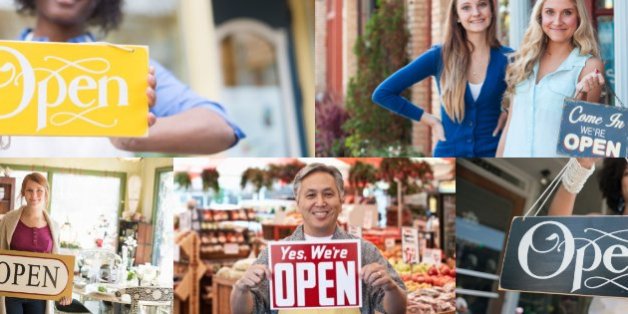 Small businesses may not make headlines as often as their big corporate counterparts, but their stories are the ones that truly encapsulate the American spirit of individualism.
With National Small Business Week happening this week, The Huffington Post is excited to announce the "Small Business Selfie" campaign, a social media initiative that aims to acquaint America with its small business owners and the vital role they play in the nation's economy.
More than half of Americans either own or work for a small business, and these enterprises create about two out of every three new jobs in the U.S. each year, according to the Small Business Administration. Since small business owners and employees comprise such a large and diverse segment of the population, it's difficult to picture exactly what life is like at one of these companies. Our hope is that the "Small Business Selfie" initiative will help bring together the small business community and show the world what life is like as an entrepreneur or small business owner.
If you're an entrepreneur, startup founder, or small business owner and would like to participate in the campaign, take a photo of yourself hard at work in your office, in front of your business, with your employees, or in the most visually amazing spot of your work area. Then, between May 12 and 16, tweet the photo from your business's Twitter account to @HuffPostSmBiz, along with a short message and the #SmallBizSelfie hashtag.
The Huffington Post may re-tweet your selfie from the HuffPost Small Business Twitter account (@HuffPostSmBiz) and several submissions may even get a re-tweet from The Huffington Post's Main Twitter account (@HuffingtonPost). Keep an eye on the #SmallBizSelfie hashtag throughout the week to see other small business owners from across the country in their place of business.
And be sure to keep an eye on the slideshow below, where we'll be adding our favorite submissions throughout the week.
For more information on National Small Business Week, click here.
PHOTO GALLERY
#SmallBizSelfie 2014