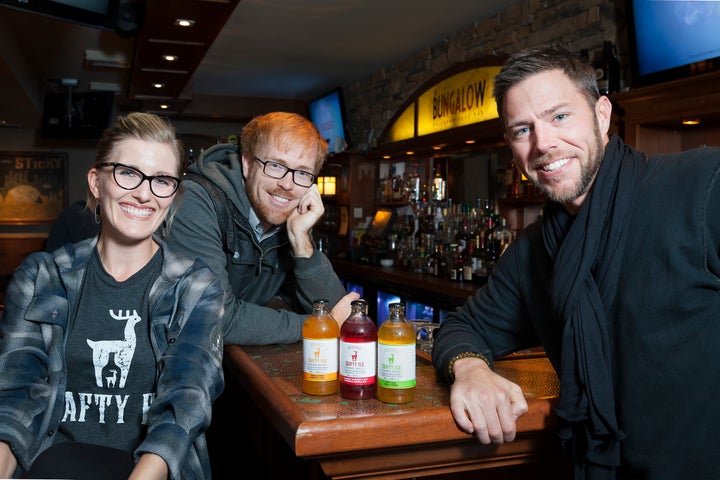 As if you needed any more excuses for a refreshing bevvy, a group known as Crafty Elk Distillery has come out with something even more enticing…smart alcohol.
No, it doesn't promise to make you smarter, but you're already smart if you choose it, according to founder Greg Gilliland.
"We're introducing this new niche of craft spirits to the market that we like to call 'smart alcohol'," Gilliland says, "because it has been crafted for the people, being formulated with real juice, no preservatives, artificial sweeteners or artificial flavors and provides a great new alternative to standard coolers."
The sparkling beverage called Crafty Elk was launched in Canada on July 23, 2017 and has been a hit everywhere it's been tested. The vodka, fruit and natural element combination is thus far unique as the first functional beverage that contains alcohol.
"We thought of our product name in a new way when one of Tony Robbins' marketers heard it and thought we were saying "crafty alc" instead of "elk," Greg says. "It just reinforced that even the name has integrity."
Downright good
The three initial flavour varieties are Mango & Honey, Cranberry, Blueberry & Acai and Kiwi & Apple. In addition to its stated hard fruit juices, these beverages also contain a craft signature blend of nature's miracles: ginger, goji berry, prickly pear and turmeric.
"The Elk is certified organic in Canada, contains no GMOs, is gluten free and has no preservatives or artificial sweeteners," Gilliland says. "It's also significantly lower in sugar than other beverages—17 grams in comparison the average cooler which contains 60 plus grams of sugar" he says.
Even the quality of the vodka used was important in the crafting of the Elk. "We use a 4.5% strength of Piedmont Italian vodka created by the Sacchetto family, who are committed to organic farming, using non-genetically modified seeds and employing sustainable environmental practices.
"Cleaner" vodka is created by fewer distillations, and Piedmont vodka is distilled only three times, compared to some vodkas distilled as many as 12 times.
"The mission is to use the vodka from this region to produce the cleanest, most refined and genuine hard juice vodka beverage that holds true to our craft," Gilliland explains. "It's really a beverage with full disclosure to its market. I like to call it a beverage with no objections."
Inspiring origins
Greg is quick to share his story of origin for the idea of Crafty Elk. "I was a young chemist from the maple forest of Canada who migrated to the Australian Gold Coast in 2009," he says. "there was something about that time, inhaling the sea breeze, the good music, great mates, exotic fruits and surf."
After long days of surfing, mates would gather at huts on the beach and mix fresh-pressed juice and vodka in hollowed-out exotic fruits. "I remembered how magical it was to sit on the beach at sundown, soaking of the majestic views and enjoying this fresh, exotic beverage."
He calls the resulting product a "craft alcohol with a fresh ocean taste that is real and raw."
And, as a result of that inspiration, the flavour combinations are also unusual, for many a welcome alternative to standard fruit flavour choices.
What hang-over?
How do these ingredients and this crafting reduce morning-after effects of drinking? "Hangovers are strongly linked to dark spirits, preservatives and other chemical compounds that cause the liver to work harder," Greg explains. "We've crafted our beverages with a high-quality cleaner vodka, low sugar and high quality ingredients to make the drinking experience much cleaner and natural, without all the nasties."
Bring it!
All these factors combine to make Crafty Elk a highly desirable drink. After having tested it at numerous concerts, festivals and trade events, people are telling Greg to get a move on and get it available more broadly. The demand stretches across Canada and into the U.S. And Greg is anxious to get it distributed to meet that demand, but first steps first.
"We're planning to launch it in British Columbia, Alberta, Manitoba and Ontario by May, 2018," Greg says, "but for now it's available exclusively through the online store of the Liquor Control Board of Ontario (LCBO)."
Popular in the Community