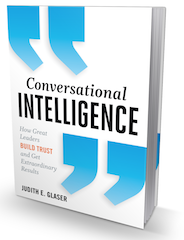 By Judith E. Glaser
I've been fascinated by IBM for decades. They are one of the few companies who have been able to figure out how to reinvent themselves radically, from a product-centric company to a services-centric company. They continue to innovate in areas beyond their corporate-footprint -- for example a spectacular initiative called Smarter Cities.
Thinking Up the Future
We all know that IBM has the ability to generate tons of data. Now they also have developed the ability to make the data "smart" and predict the future. In Smarter Cities projects they are using data to predict ways to change traffic patterns, how to restructure highways, and how to enable higher levels of urban mobility, so that cities can optimize how they make decisions around traffic flow -- flow in the future -- enabling people to move with greater ease from place to place.
Because IBM is using a systems approach, they are able to improve how cities offer their citizens services. Data enables key decision makers to make smart economic choices about growth that will make cities of the future easier to navigate. Their strategy is to get in front of the curve, seeing and transforming problems before they become problems.
Talented executives at IBM, such as Michael Dixon, are laying down a foundation of trust with cities, spawning an ability to have foresight into how to transform cities for the future. IBM is moving the needle on giving back to the world and creating more "generative thinking" about how cities and companies can co-create the future.
Dixon says of the project: "The government has been traditionally built as separate entities with specific specialization. Through the rise of interconnectivity we see people breaking down walls... asking questions that are bigger and seeing connections that we never saw before." Michael reflected, "Can I make it more attractive to get people to move through different transport systems to optimize the results.... less congestion -- flow of traffic during the day. How can this data help us translate policy differently, and influence pricing, or even to help make decisions where capital investments can be best placed?"
Co-creating Conversations Change the World
What Michael Dixon describes is what I call "Co-creation." Trust, from a neurochemical point of view, is the foundation for all collaborative thinking, Trust lives in the prefrontal cortex, also called the "Executive Brain," and is the most advanced part of our brain. Distrust lives in the Reptilian Brain, the oldest part of our brain -- which is also where fear lives. When we live in a state of fear, our brain is spraying cortisol -- the fear hormone -- everywhere, activating a lock-down in our brain in the areas that provide us with foresight, trust, collaboration, and innovative/strategic thinking. When we are threatened, distrusted, and fearful, we focus on protecting ourselves from harm. When we trust ourselves and others, our brains open up and we can access an extraordinary ability to think with foresight -- as though we have a holographic ability to process wisdom and insight out of data.
I constantly search for examples of companies and individuals who are exercising the capacity to activate "pre-frontal functions" and I track what they produce. My research around co-creation and neurochemistry leads me to believe that IBM and Michael Dixon are on to something quite spectacular.

Conversational Intelligence Goes Global
The Smarter Cities projects are examples of IBM using their Conversational Intelligence. They are asking big questions -- questions for which they have no answers -- and living in the questions, even in the face of ambiguity. They are listening to connect the dots that others are not connecting and not being afraid to explore. They are examining what at first looks like disparate data points and bringing them together to harvest bigger insights that can impact how cities are designed or redesigned, making it easier to navigate our world together. This is an example of far-reaching aspirations and it's a way to anchor "new thinking" about the really big challenges we are facing and "create a space" to think imaginatively about them without judgment
Conversational Intelligence Shapes the Future
One of the most amazing things about Conversational Intelligence (C-IQ) is that once we release the energy for "activating" C-IQ, something happens that is bigger than any one of us could imagine. As with IBM, the energy for creating transformation goes well beyond the immediate players -- it infuses a new level of enthusiasm into the cities. As conversations about the future of a city grow and expand to include more people, I learned that city leaders are beginning to realize the power of big data to bring these insights into reality. They are seeing that the changes emerging in how "traffic flows" can not only have an impact on practical everyday conveniences, they can also impact the "vital identity of the cities themselves." City leaders are seeing the rise of a greater sense of pride in their communities. People begin to ask "what are the aspirations of our cities?" and they are beginning to think in a more connected way about their cities. Cities are developing their identity through co-creating conversations!
Quality of the Conversations...
When the quality of conversations move from Level I -- where people are confirming what they know, to Level II -- where people are defending what they know -- and then into Level III -- where people are discovering what they don't know about the possibilities of the future, then something dramatically exciting happens.
Level III conversations elevate city leaders into city visionaries who are committed to getting outcomes with big impact. City leaders are evolving a more visionary way of thinking -- where "I know what I want, and I'll work with business and private sectors to make things happen." It's not just about IBM having a solution to sell, it's about companies like IBM figuring out how to partner with cities, and engage many different departments to think together and co-create together in ways they've never before imagined. And when they do, big data gets translated into big business results.
As we raise the level of conversational intelligence in projects like Smarter Cities, and increase the interconnectivity of stakeholders from government to business, from local to global, we can see people breaking down walls, listening to connect, asking questions that are bigger than they have ever asked before, and seeing extraordinary ways to improve not only our cities, but to also enhance our planet!
Judith E. Glaser, CEO of Benchmark Communications, Inc. and the Chairman of The CreatingWE Institute. She is also an Organizational Anthropologist, and author of 7 books -- 4 are business book best sellers including her recent best selling book -- Conversational Intelligence: How Great Leaders Build Trust and Get Extraordinary Results (Bibliomotion, 2013); www.conversationalintelligence.com; www.creatingwe.com; jeglaser@creatingwe.com.