Watch out, America: The Internet is about to enter your mouth. Last week, Ohio-based Beam Technologies launched a new dental insurance plan connected to its "smart" toothbrush. 
The small startup that put the first Internet-connected toothbrush online in 2012 now wants to do for dental insurance what Oscar did for health insurance, partnering with Renaissance Dental and using modern technology to make signing up for care and maintaining oral health much easier. Its secret weapon? Beam makes it easier for consumers to use the company's electric toothbrush, app and regular toothpaste shipments to brush and floss daily, monitor brushing habits, find local dentists and schedule and go to regular appointments.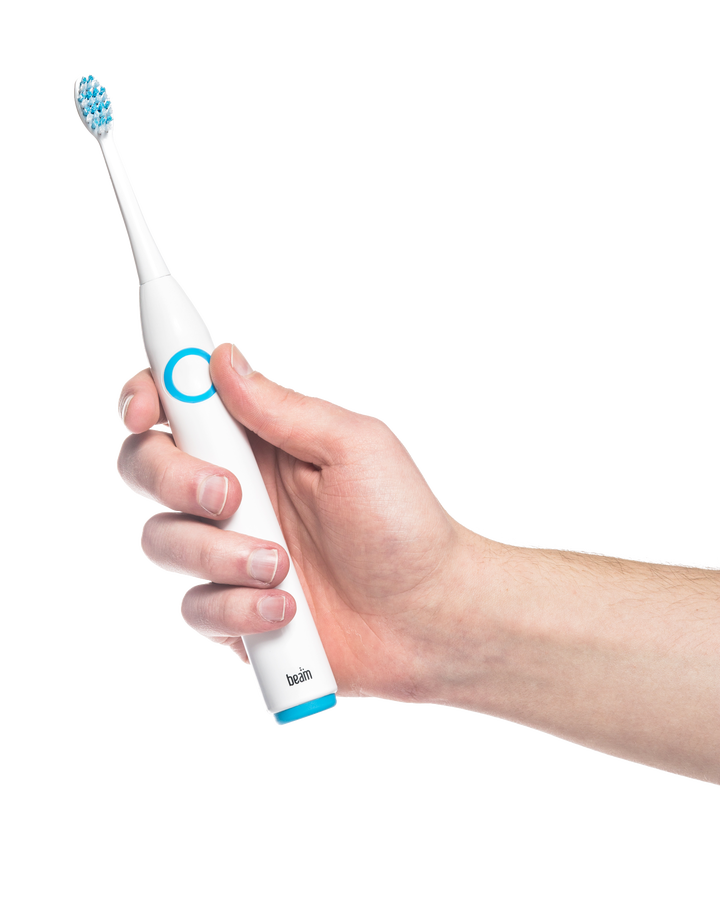 "Fundamentally, one of our big interests as a company is to make meaningful impacts on the uninsured population," the company's CEO, Alex Frommeyer, told The Huffington Post. "We think we can do this by using technology, like our Beam brush, which, like a Fitbit, can do tracking and monitoring and drive some behavioral changes."
The company says it has already seen positive changes: Beam's data shows thousands of their users have moved from brushing less (typically about 45 seconds daily) to brushing more (2 minutes, twice a day). If that behavioral change were replicated throughout the population of the United States, it would have a significant impact on dental cavities, which, according to the Centers for Disease Control and Prevention, are the most common chronic disease of children ages 6 to 11 years and adolescents ages 12 to 19 years.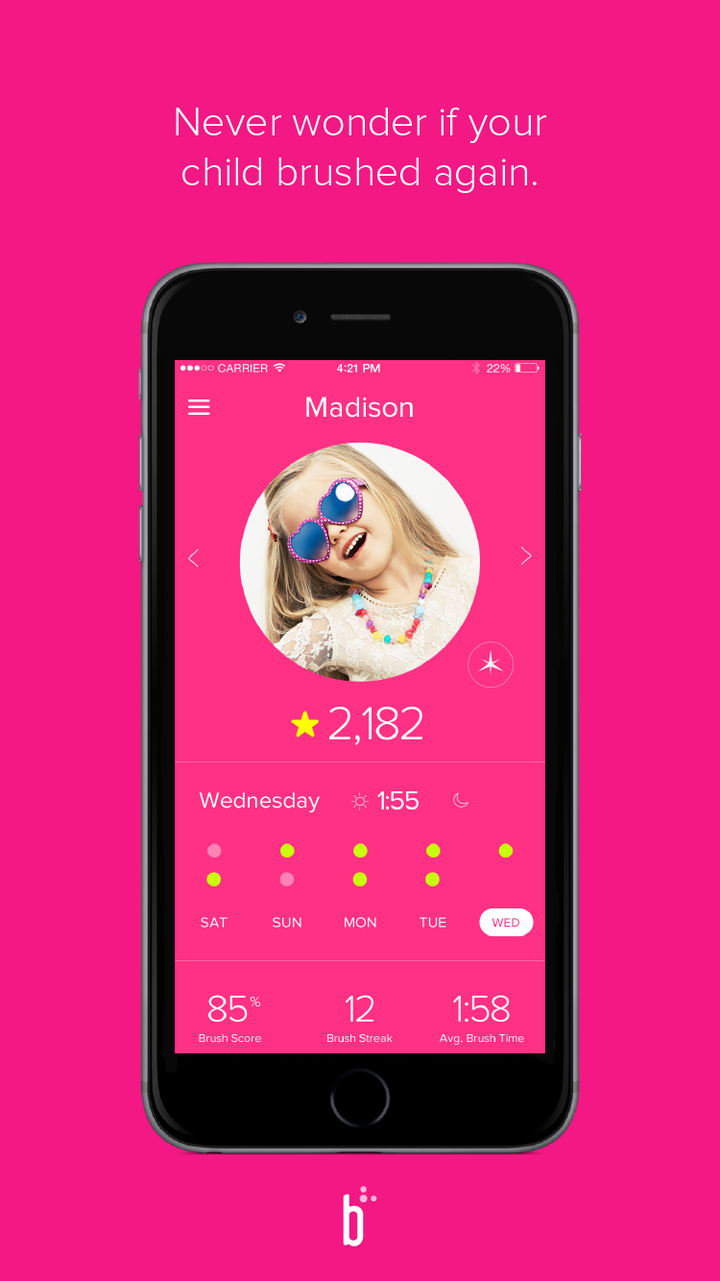 Beam has a worthy goal, and has promised not to raise customers' dental premiums based on bad behavior. But Beam could be just the beginning.
It's not hard to see the potential complications of corporations -- especially insurers -- tracking users' most mundane activities. Could some consumers, in some markets, see their premiums increase if some combination of a smart toothbrush, personal fitness tracker and smart home disclosed evidence of "bad" behavior? Might your health band of the future detect an unsteady gait after midnight and rat you out to your auto insurers -- or the authorities, if they pulled a warrant to "check your behavioral data" on the side of the road?
Soon, more insurance plans will use wearables and software to monitor customer behavior -- and reduce premiums for customers who do what the companies want. Corporations and government agencies will carefully use behavioral economics to make targeted intercessions in people's lives, shifting the defaults on financial, educational and recreational choices. People will live longer and better. We'll save more, learn more and die less. 
Welcome to a brave new world of risk, where what we pay may become tied much more explicitly to what we do. 
Imagine it: We'll say yes to a new, employer-issued Fitbit, because opting in to monitoring and a "personalized fitness goals program" gets us a 10 percent break on our monthly insurance premium -- 15 percent if we maintain an average of 10,000 steps per day. We'll say yes to the free, insurer-provided smart toothbrush and smartphone app, because our dental premiums will go down.
We might also say yes to adding an automobile dealer's tracking device for a connected car, because that will come with a discount, too -- perhaps as much as 30 percent.
Perhaps we'll say yes to traveler's insurance that is half-price so long as we let the insurer track our phone and confirm we only visited the countries on the policy. Or maybe we'll say yes to smart homes with sensors that track our energy, water and electrical use -- and give us utility (or government) rebates for meeting conservation goals. 
We might say yes to life insurance with a premium based on analysis of all of this data, filtered through actuarial software that predicts exactly how expensive it is to insure a person with a given lifestyle and medical history. Maybe our insurers will only fully cover certain treatments or advanced prosthetics if health data from wearable computers prove we're avoiding that third slice of pie or meeting physical therapy goals.
If you think that's all theoretical claptrap, think again: The insurance industry is already calling this kind of arrangement "usage-based insurance," and, according to a report by BI Intelligence, 17 million people will have tried usage-based auto insurance by the end of 2015. Nationwide and Progressive are already offering it. 
Usage-based insurance only works, however, if there are devices and sensors that are quantifying our movements and interactions and we opt in to letting companies keep it and use it.
For now, using a connected toothbrush as part of your dental insurance is an option, not a requirement. Just as health insurance and wellness plans have incorporated wearable computers like the Fitbit or Jawbone Up, corporations may become a key driver for mainstream consumer adoption of smart toothbrushes. 
Some consumers will fight employer tracking, just as some have rejected cell phone surveillance, but others will happily adopt it in return for incentives. Think of our behavior around frequent shopper cards from grocery stores and pharmacies: People willingly use them to get deals and, in return, share their shopping habits. 
Consumers, businesses and medical practices are going to want to read over the privacy policies for these connected devices carefully.
You can bet the Federal Trade Commission will be. The FTC, the nation's top consumer protection agency, has taken enforcement actions against startups and big tech companies alike over the past decade. Google, Facebook, Snapchat and Twitter are all now operating under consent decrees to protect the privacy and security of the consumer data they hold.  
Tech companies, however, are but one player in the rapidly expanding global ocean of government data, proprietary corporate data and everything in between.  
In the FTC's illustration below, released in 2012, you can see how personal data is collected and then moved between different private and public institutions over time.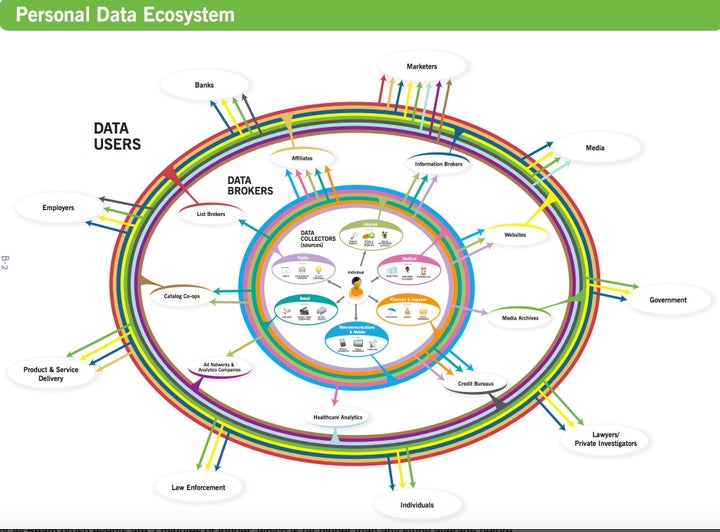 In the second illustration, also published by the FTC in 2012, you can get a sense of how data may be used after it is created.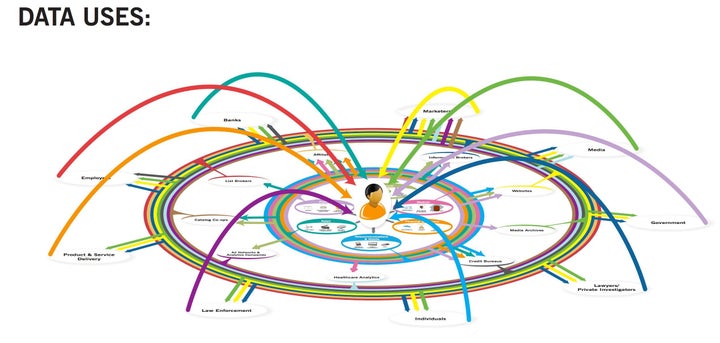 Privacy by design

, where privacy is "built in" at every stage that an application, service or product is developed.

Simplified choice

, wherein consumers are empowered to make informed decisions with clear information about how their data will be used at a relevant "time and context," including a "Do Not Track" mechanism, and businesses are freed of the burden of providing unnecessary choices.

Greater transparency

, where the collection and use of consumer data is made more clear to those who own it.
The recommendations remain a good starting point for all of the corporate entities interested in trading personal data for free web services. At its launch, Beam Dental is adopting these suggested principles, posting a virtual Q&A for the press (and public) on the Internet about what it is doing and how, including data collection and use.
Like so many startups today, Beam has focused on providing the best user experiences to mobile consumers, betting that will keep them ahead of the incumbent insurance giants as the industry is disrupted by new players.
"There's a role of technology broadly, to make a serious impact on the accessibility and affordability of the dental industry," said Frommeyer. "We think that's not only going to impact us and the insurance carrier in that market, but also it's going to impact the public health spectrum, as it relates to oral disease rates, quality of life and economic consequences."
"Insurance is the original data industry," said Frommeyer. "It's always been about data. It's always been about understanding things about users and, therefore, being able to understand risk, no matter what that risk-based product is. This isn't really a new paradigm for dental insurance, which has always been about data at some level. It's really about an expansion of our understanding of the user."
Calling all HuffPost superfans!
Sign up for membership to become a founding member and help shape HuffPost's next chapter