On July 9 and 10, over 300 girls from more than 30 states and six countries gathered under one roof in New York City for the very first Smart Girls Conference.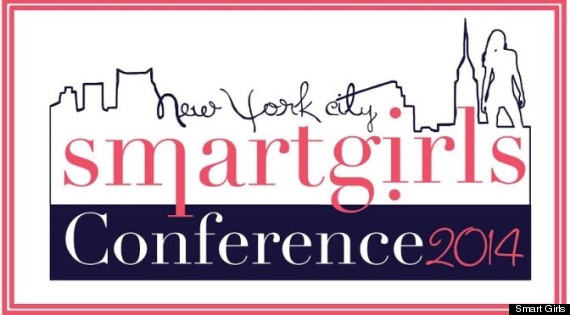 The Smart Girls story is an amazing one: Upon graduating high school, Emily Raleigh (now a rising junior at Fordham University) wrote a guide to help her younger sister succeed in high school. But instead of stopping there, Emily decided that she wanted to help other girls too. Thus, the Smart Girls Group was born. Smart Girls Group's philosophy is that every girl is a "Smart Girl" -- the group celebrates girls' smarts in whatever areas they may be, and encourages girls to be ambitious, strong-willed and confident in their own skin. Just two years later, Smart Girls Group now has an online community of hundreds of girls all over the world, a monthly magazine, a blog, chapters on high school and college campuses all over the country, online classes, a book club, and finally, an annual conference that brings the community together once a year.
I discovered SGG last fall by stumbling upon their online magazine, the Smart Girls Guide. I was drawn to the magazine because, instead of what you'd find flipping through the pages of Cosmo or Seventeen ("How to Look Perfect for Summer!", "How to get a better butt!" or "How to Text Your Crush!"), it had inspiring and brave features on girls in politics, entrepreneurship, science, social movements and more. Further, it was written by girls, for girls. It was the magazine I wish I had growing up as an adolescent girl.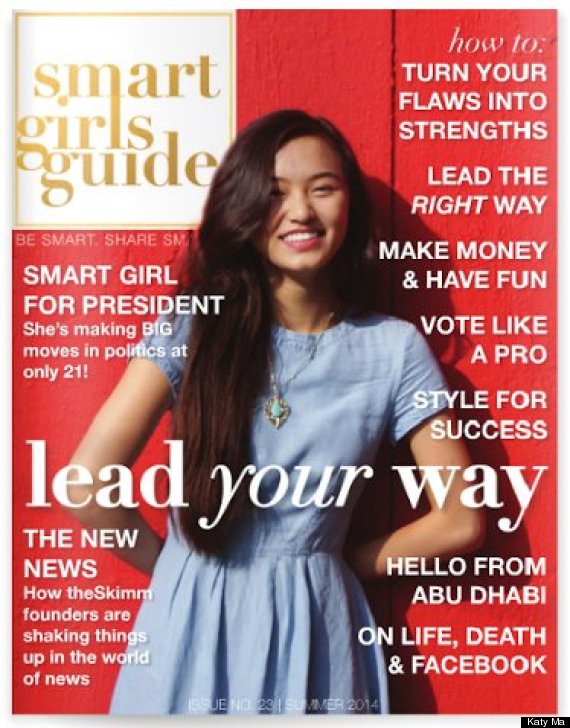 After months of reading Smart Girls Guide, I was absolutely bewildered when the editor-in-chief and fellow HuffPost blogger, Quincey, asked me to be the Covergirl of their Summer 2014 issue!
I was generously invited to be a reporter at the first annual Smart Girls Conference. Upon arrival, we were warmly greeted by Emily and her team of directors with hugs, helpful tips, and incredible enthusiasm. Each girl also received an amazing gift bag from sponsors of the conference. We then proceeded to the expo where we had the opportunity to learn about organizations like International Natural Day, She's the First, and Charity Miles, and enjoy treats from their sponsors before finding our seats inside Fordham Lincoln Center's auditorium.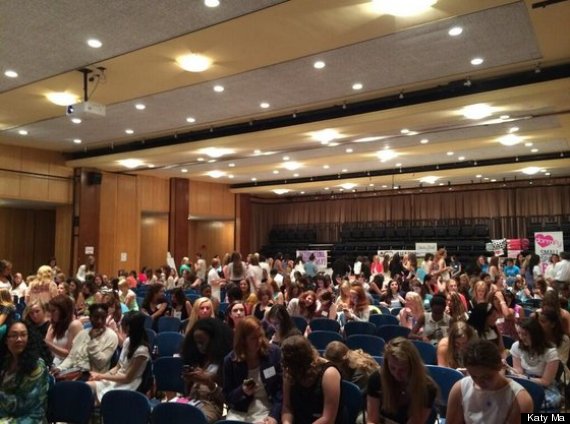 Through two days packed with panels, interviews, speakers, networking opportunities, and presentations, the conference inspired and motivated us by bringing in some of the most influential changemakers in the world. The impressive roster of speakers included Tammy Tibbetts (founder of She's the First), Shiza Shahid (co-founder of the Malala Fund), Brenda Berkman (first female firefighter of the FDNY, First Responder on September 11th), Kendall Ciesemier (founder of Kids Caring 4 Kids), Yasmina Zaidman (Director of Strategic Partnerships at Acumen), Kayla Webley (Senior Editor at Marie Claire), D'Arcy F. Rudnay (CCO at Comcast), and more. Topics ranged from "The Future of Feminism," "How to Achieve Your Dreams by 30," and "Trailblazers in Media" to activism and women in business.
It still blows my mind that a conference of this scale was organized by young women my own age. I am endlessly amazed by Emily and her staff, the speakers, and the all the Smart Girls. I saw girls grow inseparable after only meeting each other the day before, and heard testimonies from girls reflecting on how much Smart Girls has positively impacted their lives. Every girl I spoke to was passionate about something unique and supported other girls with enthusiasm and sincerity.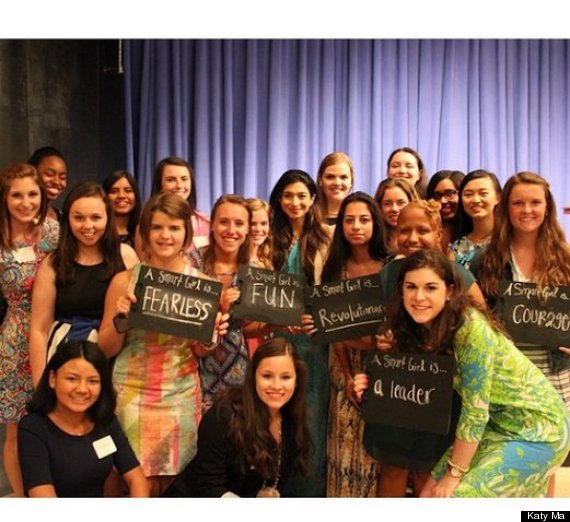 Below are some highlights from the conference:
On gender roles and stereotypes:
"Social change involves changing stereotypes about gender, girls and women. It's a long process. You're not going to snap your fingers and all of a sudden these stereotypical attitudes are going to disappear. Many of those attitudes have changed, but that's not to say they still exist in some areas. Men are restricted by gender stereotypes, the same as women. It's very difficult for people to give up power that's been given to them by race, class, or gender." --Brenda Berkman, first woman firefighter of the FDNY
On the term "feminist" as a label:
"When I grew up, feminism wasn't something that was really talked about. There's a really negative stereotype about feminism in the media. That really plays badly for young women understanding the movement. Maybe people don't want to identify themselves as feminists because of the label. But people need to understand what feminism means and educate themselves before they reject it." -- Julie Zeilinger, founder of thefbomb.org
"I'm kind of anti-label but sometimes when there's a label it makes you feel like you're not alone. Feminism gave me a community and a home." -- Kat Lazo, founder of TheeKatsMeoww
On discovering your passions:
"I tried to follow my curiosity and my passion. In high school I wanted to become a stage actress, but that didn't work out. I tried to gravitate towards things that fired me up and inspired me. I took a class on socioeconomics in college, and I found myself getting frustrated on how institutions have influenced inequality in the world. But I realized that fire, that frustration, that was my motivator. Ever since, I've been willing to open myself up to things that get me fired up like that." -- Yasmina Zaidman, Director of Communications at Acumen
"Nobody is a super woman. We shouldn't be so hard on each other & afraid of making mistakes." -- Renata Mutis Black, founder of the Seven Bar Foundation
"Even if you aren't mistreating other women, but you're accepting of it, you're a part of the problem." -- Stephanie Ruhle, news anchor at Bloomberg
"I'd tell my parents that I was going to a friend's house, and then I'd go to a protest." -- Shiza Shahid, co-founder of the Malala Fund
"In my most powerless time, I was able to be powerful for someone else." -- Kendall Ciesemier on her health struggles & work on Kids Caring 4 Kids
Thank you to Amanda Livingston for kindly allowing me to use some of the quotes she originally published in her blog for Miss Information!
Calling all HuffPost superfans!
Sign up for membership to become a founding member and help shape HuffPost's next chapter