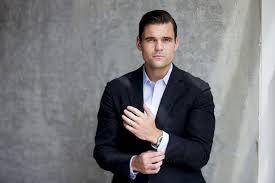 Investment banker Alex Tapscott learned about "bitcoin" a few years ago and had no idea it would drastically change his life.
"I was curious about the idea that money did not have to be issued by a central bank. It was novel," he said in an interview.
Alex and his father, tech guru and author Don Tapscott, decided to research the cryptocurrency, and its underlying computer science (blockchain technology), and in May of 2016, their book Blockchain Revolution was published.
Alex then teamed up with Dennis Bennie, a seasoned entrepreneur, and Charlie Morris, a cryptocurrency investor. The three formed NextBlock and last month they announced the close of their oversubscribed financing round, with $20 million, and became one of the world's largest blockchain venture capital firms.
NextBlock is now scouring the world for great start-ups and platforms that utilize blockchain technology.
In finance, the blockchain has the potential to replace cash and credit cards, but it already allows corporations or individuals to raise capital directly from the public without investment bankers or venture capitalists.
Understanding how blockchain works is very complicated, but at its root is a new digital medium for value. Simply put, it is a vast, global, distributed ledger where buyers and sellers can securely and privately transfer, store, and manage anything of value without using a bank or credit card. High levels of encryption protect the transaction by validating the parties involved and by preventing hacking, erasure or amendments.
Last summer, a milestone was reached when a blockchain-based venture capital entity known as the DAO (Decentralized Autonomous Organization) to raise $150 million by issuing cryptocurrency units — also known as an initial coin offering (ICO) — instead of going down the traditional money-raising route.
The U.S. Securities and Exchange Commission recently released a public statement about DAOs and ICOs, in which it found that some ICOs qualified as securities and fell under its purview.
"This came as no surprise to us and we view the decision as very positive," said Alex. "We support regulators coming into this market, as it is a big validation for the technology and will help mainstream adoption of ICOs by issuers of all kinds. The SEC provided a very nuanced perspective — saying (rightly) that certain digital assets are securities and that a facts-based approach should be applied every time to make that determination. As ICO's mature into the dominant form of capital formation, we believe compliance with the law will be the norm."
Put another way, enterprises and individuals can directly raise money from investors through crowdfunding by selling ownership using cryptocurrency instead of going through the red tape and the high cost of issuing shares or debt.
Countries, and their central banks, can do the same and blockchain technology is being studied by those who now print currencies such as the Bank of England, the Bank of Canada, the Federal Reserve in the U.S., the People's Republic of China and many other central bankers. Why?
"A Bank of England study shows that if you replace 30 per cent of traditional currency with a digital Pound, you could add three percent to the GDP," said Tapscott, who's on the Fintech advisory council of the International Monetary Fund.
For instance, a retail consumer can buy goods digitally without large credit card fees and the shopkeeper will have the proceeds deposited immediately into his bank account. This would mean lower prices for consumers and higher profit margins for the shopkeeper. To boot, encryption prevents counterfeiting, fraud, or tampering.
In mining, a blockchain digital record can permanently register core samples or contracts; and in trade, a blockchain record can enshrine bills of lading, letters of credit and contractual terms globally. Uber and AirBnB or stock exchanges can be replaced with platforms that directly link buyers and sellers without the use of large corporations in between.
Adoption accelerates as stronger protocols are devised. Already in 2017, some US$1.7 billion globally has been invested in blockchain technologies, and entrepreneurs have raised US$1.3 billion in ICOs alone. "This is more than the $400 million (Canadian) in venture capital funding worldwide," said Tapscott. "This is the future of capital markets, to be able to raise US$200 million from a global community of investors in minutes or hours."
NextBlock's Chief Investment Officer Morris says that the company will invest in three categories: Traditional equity in companies; digital tokens in platforms such as Ethereum (whose token is called Ether) as well as in apps that enable this technology; and lastly in cryptocurrencies such as Bitcoin. Anyone can buy Bitcoin or Ether from an exchange, and is similar to investing in fluctuating foreign exchange assets.
NextBlock's shareholders are institutional, individual, and hedge funds looking to benefit from, and learn more about, blockchain technology. There are only a handful of similar venture capital funds worldwide and plans are to raise another $50 million soon.
Blockchain is clearly the next "new new thing." Smart money plus the world's biggest banks, tech companies, and corporations are developing standards and protocols to insure these new asset classes — cryptocurrencies and blockchain-enabled assets — become safe and sound.
Popular in the Community