Networking is one of the most powerful tools for personal and professional advancement. Successful people know this: they introduce each other to new business opportunities, help each other's children land top internships, and invest time and energy into each other's initiatives. Successful people are surrounded by a network who help them become great.
So why do so many people avoid networking?
For most people, the first thing they think of when they hear the word 'networking' is a disingenuous personality: a person constantly searching for the biggest title in the room, with a pre-rehearsed elevator pitch and a stack of business cards they distribute relentlessly. They're insincere and ruthlessly ambitious: the very person you want to avoid.
But that isn't networking - it fails because nobody wants to have a 'networking conversation'; people are hungry for genuine conversations and real relationships.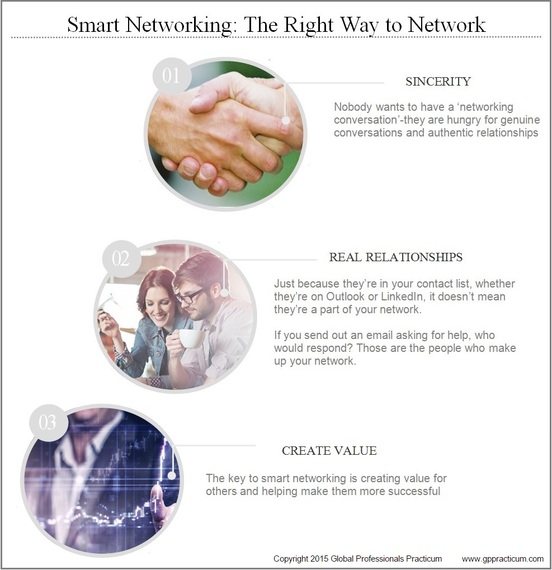 Sincerity and Genuine Relationships
The secret to smart networking is sincerity.
Many people don't realize that it is far better to have a meaningful dialogue with a few people than to have half-a-dozen insincere conversations. Keith Ferrazzi advises: "Have something to say, and say it with passion. Make sure you have something to offer when you speak, and offer it with sincerity."
Joy Taylor cautions that a network is more than just a passive list of contacts:
"Just because you have it in your Outlook, just because you have your Facebook friends or your LinkedIn friends, that's not truly a network. A network is, if I send out an email, and I need something, how many people respond? That is a network."
While we build networks by forming authentic relationships; we nurture them by providing value to others. Creating value can be anything from sharing an entrepreneur's blog post to introducing a new friend to a potential client.
Tim Sanders suggests there are two reasons why creating value for others is especially important in today's increasingly interconnected world.
Firstly, there is an abundance of choice: "At a time when more of us have more options than ever, there's no need to put up with a product or service that doesn't deliver, a company that we don't like, or a boss whom we don't respect". Secondly, "it's almost impossible for a shoddy product, a noxious company, or a crummy person to keep its, his, or her sad reality a secret anymore. There are too many highly opinionated and well-informed people with access to email, instant messaging, and the Web".
The key to smart networking is creating value for others and helping make them more successful.
In today's globalized business environment, creating value is easier and more important than ever before. We now have the option of adding value to thousands of people within our network through an endless number of websites, applications, and programs which facilitate connecting both on and offline. When done correctly, networking can help you gain influence, broaden your expertise, and find purpose and balance.
Smart networking is one of the most powerful accelerators of success. When you help others become more successful - when you make yourself indispensable to those around you - then you become truly successful.
Related