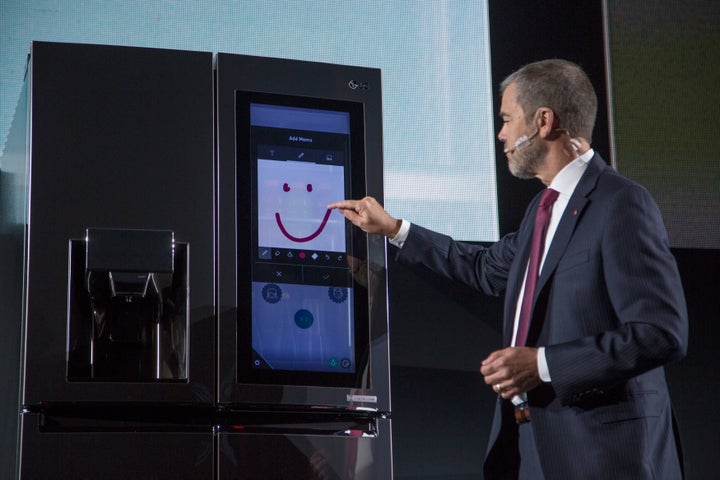 We've all been there: You're at the grocery store, staring at the carrots, trying to remember whether you still have some languishing in your refrigerator's crisper drawer.
There's no way to know without looking in your fridge, but that's impossible. Or is it? New smart technology refrigerators, such as LG's forthcoming InstaView ThinQ fridge, allow you to use your phone to remotely check on the contents of your fridge. The fridge is also equipped with Amazon's virtual assistant, Alexa, so you can ask it to create shopping lists, set food expiration dates, or tell you the weather.
The LG fridge joins the ranks of products that are connected to the internet and billed as able to make our lives easier by performing automated tasks. The global smart home market is set to explode; one study published earlier this month estimates it will reach more than $53 billion by 2022.
Thanks to constant upgrades, the release of new models and tech companies purposefully shortening the lifespan of their products ― a practice known as planned obsolescence ― people are buying new tech items more and more frequently. As appliances like washers, air purifiers, printers and stoves become more like other gadgets, it's likely consumers will be replacing them more often.
And throwing them out more often.
That means a fresh glut of used electronics going into landfills and contributing to water, soil and air pollution. Plus, making these gadgets is very resource-intensive, using metals such as lithium, cobalt and aluminum, as well as silicon wafers and plastics. There's also a human element to consider: Workers risk their health and safety by exposing themselves to hazardous chemicals while processing the waste.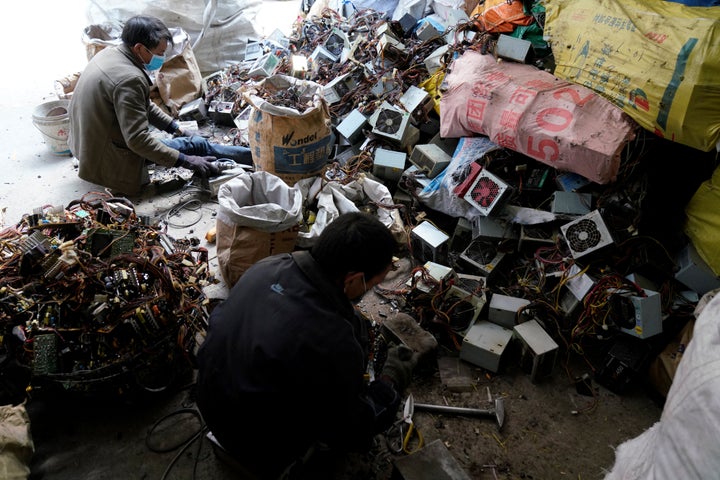 Some progress is being made with increased recycling rates and "takeback" schemes, but experts say corporations and the government need to make sure electronics are more sustainable throughout their life cycle.
"The market system is set up to ask companies to focus on profit," said Eric Williams, an associate professor of technology at the Rochester Institute of Technology and an expert on electronics waste. "Performance and price of the product are really the dominant design factors."
And some say the figure is likely far higher than what is being reported.
"I am convinced that all available stats for e-waste volumes are understated," said Bob Houghton, a pioneer of electronics recycling in the U.S. and CEO at Sage Sustainable Electronics. "There are now electronics in everything from toys to cars, which are never included in industry estimates."
This is partly because large technology and consumer goods companies have made it easier for customers to recycle their used electronics. Most big brands now offer takeback options for consumers. Apple's Renew program allows consumers to recycle any Apple device. LG operates a similar initiative that has significantly boosted the company's recycling rates. It recycled 41 million pounds of electronic devices in 2016, compared to 8 million pounds in 2010.
"There's been a major evolution over the years," said Rick Goss, senior vice president of environment and sustainability at the Information Technology Industry Council, which advocates on behalf of major technology companies.
Energy and the environment are now factored in at the very beginning of product design, Goss said.
"[Our customers] want recycling options," he said. "They are demanding it from us."
Yet huge amounts of e-waste remain in landfills. Only around 20 percent, or 9 million metric tons, of e-waste was recycled around the world in 2016.
Companies need to do more to make sure their products are easier to recycle, said Tensie Whelan, director of the Center for Sustainable Business at New York University's Stern School of Business. This means designing electronics in such a way that the toxic parts, such as lead and mercury, can be easily separated from nontoxic parts for proper disposal.
"It's a very complex challenge. I won't sugarcoat it."
But the onus is not just on corporations. Governments have a big part to play in keeping e-waste levels low. They can pass laws to stop the illegal shipping of used electronics to developing countries like India and China ― countries that often lack the infrastructure to safely recycle toxic waste, which puts people and the environment at risk.
Forty percent of e-waste given to recyclers in the U.S. was shipped to junkyards abroad, mostly in Asia, according to a 2016 report from environmental nonprofit the Basel Action Network. There is currently no federal law in the U.S. that bans the export of these goods, even though it's illegal in many other countries to import e-waste.
"We [in the technology sector] are in lockstep with governments, and what we're all trying to accomplish is to stop the illegal transfer of e-waste to countries that can't manage it," Goss said. "It's a very complex challenge. I won't sugarcoat it."
Goss acknowledged that the "innovation cycle for our products is rather fast." The proliferation of products from different manufacturers is also an issue, he added, especially from smaller manufacturers which may lack the reuse and recycling commitments of bigger companies.
John Taylor, senior vice president of public affairs and sustainability at LG Electronics USA, said customers ask for upgraded features. People want their devices to be interconnected and controllable with the click of a smartphone button, he said.
"We don't just develop these products because we think they're cool," Taylor added. "We're responding to consumer demand."
"Premature obsolescence is an ongoing issue," he said. "Devices can be difficult to repair or sometimes need upgrading to keep up with new operating systems, leading to extra purchases of new devices."
That's not to say that smart home products can't be used in a green way.
"A talking fridge that adjusts its energy use to be less intensive and helps you better manage your food so you have less food waste would be extremely useful," said Whelan of NYU.
The challenge is what happens to the fridge when it is done talking.
Clarification: Language paraphrasing Goss's remarks on the production cycle and obsolescence have been amended to reflect that the author, and not Goss, was suggesting that this results in more devices being thrown away.
For more content and to be part of the "This New World" community, join our Facebook Group.
HuffPost's "This New World" series is funded by Partners for a New Economy and the Kendeda Fund. All content is editorially independent, with no influence or input from the foundations. If you'd like to contribute a post to the editorial series, send an email to thisnewworld@huffpost.com
Popular in the Community