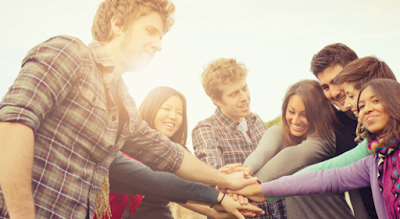 Have you ever really thought about this popular saying that "We have two hands. one to HELP ourselves....And the second one to help others?" Well, it doesn't take rocket science  to see that Our GREATEST successes in life, are often found in helping others to SUCCEED - so much so that our most lasting and fulfilling ACHIEVEMENTS are often earned by helping others fulfill an important achievement of theirs. Hmm...You think? Yeaaah! You betcha! But wait a sec...
This had me thinking of this past labor weekend, with me speaking LIVE from Africa at the 2016 WOMEN'S VIRTUAL SUCCESS SUMMIT hosted by California  based Award Winning Author & Radio Host - Iolande V. Argent, as I shared my NAKED Philosophy for Success, and how to Accept Challenges, Embrace Reinvention and Apply Creativity.
And somewhere in my session I had also mentioned my four point ASRA and how Collaboration was the fastest route to success, not because we have to think merely about being opportunists, but because we have to STRIP our covers, take off the barriers and focus more on building relationships and adding VALUE to others. To think "Hey, what can I do for you...?" or "How can I help you...?"
Something that many people never consider - "It's always what can I get from that person" "How can they be of value to me...?", rather than how YOU can give to others, whether its about building Joint Ventures, Partnerships or Just Basic Support. Why? Well, this is an alien concept for many people, maybe even worse in Africa - especially in a society with myopic CULTURAL views that often sees the world as one massive COMPETITION. In our minds, we all are playing a game, consisting of a bunch of winners and losers. And if somebody else wins, shucks... that means one less opportunity for us. Ah!
But I have come to realize that this mindset of competition is based on a somewhat FAULTY premise. The assumption– that we can't succeed together. That indeed someone has to FAIL, in other for us to succeed and thrive. That we can not be INSTRUMENTAL to other people's growth unless there's a fleeting reward in sight (right there, rears the face of a few guilty people) .
The premise that one more success in another person's life equals.... one less success in mine. Geez! But quite frankly, this thinking is INCORRECT because another person's success does not mean I have less OPPORTUNITY. In fact, another person's success can actually be my success too, if I can seize the opportunity to enable, encourage, and promote them along the way, and maybe somehow somewhere meet my own GOALS in the process!
And that's a mindset I have embraced. If the people around me WIN, Whoop! I too have won, because I am a product of the company or quality of people I surround myself with.
And that's why I keep seeking so many ways to EMPOWER, INSPIRE or ENCOURAGE others to become successful, just by being relevant to their needs either through Giving Back (Charity) or Sharing Empowering Information necessary to their goals - their own growth.
In My Motivational Audio Series - ALEX'S AUDIO DIARY 26. I talk a little bit more about this on my official blog. The subject is still very relevant, always will be. Please LISTEN to the Audio Podcast on "HELPING OTHERS GROW" HERE .
Remember, that our lives are going to find lasting SIGNIFICANCE in how we choose to live it .... and how we 'enable' others to LIVE theirs. I hope this article and AUDIO inspires you to do more for others.
Stay Authentic & Keep Winning!
NOTE : Join Me In My Effort To Change The World With My Empowering Thoughts. If You Like Today's 'Feature'....Then Don't Forget To Comment and Share This Post With Those You Love (Or Even Like A Lot). 

Got A Question? Feel Free To #AskAlexHere. If You Want Some #AskAlex Coaching or Simply Connect With Me on Twitter or at www.AlexOkoroji.me.
Calling all HuffPost superfans!
Sign up for membership to become a founding member and help shape HuffPost's next chapter
This post was published on the now-closed HuffPost Contributor platform. Contributors control their own work and posted freely to our site. If you need to flag this entry as abusive,
send us an email
.