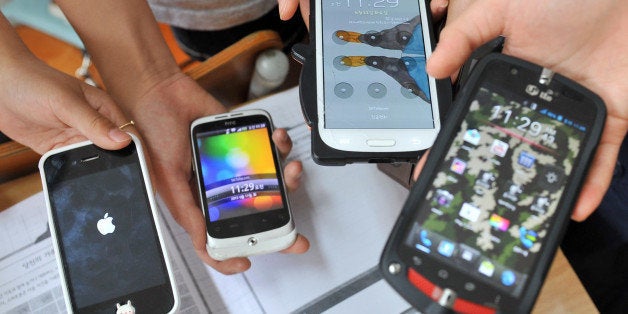 As Americans become increasingly dependent on their mobile devices, more and more of us can't seem to fathom living without one.
Forty-six percent of participants in a new Gallup poll said they agreed with the following statement: "I can't imagine my life without my smartphone." Fifty-four percent said they disagreed.
"The smartphone is transformative for those who use it, not only by making their lives better, but by becoming something of a fifth limb. Most take it with them everywhere and sleep with it, and if it goes missing -- even for a day -- four in 10 would feel a significant level of stress," wrote Lydia Saad, a senior editor for the Gallup poll.
The survey -- based on 15,747 U.S. smartphone owners interviewed online between mid-April and mid-May -- also found that 51 percent of women admitted they can't live without their smartphone, while 41 percent of men said the same. In addition, Apple users were a little more attached to their devices than Android users: 52 percent of iPhone people agreed with the poll's statement, while only 43 percent of Android users did.
We've heard these kind of figures before: In a Pew survey from April, 46 percent of smartphone users also said they "couldn't live without" their device. Last year, a HuffPost/YouGov poll also reported that 28 percent of self-reported smartphone users said they were addicted to their handset.
It's no surprise, then, that smartphone addiction has become a highly debated topic in academic circles as well as on the Internet. Research shows that excessive phone usage is often linked to depression and can even suck the fun out of your downtime.
And our reliance on smartphones is bound to deepen, according to Gallup, "as phones add even more features -- such as universal Wi-Fi and improved voice control, wallet and online shopping capabilities."
Support HuffPost
The Stakes Have Never Been Higher
Related
Popular in the Community