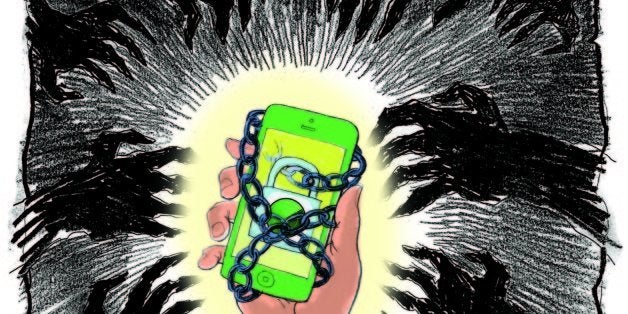 After months of resisting the idea, the smartphone industry says it is ready to introduce new anti-theft technology that could reduce the rising number of smartphone robberies nationwide.
Major smartphone manufacturers and wireless companies said Tuesday they would offer free anti-theft features on all new smartphones made after July 2015. The features, known as a "kill switch," would allow users to erase data on a stolen smartphone and lock the device so it can't be used again.
But the industry's new "voluntary commitment" still fell short of what law enforcement officials have demanded: a kill switch that is automatically activated on every phone and doesn't require users to opt-in to use it. Introducing an automatic kill switch feature that allows victims to disable their stolen devices could virtually eliminate phone thefts because criminals would no longer have an incentive to steal them, law enforcement officials have said.
About 1.6 million phones were stolen in the United States in 2012, according to Consumer Reports. Thefts of smartphones and other mobile devices increased in several major cities again in 2013, including New York, Washington, D.C., and San Francisco.
The voluntary commitment was signed by several smartphone makers, including Apple and Samsung, and major wireless carriers like AT&T, Verizon Wireless, T-Mobile and Sprint.
Steve Largent, president of the CTIA, the wireless industry group, said it was important that consumers be able to choose from a variety of anti-theft features "so that a 'trap door' isn't created that could be exploited by hackers and criminals."
"This flexibility provides consumers with access to the best features and apps that fit their unique needs while protecting their smartphones and the valuable information they contain," Largent said in a statement.
The industry's announcement comes as lawmakers are considering both state and federal legislation that would require every phone to include stronger anti-theft technology.
Wireless companies initially opposed the idea of introducing smartphones with stronger anti-theft technology, expressing concerns that a hacker could misuse a kill switch to disable stolen phones belonging to emergency personnel. But law enforcement officials have pressed companies to do more to reduce thefts and suggested that wireless carriers blocked a kill switch because it could undercut their profits from selling phone insurance.
Lawmakers and law enforcement officials said they were still not satisfied with the industry's efforts. California state Sen. Mark Leno (D), who has introduced legislation that would require every phone sold in that state to have a kill switch, called the voluntary commitment "an incremental yet inadequate step to address the epidemic of smartphone theft."
"Only weeks ago, they claimed that the approach they are taking today was infeasible and counterproductive," Leno said in a statement Tuesday. "While I am encouraged they are moving off of that position so quickly, today's 'opt-in' proposal misses the mark if the ultimate goal is to combat street crime and violent thefts involving smartphones and tablets."
In a joint statement Tuesday, San Francisco District Attorney George Gascon and New York Attorney General Eric Schneiderman, who have pressed the industry to find ways to reduce thefts, said the industry's voluntary commitment is "a welcome step forward," but "it falls short of what is needed to effectively end the epidemic of smartphone theft."
"We strongly urge CTIA and its members to make their anti-theft features enabled by default on all devices, rather than relying on consumers to opt-in," they said. "The industry also has a responsibility to protect its consumers now and not wait until next year."
Earlier this month, Samsung announced that its newest smartphone, the Galaxy S5, will include new anti-theft technology that will disable the phone if a thief tries to turn off a program that locates missing devices. The technology is similar to a feature that Apple introduced last year called Activation Lock.
A recent study found that consumers could save an estimated $2.5 billion each year on replacing phones and buying premium insurance if a "kill switch" technology significantly reduced thefts nationwide.