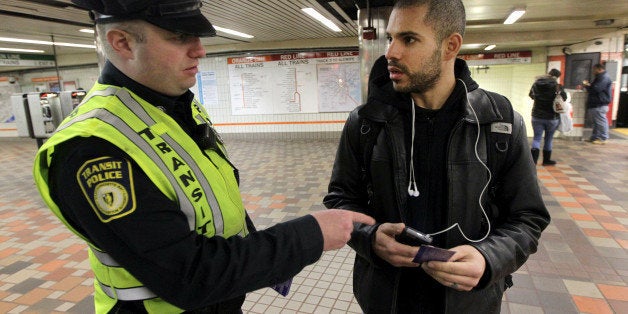 Thefts of smartphones and other mobile devices increased in major cities nationwide in 2013, despite new efforts by law enforcement and the industry to reduce what has become an epidemic of often violent street crime, according to new police figures obtained by The Huffington Post.
Nearly 2,400 cell phones were stolen in San Francisco last year, a 23 percent rise from the year before, according to police. More than half of phones stolen in the city last year were iPhones.
San Francisco police spokesman Albie Esparza said the uptick could be attributed to more people reporting phone thefts or the September launch of a new generation of iPhones, which thieves can sell for higher prices on the black market.
The department "has been aggressively trying to educate the public on smartphone theft safety to prevent being a victim of robbery," Esparza said in an email.
In New York City, 8,465 Apple products were reported stolen last year, an 8 percent increase from the year before, according to police statistics. It was the second year in a row that thefts of iPhones and iPads went up in the city.
New York City Mayor Bill de Blasio pledged during his campaign last year to add more police officers to the streets to address the growing number of robberies targeting Apple devices. He also joined a nationwide effort to pressure smartphone makers to create a "kill switch" that when activated would completely shut down a phone, reducing the incentive to steal them.
In Washington D.C., cell phone thefts increased 6 percent last year compared to the previous year, according to police. In Denver, iPhone thefts rose 22 percent last year, the Denver Post reported.
Across Philadelphia and its suburbs, there were nearly 500 cell phones stolen on the trains, buses and platforms of the Southeastern Pennsylvania Transportation Authority, or Septa, last year, a 6 percent increase from 2012 and a 44 percent spike from 2011, according to the transit agency.
The surge in phone thefts nationwide comes despite several new initiatives aimed at preventing them.
Wireless carriers have started sharing blacklists of stolen phones so they can block those devices from being reactivated on their networks. But the blacklists have thus far failed to stop thieves from snatching phones and trafficking them overseas, where they can be sold for higher prices and be reactivated on foreign wireless networks, a Huffington Post investigation found last year.
Police in New York and San Francisco have sought to disrupt the smartphone black market by launching undercover sting operations that involve a plainclothes officer pretending to hawk stolen iPhones on the streets and other officers swooping in to arrest the buyers.
San Francisco District Attorney George Gascon and New York Attorney General Eric Schneiderman launched their "Secure Our Smartphones" initiative last summer aimed at pressing the industry to adopt technology that could make stolen phones worthless to thieves. More than 100 officials from across the country -- including attorneys general from six states and district attorneys and high-level police officials from eight major cities -- have joined the effort.
Since then, Apple and Samsung have announced new security features that they said would allow consumers to render their devices useless once stolen.
Schneiderman spokesman Damien LaVera urged patience in response to the uptick of smartphone thefts in 2013.
"While there have been important steps forward in the half a year since the Secure Our Smartphone Initiative was launched, we fully expect it will take time to ensure effective theft deterrents are a feature on all products so [we] can make smartphone theft a thing of the past," LaVera said in a statement.
Popular in the Community