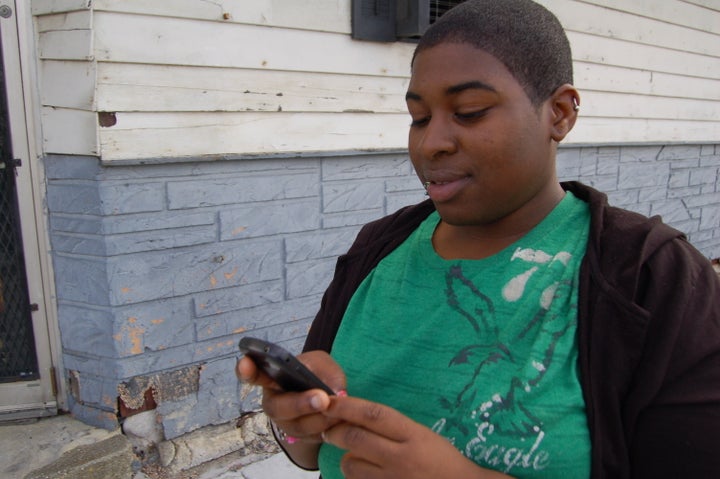 When Erick Huerta was growing up in Los Angeles, his family could not afford a computer. His mother sold tamales from a street-side stall, and his father drove a taxi. Huerta and his three sisters were more worried whether their parents could pay rent than whether they could get online.
Yet when Huerta, 27, enrolled at East Los Angeles College, he knew he would need reliable Internet access for his coursework. So four years ago, he spent $250 of his scholarship money on a piece of technology he could afford: a smartphone. He split the cost of a wireless plan with a friend and used his iPhone for almost everything, from checking email and taking notes to conducting research and writing papers.
The experience typically proved exasperating. Typing papers entailed pecking away for hours on the small screen, an exercise that left his fingers aching and numb. Registering for classes, seeking scholarships and applying for jobs often required visiting websites that were effectively off limits, unreadable on mobile devices.

The experience was like window shopping, without being able to enter the store and buy the merchandise. "You can see the information that you want, but you can't grasp it fully until you're on a desktop," Huerta says, adding that he recently saved up enough money to buy a laptop computer -– a considerable upgrade. "A smartphone does a lot of everything, but it doesn't do enough."
Huerta's attempt to substitute a smartphone for a full-sized computer represents a trend that some say holds the potential to bridge the digital divide. Growing numbers of low-income Americans are relying upon smartphones as their primary means of reaching the Internet, according to surveys by the Pew Research Center. Yet Huerta's frustration also highlights why this development may fall short of closing the divide, instead bringing people into contact with a digital medium they cannot fully exploit.
The mobile telecommunications industry portrays smartphones as a progressive force, one that is delivering Web access to historically disadvantaged communities. It cites data showing that African Americans and Latinos are now more likely to own smartphones than whites. But as Huerta and others have discovered, mobile devices come with the built-in limits of stripped-down Web browsers, offering connections that are typically slower and less reliable than wired broadband links.

"There just isn't adequate bandwidth to hold a video conference call or get an education or get access to telemedicine," says Susan Crawford, a professor at Harvard's Kennedy School of Government. "None of that is realistically possible over a wireless connection on a smartphone."

Smartphones are also prone to running up additional costs, as wireless companies have begun capping how much data customers are allowed to use before extra fees apply.
"If your only access to the Internet is through a phone, you run a much greater risk of having an extra cell phone bill every month," says Amalia Deloney, an associate director at the Center for Media Justice, a nonprofit that works on media policy in low-income and minority communities.
You also run the risk of getting shut out: The Web as encountered on a smartphone is a subset of the Web as available via a standard computer, depriving those dependent on these smaller devices of often-crucial resources.

Many social service agencies that provide aid to poor people -– from food stamps to emergency rent assistance -- have not formatted their websites for mobile access, presenting a considerable barrier to help, Deloney says.

Only about one-fourth of American companies with websites have enabled them to be easily accessed by mobile devices, according to a survey of 117 U.S. companies by Potentialpark Communications, a market-research firm based in Stockholm.
A smartphone is "an entry point into the digital economy," says Deloney. "It shouldn't in any way, shape, or form be seen as a replacement for a computer and broadband access."
THOSE LEFT BEHIND

For the wireless industry, smartphones have become a primary talking point in making a case that its services amount to a force for social good.

"Because of their relatively low cost and accessibility in low-income communities, handheld devices can help advance digital equity," the Cellular Telecommunications and Internet Association, the wireless industry trade group, declares on its website.
Jot Carpenter, vice president of government affairs for the trade association, dismisses as "incredibly elitist" suggestions that smartphones are less than acceptable stand-ins for computers. He maintains that the devices have become "on-ramps to participating in the Internet economy" for communities traditionally underserved.
"The choice isn't between wireless service and the absolutely highest-speed Internet available," Carpenter says. "For many of these people, the choice is between wireless service and no Internet access at all."
For years, policy experts and community activists have debated how best to deliver the promise of technology to those who can least afford it. Despite numerous initiatives aimed at giving every American equal access to computers and Internet, low-income Americans and minorities have fallen behind.
About three-fourths of white households have broadband Internet at home, compared with slightly more than half of all black and Latino households, according to Commerce Department data. Less than half of all American households with incomes below $25,000 have broadband connections at home, compared with 93 percent of homes earning $100,000 or more.
The key driver behind this trend is finance, say experts. Lower-income households have been seizing on smartphones as an affordable means of gaining access to the Web.

While laptops or PCs may be unaffordable for some people, smartphones tend to be free or heavily discounted when customers sign wireless contracts. Several wireless providers, including MetroPCS and Cricket Wireless, offer prepaid, no-contract plans with unlimited talk, text and Web browsing for as little as $40 a month.
S. Craig Watkins, a professor at the University of Texas at Austin who studies the digital habits of teens, has been struck by the clustering of cell phone shops in African American neighborhoods, such as in New York City's Harlem, where he recently surveyed the offerings.
"Almost every fourth or fifth store, you could buy a mobile device or mobile phone," said Watkins, who is black. "But nowhere did I see where you can buy a computer." This, he added, underscores a reality of the market: "Mobile carriers have identified the African American community as a primary target audience for their product."
But even as smartphones are clearly bringing the Web to minority communities, Atkins is concerned with how people are using that access. Black and Latino youth are more active than whites in using mobile devices to play games, watch video, listen to music, according to a 2010 Kaiser Family Foundation study.
"Mobile alone does not help people develop those computer and literacy skills that are critical to success in the 21st century," Atkins says.
But at Crenshaw High School, a predominantly African American public school in Los Angeles, smartphone Web access has become a major conduit for serious academic pursuits. Isaiah Marshall, a junior, has come to rely upon his smartphone as often the only way he can complete his homework assignments. He doesn't have a computer or Internet at home. The school has some computers, but they are nearly always occupied, and some are out of order, he says. So he often sits down at a desk in the library and uses his phone to do research.
"If I didn't have my phone, I would be in a deep hole right now," Marshall says. "I'd be scrambling around trying to find ways to look up research to do this paper, or access this PowerPoint. There would be gaps and holes that I would keep falling in."
Ashley Street, 23, a single mother in Philadelphia, has seen both the promises and pitfalls of relying on smartphones. When Street was briefly homeless and sleeping in a park, she used her phone to find a shelter, she says. When she was laid off from her job at McDonald's, she was able to apply for a new job via her phone's Web access.
But when Street recently tried to use her phone to fill out a student aid form so she can attend culinary school, it seemed almost futile. Just as she was nearing the end of the application, the phone's wireless connection failed, and her information disappeared from the screen.
"I had to do it all over again," she says. "I actually almost cried."
On a recent afternoon, Street sat among a dozen other young women in a computer lab at the People's Emergency Center, a social service agency in West Philadelphia. Many of the women have lived in shelters. Only a few own computers. All had smartphones.
The agency gives free netbooks to clients who complete an eight-week computer training course. Yet most have no way of connecting those netbooks to the Internet, says Hamidou Traore, who teaches digital literacy at the center. Traore teaches them how to tether their smartphones -- using free apps that turn their phones into Wi-Fi hotspots so they can get Internet access on their netbooks.
"This way they can edit their resumes and send it to employers," Traore says. "They wouldn't be able to do that on their smartphones."
Mobile devices are now being introduced in classrooms across the country. At St. Mary's City School District in St. Mary's, Ohio -– where about half the students qualify for free and reduced lunches -- about 500 students in third, fourth and fifth grades use smartphones in the classroom. The devices are installed with educational programs so students can write essays or study math, says Kyle Menchhofer, a technology coordinator for the school district.
The phones serve as a way to give every student equal time on a computer at school. Most district classrooms hold 24 students, he says, but only have four computers.
"If we did not have these devices in the classroom, our low-income students might be getting 15 minutes a week on the computer," Menchofer says.
But some teachers have concerns about students relying upon smartphones for their coursework.

Brian Steinberg, an instructor at several online colleges, including the University of Phoenix, says about 10 percent of his students attempt to complete their assignments using smartphones –- an easy to identify group: Their papers are sprinkled with language often reserved for text messages, such as "gr8" and "l8ter," with sentences punctuated with smiley faces.
Steinberg says he believes students are more focused sitting at a desk in front of a computer than when they are staring into a smartphone. Those who use phones for academic papers typically receive lower grades because of typos and grammatical errors.
"You can't get a degree online from your cell phone," Steinberg says. "I don't think it's doable yet."
For months, Oscar Reyes, 20, used his smartphone for his schoolwork at TCI College of Technology, a for-profit college in New York City. Reyes says he couldn't afford a laptop on his $10.75 an hour salary as a butcher.
When he needed to write papers, Reyes used his smartphone to conduct Web research, and then dictated essays, using technology on the device that converted speech into text.
But Reyes often struggled with dead spots in his Queens neighborhood, frequently losing access to the Web. He used the Internet on his phone for such lengths that he exceeded his wireless provider's data cap, slowing his Internet service to a crawl.
"Once I hit that data cap everything started loading too slowly," Reyes says. "It would take a minute or two to load a page. God forbid if I had to watch a video because then it was impossible."
Reyes found himself envious of friends who had laptops, with their larger screens and the ability to open several Web pages at once, while he made do with one at a time.

Recently, he used money from his tax return to purchase a used laptop. It was like opening a portal to a richer world.
"With a laptop you can see everything nice and big and everything is legible and readable," Reyes says. "When I'd look at my phone I think, 'I can do about half of that and that's about it.'"
Related
Popular in the Community