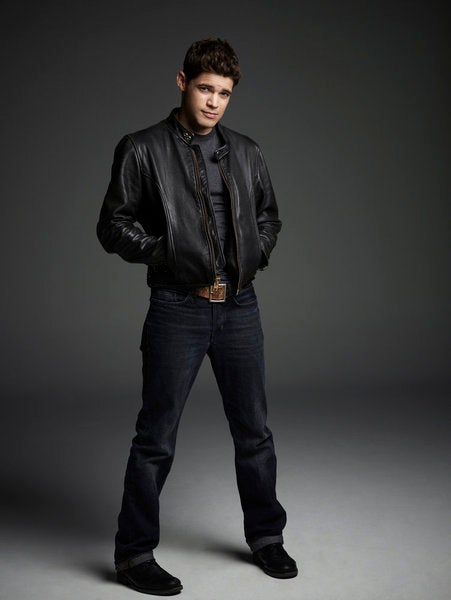 In the Season 2 premiere of "Smash" (Tuesdays, 10 p.m. EST on NBC), viewers met a number of new characters, but chances are the one that made the biggest impression was Jeremy Jordan's Jimmy, the belligerent barman who had an undeniable spark with Karen (Katharine McPhee).
HuffPost TV sat down with Jordan -- a Broadway veteran who was nominated for a Tony Award for his leading role in "Newsies" last year -- in January to learn more about Jimmy's chemistry with Karen, his character's "dark" past, and the differences between jobs on the stage and the screen.
Tell us a little more about your character, Jimmy.
Jimmy is a Brooklyn-born musician. He's kind of this incredibly gifted savant kid who knows he has talent but hasn't really done anything with it. His best friend he grew up with and his roommate is Kyle [Andy Mientus], who's this crazy musical theater nerd, and so they've decided to write their own little edgy underground show together, and we see them as they're in the midst of that. We meet them before they're really ready to do anything with it. And then Kat's character, Karen, sort of discovers them and begins to shepherd them on the fast track to the big time.
Of course, Jimmy immediately takes a shine to Karen, and their relationship takes many twists and tumbles and turns. It's not exactly the healthiest of relationships. And then you also get to see a pretty dark glimpse into Jimmy's past, of who he used to be. He's this gifted musician, but I think first and foremost, he's this troubled soul that grew up in Brooklyn with very dark things hanging over him. So you get to see a bit edgier, darker side of characters this season, and although the show is about musical theater and musicals, it's also about the people that create them.
As we see in the premiere, he's fairly antagonistic to Karen at first ...
Oh, yeah. He's antagonistic towards everyone. You haven't seen this yet, but he's incredibly antagonistic towards Derek. They're like yin and yang. At first he's antagonistic towards Karen just because he feels like he doesn't take any crap from anybody. He sees right through her, even though she sort of tries to put on this facade for everyone else. So it's not so much antagonistic as it is ... "I'm going to just go right through this. Cut right through the crap and get to the core of it," and I don't know if that sits quite well with her at first, but I think he starts to open up a new side of her. You start to see a more youthful side of Karen. You see this sort of happier, more fulfilled side of her ... less guarded, and I think they really start to bring out the good in each other while also bringing out some really bad stuff.
What else can you say about his relationship with Kyle and how those two characters balance each other out?
Kyle is Jimmy's gay best friend. We've been friends since we were young. Kyle, I like to say, is sort of my savior. Jimmy is very introverted, he's very guarded -- and it all comes from fear. He will never admit it, but he's scared to death of the outside world, and Kyle keeps him protected. He protects him from the elements. Kyle will swoop in and save him from sticky situations, and he also believes in him. At the same time, Kyle may or may not be in love with Jimmy -- and Jimmy knows. I don't think they've ever spoken about it, but Jimmy knows there's definitely that. It could be more of a friendship love or a brotherly love, or it could be a bit more of a romantic sort of thing. Jimmy has love for him, but it's not of the romantic sort. So you see them struggle with that a bit, and I think you'll see it more as the season progresses. Just some little glimpses. It's not overt, and I like that, because they're best friends and buddies, foremost.
It seems as though the story is setting you and Andy up for roles behind the scenes, since they're writers, but will we also see Jimmy on stage?
Honestly, when I got this gig, I was like, "This is fantastic. I get to write. I don't have to be seen." Lo and behold, Jimmy get roped into performing in his own show, and whether he stays performing in his own show remains to be seen, but he certainly starts and gets the ball rolling, I think also because of his chemistry with Karen. Their real-life chemistry is easily translated to the stage, and Derek sees that. He is helping shepherd the show, so he's like, "Why don't you do this?" And you see that Jimmy has another side of him that I don't think even he knows about, and it scares him, too.
I hear you were simultaneously doing "Newsies" and filming the first few episodes of "Smash." How challenging was that?
Oh, yeah, that's kind of my thing. I like to do too many things at once. That's been my MO for 2012, so I'm going to take it easy and do one thing at a time this year. It was incredibly difficult; I think there was like a month and a half where I didn't have a single day off because you work eight shows a week on Broadway any time that I wasn't shooting. But then it got to the point to where I was having to take off from half of my shows on Broadway just to shoot, so it's not fair to them, and then I'm not getting any sleep, I'm not seeing my wife, I'm not seeing my dog, I'm not getting to catch up on television or food ... It was a lot. So if I look a bit tired in the first few episodes, that's why. [Laughs.]
Was it daunting to join an already established series?
Well, it wasn't too daunting for us because we sort of formed this separate side-storyline from "Bombshell," and so we have a lot of screen time with Kat and Jack [Davenport], so they've welcomed us really openly. There's a lot of new faces -- there's me and Andy and Krysta [Rodriguez]. There's a new makeup and wardrobe team, and so I feel like a lot of us are experiencing it together. And everyone who's returning is incredibly welcoming.
What are the main differences between performing on stage and performing on stage on screen?
There's many differences, especially in terms of the numbers and the theater performances ... You don't get do-overs in real life. Well, you do get do-overs in real life, because you can suck one night and then make it up the next. In this, you could get as many do-overs, but it's in a very short period of time. You don't get much chance to analyze your mistakes. You just kind of do it and hope that they put it together right. But when you're singing, you're lip-synching to yourself, because it's all pre-recorded so that they can match all the camera angles and stuff, so that's a difficulty within itself. You have to be mindful of the camera. Other than that, it's not different at all, because when you're on stage, you're on stage ... So there's not too much of a difference, and I haven't honestly done too much stuff on stage [on the show]. We focused a lot more on the process and their personal lives, at least as Jimmy is concerned. You'll see a lot more of Karen on stage. She's more pretty, anyways. [Laughs.]
Other than Karen and Derek, have you had any other memorable scenes or stories with other cast members that you're excited for fans to see?
I have great scenes with the new characters, Andy and Krysta. I mean, I'd probably say my most juicy stuff is with Karen, and there's definitely some juicy stuff with Derek. I haven't really gotten to work with Anjelica [Huston] or Debra [Messing]. A couple scenes with Christian [Borle]. I never get to see Megan [Hilty], which is sad because I love her. So I'm hoping maybe as the season progresses, or next season, we sort of interact a bit more with each other, which I'm sure will happen eventually. But at this point, it wouldn't make any sense for me to interact with the producer of
"Bombshell," you know? I think probably my most memorable acting moments have been with Kat, just because their relationship is really incredible ... incredibly intense and complicated and volatile.
"Smash" airs Tuesdays at 10 p.m. EST on NBC.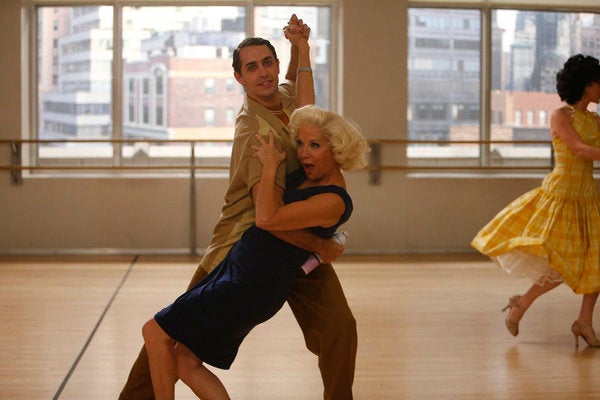 Smash Season 2
Related
Popular in the Community