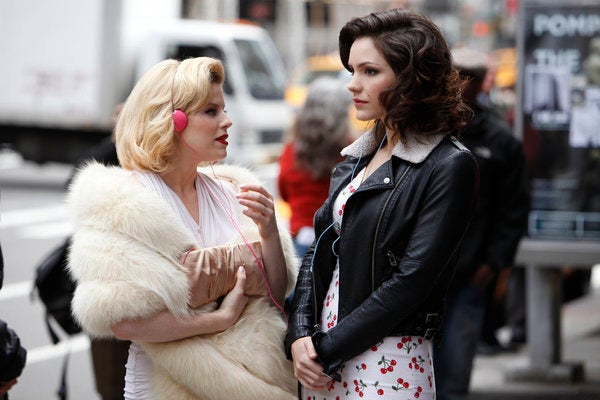 The battle for the role of Marilyn Monroe is on on NBC's "Smash"!
In one corner, there's young, inexperienced Broadway dreamer Karen Cartwright (Katharine McPhee) and in the next is Ivy Lynn (Megan Hilty), a stage veteran who is more than ready for her chance to shine. Who will be Marilyn? Even though that might be revealed by episode two, this Karen-Ivy showdown is far from over.
"Oh my goodness, it's inevitable," Megan Hilty told HuffPost TV on the "Smash" set. "I've already gotten t-shirts sent to me. I plan on rocking my Team Karen t-shirt full force. Every show needs a good rivalry, right?"
Katharine McPhee said she thinks the Team Karen and Team Ivy allegiances are great.
"It started during the pilot when people started saying Team Ivy/Team Karen and now, it's starting to pick up some steam and I think it's fantastic," McPhee said on the set of "Smash" in late January. "Obviously, I'm rooting for Team Ivy! Because that wouldn't be fair if I was rooting for myself."
When I let her know Hilty planned on wearing a Team Karen shirt, McPhee laughed and said, "Yeah, we're rooting for each other.
"Off-camera we just adore each other, at least I do. Who knows what she says behind my back. She might be too close to her character!" McPhee said with a laugh.
However, not everybody on the "Smash" set is picking sides. Executive producer Neil Meron said it's almost impossible.
"Oh, that's like trying to chose who is your favorite child," Meron said. "You can't ... I don't think you're going to hear anybody on this show play favorites because -- the most talented person will get the part. Maybe."
And what do viewers think? See what they had to say below and add your vote to the comments.
"Smash" airs Mondays at 10 p.m. EST on NBC.
Popular in the Community