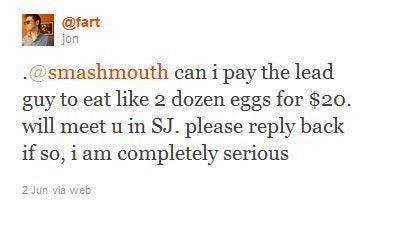 Smash Mouth are more than halfway to their goal of raising $10,000 for charity just one day after they accepted an Internet challenge to eat 24 eggs.
It all started on SomethingAwful.com, a web site known for parody. Jon Hendren, a writer for the site, wanted Smash Mouth's lead singer, Steve Hartwell, to eat 24 eggs and offered him 20 dollars to do so. As these things tend to do on the Internet, the offers for money started to snowball. People were willing to match or exceed the original donation. To encourage more participation, videos set to classic Smash Mouth songs and original compositions came next.
WATCH:
WATCH:
The band, best known for their 90s Top 10 hits "Walking On The Sun" and "All Star" finally agreed to the challenge Tuesday, on the condition that fans raised $10,000 for St. Judes.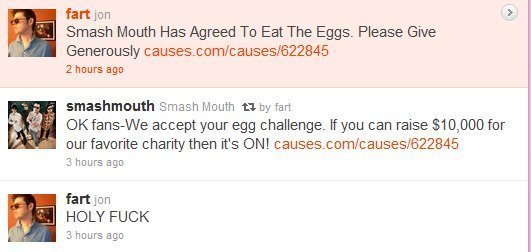 "I'm somewhat amazed that this snowballed the way it did, but then again, the thought of the guy from Smash Mouth stuffing his head full of dozens of eggs is too tempting to ignore," organizer Hendren told HuffPost in an email.
When the goal is reached, Hendren plans to film the egg eating so it can be enjoyed by all.
"I have yet to be contacted by Mr. Mouth's people in regards to egg arrangements," Hendren said. "But I'm local to their native San Jose and am (and have always been) at Smash Mouth's disposal."
Smash Mouth could not be reached for comment.

Popular in the Community