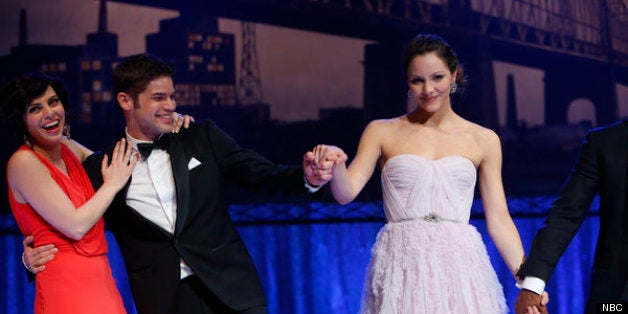 Shaiman summed up what went wrong with "Smash": "A lot of smart, talented (and in some cases, smart AND talented!) people were brought together to create a television show," Shaiman wrote. "Probably too many people. Yes, 'too many chefs' is the most succinct way to say what went wrong. But there was not a single soul working on the show who didn't want it to be great. Everyone just had a different idea of what that was."
Shaiman said there was a lot of micro-managing behind the scenes of the series that led to changing of songs. "I suppose the greatest frustration Scott & I felt were how the actual moments in Marilyn Monroe's life that led us to write our songs were almost never explained in the episodes, which was a shame for it would have enriched the storylines of Tom & Julia and made many of our choices clearer and maybe made our songs more meaningful," he wrote.
Shaiman detailed nearly every song he and Scott Wittman worked on, from "Let Me Be Your Star" -- the version seen and heard as the show's anthem was not the original, in fact it was a rewrite Greenblatt asked for -- to the last song of the series "Big Finish." The duo was nominated for an Emmy and Grammy for their work on "Smash."
"So, like childbirth, hopefully Scott & I will forget the pain and will only remember hearing and seeing our songs being brought to life by some of the greatest actors and actresses we could ever hope to work with," he wrote. "Which brings up one final thing I never understood, which is ... where were the prima donna costume designers, nerdy orchestrators, crazy professor set designers? Where were the things, so absent on 'Smash,' that are the things you most get when you walk into a rehearsal of a musical: laughter and joy? Damn, everyone on the show was so miserable!"
PHOTO GALLERY
2013 Renewal Index: Canceled, Renewed & On The Bubble Shows
REAL LIFE. REAL NEWS. REAL VOICES.
Help us tell more of the stories that matter from voices that too often remain unheard.
BEFORE YOU GO