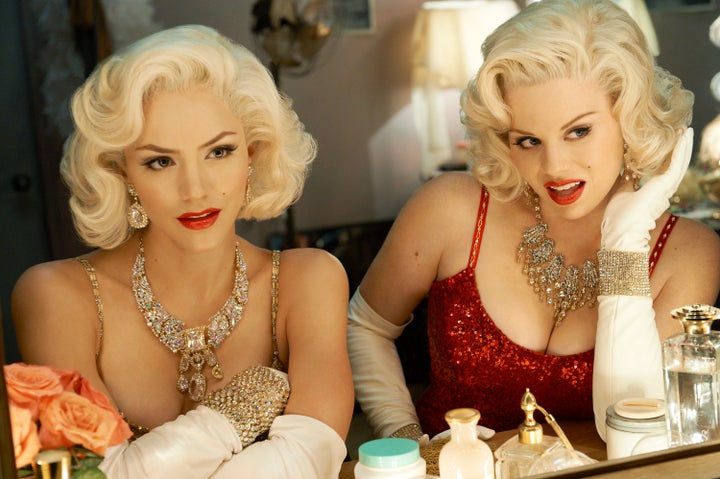 "Smash" has found its Marilyn Monroe in Ivy Lynn (Megan Hilty), and Karen Cartwright (Katharine McPhee) is well on her way to taking the stage as part of her first Broadway ensemble. So, what's next on "Smash"? Drama, guest stars and lots of songs.
On the docket: "Shake It Out," a Florence and the Machine cover McPhee said she enjoyed doing, "Rose's Turn," "Our Day Will Come" and in episode five, "Let's Be Bad," an original song that Hilty described as "epic."
"It can be kind of confusing because I'm Megan playing Ivy Lynn who is playing Marilyn who is playing Sugar in 'Some Like It Hot' and she's wasted so she's messing up the whole number," Hilty told HuffPost TV from the set. "But she's still kind of fantastic in some moments."
The "Some Like It Hot" number, which has been seen in some commercials, is a focal point of the episode. "The number just builds and builds and builds and builds until the end and everybody -- even the audience -- is exhausted," Hilty said with a laugh.
Just because Ivy has the part doesn't mean her romance with director Derek (Jack Davenport) will come crashing to a halt.
"It's not just a one-time thing to get a job; it's a real relationship, albeit a strange one, a very unconventional one," Hilty said. "But that's what makes it so interesting: They're two characters that find this thing that kind of works for them, but it's dangerous at the same time."
Davenport said while Derek and Ivy are legitimately into each other, they do have their own underlying motivations.
"We jokingly refer to each other as Mr. and Mrs. MacBeth," Davenport said. "It's been really good and really interesting because I think one of the things that is handled very well -- and very unflinchingly and unapologetically, I suppose -- is they're both very ambitious people and they're quite tactical. Whilst they're undeniably attracted to each other, they also have other agendas which they don't necessarily have to spend all night discussing, but they're not idiots."
Over on Team Karen, the small town girl seems to be getting awfully cozy with Ivy's friends, especially after that killer Adele cover, and McPhee says that will continue.
"I still remain friends with them. It's an interesting thing," McPhee said. "It's kind of like just how things happen when you're in a show with people: You become really close to them. You kind of never know if you'll even talk to each other when the show is over, but for the moment, you're really kind of close to each other."
McPhee said Bobby (Wesley Taylor), Jessica (Savannah Wise) and Sue (Jenny Laroche) are caught between Ivy and Karen, balancing friendships amidst tension.
"They're always trying to defend one or the other or play both sides because Ivy for a period of time is the star so you have to be good with the star and they all feel bad for me," she said. "They kind of become cheerleaders for me along the way. Nothing dramatic happens between all of them as of yet."
"[Thurman] plays a difficult Hollywood star who may or may not get involved in the 'Marilyn' musical," the executive producer of "Smash," Neil Meron, said on set. When pressed for details, Meron was tight-lipped, but said Thurman is "going to give a hell of a performance."
"Smash" is already well into wrapping its 15-episode first season, but that didn't keep McPhee and Hilty from naming dream guest stars.
"I'm a big fan of the funny," Hilty said. "I would die to have Will Ferrell, Melissa McCarthy, Kristen Wiig -- anybody who has those chops. Do any of them sing? I'm sure they do. Even if they don't, bring them on."
Meanwhile, McPhee had another type of guest star in mind.
"Some young, hunky guy to come in maybe the second or third season to have a really quick moment with," she said. "Whether it's a dream sequence or not, but I just get to make out with him. Maybe Ryan Gosling. RYAN GOSLING! That's who it is!"
BEFORE YOU GO