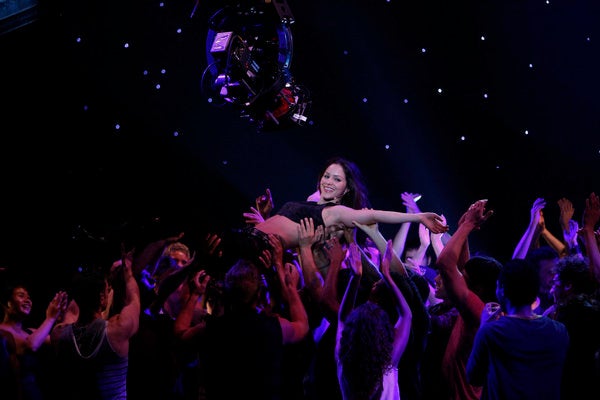 The Brooklyn soundstage is dark.
As the music starts, the lights come up and beam a frenzy of colors on Katharine McPhee and Krysta Rodriguez. The former is dressed in pink and gold, while the latter decked out in a Lady Gaga-esque ensemble complete with a curly blonde wig. This is a far cry from the glamor of "Bombshell." "Smash" Season 2 has left the past on the cutting room floor.
The new season of the NBC musical series has trimmed the fat -- gone are a couple of fan-detested characters and fashions -- and added new cast members all in their 20s. Not only that, but there's a new musical taking shape and it's the complete opposite of the show based on Marilyn Monroe's life. Think sexy rock opera.
The Huffington Post was on set while McPhee and Rodriguez filmed an original musical number titled "I'm Not Sorry" for which McPhee -- in her goddess-esque ensemble -- was equipped with a group of female backup dancers in similar attire; while Rodriguez -- in her giant headdress, bodice and very high heels -- had a group of men backing her, all wearing torn black clothing, padding that resembled turtle shells and oh yes, mesh was involved.
The two performed several takes using different camera angles. Each time the lights dimmed, the two women assumed the starting position, standing face-to-face, ready for battle with their back-up dancers behind them.
"Don't tell the audience how I really do it in real life," McPhee joked about her dancing insecurities after one of the many takes.
"You know, this is a little bit harder for me," she said when comparing this pop number to the Season 1 finale song "Don't Forget Me." "I like to tell stories through song, so that always seems a little bit easier to me, but this in heels -- there's so many things you have to get used to and accustomed to."
McPhee danced and sang her way up a set of moving stairs, teetering over railings as part of the choreography. In between takes she sipped on water and had her hair and makeup touched up. All this for one musical number.
Joshua Bergasse, the Emmy-winning choreographer behind "Smash," set the stage for the number. "The characters are like mega stars, modeled after Lady Gaga," he said while the shot was being prepared. "Kind of like they're doing a music video together. It's a battle between the two characters ... there's some bad blood between them and it's like they were forced to perform at the VMAs or something. That's kind of the story here."
The new season of "Smash" picks up right where Season 1 ended. "Bombshell," the Marilyn Monroe musical, was a success in Boston and is now Broadway-bound. But, of course, it's not smooth sailing. It wouldn't be "Smash" without drama. Problems with the book, the funding and even the director all stand in the way of "Bombshell" being a Broadway hit.
At the heart of it all is McPhee's Karen Cartwright and as "Smash" continues to work out its growing pains and the characters continue to evolve, McPhee said she's progressing right along with Karen.
"I think at the end of last season, you realize so many things happened to her in one episode over the course of two or three days," McPhee said, referring to her character's breakup and landing the starring role in "Bombshell." "She gets a little older, a little wiser. You learn pretty quickly in this business how things kind of go and how you have to get wise to certain things. I think me as an actress and Karen as a character can both relate to those things."
Along for the ride with McPhee is Rodriguez, who plays Karen's new roommate and fellow performer Ana, whom Rodriguez described as "outrageous."
"She's very similar to me in many ways," Rodriguez said while delicately balancing her headdress and eating fruit on a couch backstage. "She hoofed her way through the ensemble and pulled out a leading role. She a little bit more of a risk-taker than I am, so I embrace that part of her. She's very smart, she knows what she wants. She's down to brass tacks most of the time and she'll do what she needs to do and I like that."
And with this new roommate comes a new Karen. "She's definitely in a different position than last year," McPhee said. "She has a little bit of 'Bombshell' in her life and a little bit of something new and different that Broadway's possibly never seen."
The "something new" in question? "Hit List," a rock opera-style musical being penned by new characters Jimmy Collins (Jeremy Jordan) and Kyle Bishop (Andy Minentus). McPhee's character sort of discovers the duo and pushes them to share their music with the world.
"I think the thing that we really wanted the audience to see with Karen in the new season, is sort of see her be a little more proactive and aggressive," McPhee said. "She starts to see 'Bombshell' fall apart and she doesn't even let it phase her in a way. She just has such a drive that she finds the next opportunity that's in the most least likely place."
With a new musical comes a new style of dance.
"My goals for Season 2 were to probably have a different choreography style so we didn't just have the one and I also wanted to use technology in a new way," Bergasse said. "Maybe using camera angles and visual effects, things like that, in a different way than we did in Season 1. I think we've succeeded in that a lot."
In addition Rodriguez, Jordan and Mientus, "Smash" is rolling out the welcome mat for a bevy of guest stars. Oscar winner Jennifer Hudson will be stopping by for multiple episodes, Liza Minnelli, Rosie O'Donnell and Matthew Broderick will all make appearances as themselves, "Will and Grace" star Sean Hayes will pop up and "Law & Order" veteran Jesse L. Martin has a recurring role.
"Don't tell him because he's sitting right there, but Jesse Martin's my favorite," Rodriguez said. To her left were co-stars Jack Davenport, Megan Hilty, Mientus and Martin. "Jesse came in as a guest star and has been in about six episodes with us so far and just fit right into our group and it's been really fun. Obviously I was a fan of his before this started, so it's nice to call him a friend now."
Rodriguez, who said she watched every episode of "Smash" Season 1 and was a fan of the series before joining, said there's something exciting about being on a series about a musical.
"I think there's something really special about doing a musical that's actually about musicals because making a musical is unlike anything anybody else does," she said. "In fact, they say, 'Sausages and musicals, you don't want to see how they're made,' and we're just opening the curtain on it."
"Smash" premieres Tuesday, Feb. 5 at 9 p.m. EST with a two-hour episode before moving to its normal timeslot of Tuesdays, 10 p.m. EST on NBC.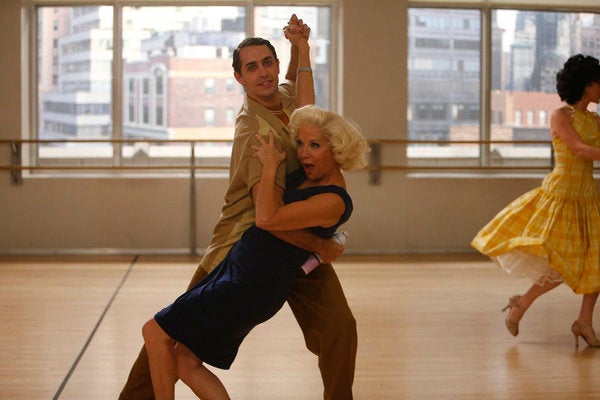 Smash Season 2
Popular in the Community