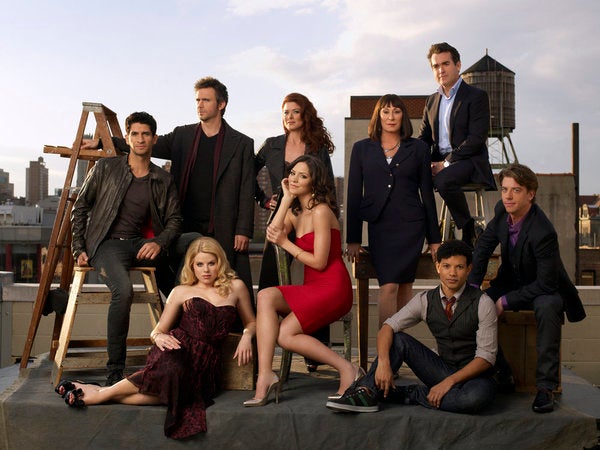 A source close to the series confirmed to The Huffington Post that both characters could appear in Season 2 to wrap-up their storylines.
Season 1 of "Smash" ended with Eileen (Anjelica Huston) firing Ellis before Karen Cartwright (Katharine McPhee) took the stage as Marilyn Monroe in the Boston previews of the fictional musical "Bombshell."
Meanwhile, Karen learned of Dev's affair with Ivy (Megan Hilty) ... just episode after he proposed to Karen. While Karen was belting out "Don't Forget Me" to a packed house, her old rival Ivy was seen with quite a few pills in hand.
But rest assured Team Ivy fans, she'll be back.
"I want to see Ivy kind of get it together a little bit and have something she can really celebrate and not feel threatened by anything," Hilty said. "I would also like to see her have a nice boyfriend, one who's like really nice to her."
Christian Borle, who plays Tom on "Smash," said his character will have a bit more fun with Julia (Debra Messing). "You'll get to see more of the behind the scenes parts of what it takes to write a musical. People want a little bit more of that."
"Nothing's set in stone, but I've gotten a pretty generous rundown of what's happening with my character in Season 2, and you can definitely look out for him a lot, doing some more [sneaky things]. I'm probably going to be even more hated," Cepero said.
Popular in the Community