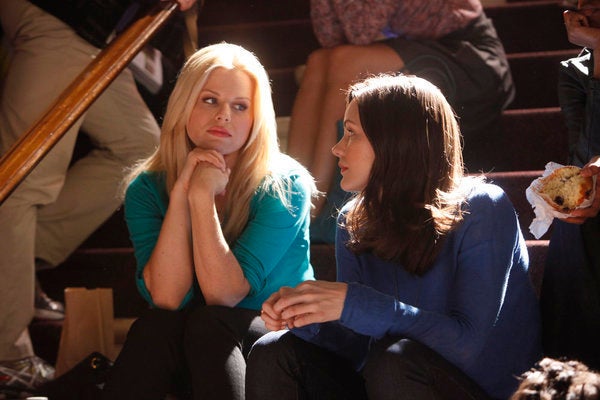 On the "Smash" finale, Megan Hilty's character Ivy Lynn was [SPOILER ALERT] last seen with a handful of pills in her hand as Katharine McPhee's Karen Cartwright wrapped her big star-making performance as Marilyn Monroe in the fictional musical "Bombshell."
Will Ivy meet a very Marilyn-esque end? Don't bet on it.
"Well, I'm here," Hilty told The Huffington Post with a laugh on the red carpet for NBC's Upfront presentation on Monday, just hours before the finale aired. Hilty was part of the assembled cast in attendance to promote the show's Season 2, which will debut midseason on NBC.
For "Smash's" sophomore season, Hilty said she hopes that Ivy keeps the pills behind in her past and finds happiness.
"I want to see Ivy kind of get it together a little bit and have something she can really celebrate and not feel threatened by anything," Hilty said. "I would also like to see her have a nice boyfriend, one who's like really nice to her."
Hilty also has one big dream guest star for Season 2: her "9 to 5" co-star Allison Janney.
"I am petitioning for Allison Janney to be a guest star -- recurring guest star, hopefully," Hilty said. "She's amazing. There's nothing she can't do and she's the nicest person on the planet."
"Smash" Season 1 ended with McPhee's character getting the coveted role in "Bombshell," which had a successful opening in Boston. Will "Smash" Season 2 see the show head to New York City or the gestation of a new musical?
"I haven't heard officially, but -- just in terms of the longevity of the television show -- I think at some point, we're going to produce a new musical, yeah," said Christian Borle, who plays Tom, one of the creators of the Marilyn Monroe musical on "Smash." What can Borle reveal?
"What I know is going to happen on some level is my relationship with Debra [Messing, who plays Julia, his writing partner] is going to get closer and maybe have a little bit more fun," he said. "And you'll get to see more of the behind the scenes parts of what it takes to write a musical. People want a little bit more of that."
"And I think that that will happen," he said. "I think that they were looking to expand who performs and how often people are performing. I think they're really looking at interesting new ways to introduce numbers."
"It's actually really remarkably fun to see the passionate outpouring reaction to the show," Borle said. "People could just dismiss it, but they're not dismissing it. I think people are going to be very excited to see where we go. Josh Safran sat down and talked about where we're going to go. He cares so much about this world and these people and he's coming at it with an interesting perspective. He's going to address a lot of what people are talking about."
Calling all HuffPost superfans!
Sign up for membership to become a founding member and help shape HuffPost's next chapter
BEFORE YOU GO