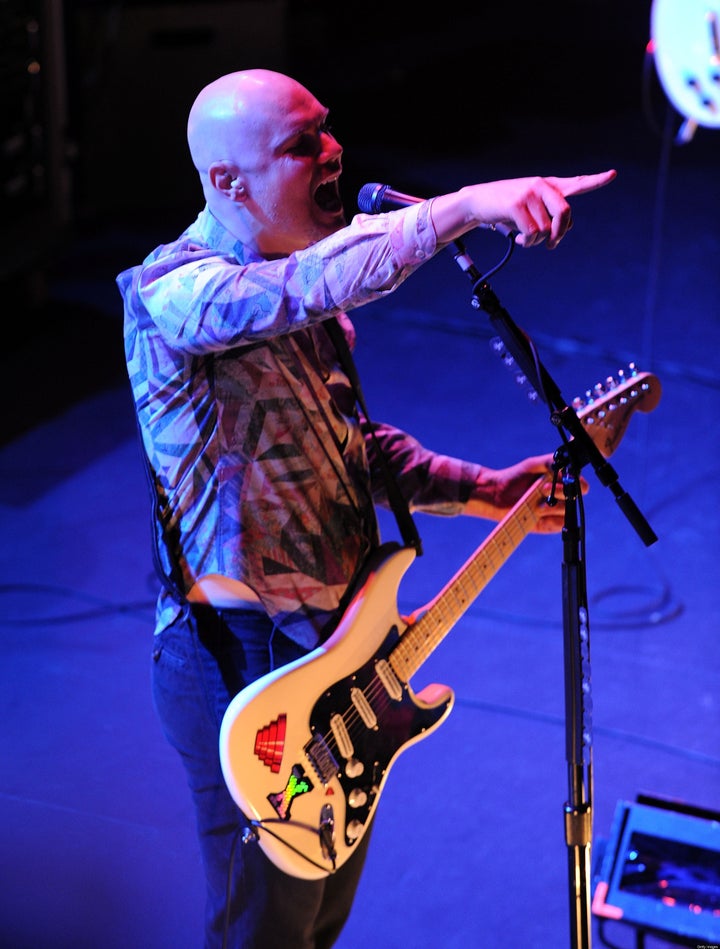 When The Smashing Pumpkin formed in the late 80's, Billy Corgan had flowing, shoulder length hair and wore paisley shirts paired with Victorian pendants. In 1995, when Corgan proclaimed in a disquieting monotone that, "The world is a vampire," he wore silver pleather pants and a black T shirt that said "Zero" on it. It is really hard to say which way the man looked better. Both were very distinct looks.
Last night's concert at Terminal Five saw the Smashing Pumpkins return, musically at least, to their paisley wearing, psychedelic roots. They played a couple of the grungey, angry pop songs that made them famous but mostly focused on their new material, which prominently featured jams, unstructured melodies and guitar solos. It was a bit like going to an Allman Brothers concert but everyone was madder, sort of. It was strange.
The concert, put on to celebrate Spin Magazine's 25th Anniversary, was very well attended and proceeded at a good clip. The opening bands, Jim Jones Review and Kill Hannah, got on and off the stage without a hitch and minimal audience participation. The Pumpkins took to the stage to thunderous applause. The audience maintained their enthusiasm all through the evening. There was crowd surfing. There was rocking out. If you squinted your eyes it almost felt like you were actually back in the 90's, except everyone was old.
Billy Corgan is now the only surviving member of the original lineup of The Smashing Pumpkins. The current band features Nicole Fiorentino on bass, Mike Byrne on drums, and Jeff Schroeder (who is also a Ph.D. student at UCLA) on guitar. The new lineup might not have been the most exciting performers in the world, but they were certainly excellent musicians and sounded great together.
As frontman, Corgan is very much the same as he ever was, he looked the same way, he sounded the same and he was still obsessing over the same feuds (he made fun of the lead singer of Pavement for a while).
Musically, however, his songs have become intense, ten minute affairs, full of Pantera-esque solos and powerful chords. Just when you thought many of them would be over, they would start up again with renewed force. Corgan seemed to revel in his new material and changed his guitars constantly. He played his more radio friendly hits at a slightly quicker tempo than they were recorded, almost as if he was sick of them. He probably is.
There is a myth, in our youth obsessed culture, that the younger self is the essential self. I wonder if this is true. If you wear paisley and like psychedelic rock at a critical time, is that who you are really are? Is everything else, the leather pants, 3 minute songs, etc, just a result of the whims of fashion? Probably not. These things are very hard to say.
Calling all HuffPost superfans!
Sign up for membership to become a founding member and help shape HuffPost's next chapter