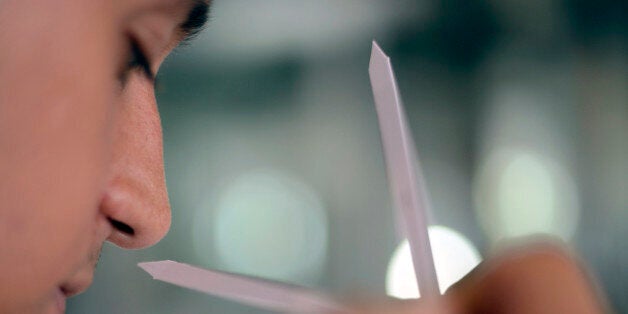 Your nose could provide clues to your longevity, a new study suggests.
Published today in the Annals of Neurology, the study says your ability to identify smells may be linked to your risk of death in the near future. A sample of over 1,169 Medicare beneficiaries over age 65 were asked to smell 40 different scents on a scratch-and-sniff test and choose one of four multiple choice options identifying the odor.
In an average four-year follow-up, those who scored lower were up to 45 percent more likely to have died during the period than those who scored higher. A quarter point was deducted from scores for each incorrect identification. Meanwhile, only 18 percent of those who scored higher died during the follow-up.
Smell tests have also been administered in studies seeking to sniff out other risk factors as well. A small study conducted at the University of Florida found people with cognitive impairment performed worse on a peanut butter smell test, helping to confirm diagnoses. And similar to the new findings, a 2014 study at the University of Chicago also found that those who performed poorly on odor tests were more likely to die during a follow-up period.
But don't wrinkle your nose just yet. The study does have its limitations. "This was a study of older adults," Devanand said. "The question that remains is whether young to middle-aged adults with impaired smell identification ability are at high risk as they grow older."
Related
Popular in the Community