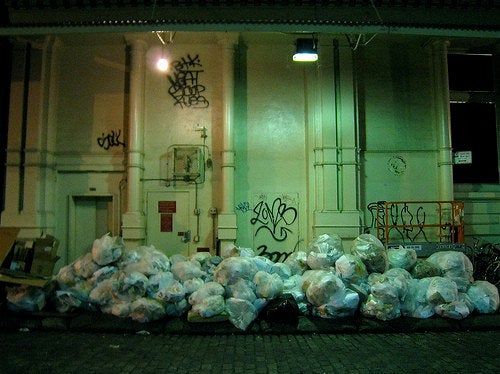 MANHATTAN -- The Lower East Side may be one of the trendiest neighborhoods for bar hopping and boutique shopping, but one of its tenement-lined blocks still stinks -- literally.
For years, a putrid odor has wafted on the block, especially in the summer.
Megan Godin, 23, who was drawn to the neighborhood for its cheap rent two years ago, told DNAinfo, "Sometimes at night I hear people walking by outside and saying, Oh my God, what's that smell?"
But, she said, her cost of living was an okay tradeoff for what she described as a smell of "fish and weird stuff."
"Not even the most disgusting subway smell compares," Elie Z. Perler, a resident who edits the website Bowery Boogie, told New York. "I try not to eat while walking there, since I'd probably throw up."
The magazine couldn't definitively find the culprit, but speculated that Yu & Qiang Trading Inc., a poultry warehouse at 284 Broome St., was a big part of the problem.
The magazine invited an odor expert to the block, who initially noted a "bacterial broth" and a "rotten vegetable" smell in the standing water of a gutter with a sock floating in it.
But when he arrived at 284 Broome St., he shouted, "Ay-yi-yi. Wow. Oh, boy. Oh, boy."
His first guess was cat urine. Then he speculated it was live poultry.
The Agriculture Department, however, told New York it conducted an unannounced inspection last week and found no live chickens or evidence of live chickens or any other poultry.
The stench apparently came from "stacked boxes of processed poultry sitting in the warmth," the magazine said.
Ray Kelly, 65, who has lived in the area for 30 years, was well aware of this problem.
He told DNAinfo the block smelled like "rotting meat" because the warehouse put boxes of chicken on the street.
"They have chicken parts in boxes, not really refrigerated," Kelly, who has no connection to the NYPD's police commissioner who has the same name, said.
"In the summer you can't even walk through here."
REAL LIFE. REAL NEWS. REAL VOICES.
Help us tell more of the stories that matter from voices that too often remain unheard.