Most of us have only heard of SMERSH in the context of James Bond books and films, if at all. SMERSH is actually an acronym for the Russian phrase Smert Shpionam, or "Death to Spies." Until now, no work in the English language has ever come close to giving us a detailed study of Stalin's diabolical counterintelligence organization. SMERSH was Stalin's wartime terror apparatus; a collection of torturers and killers unleashed in 1943 to cut a bloody swath across Eastern Europe. SMERSH's mission was to "filter" the Red Army for spies and, as a result, was responsible for the arrest, torture, and execution of many thousands of innocent servicemen and citizens of countries occupied by the Red Army.
Dr. Vadim J. Birstein, a Russian historian, human rights activist, and molecular geneticist now living in the United States, gives us a comprehensive look at this ruthless death machine in his new book SMERSH. The book gleans much from recently declassified documents from the Russian archives uncovered for the first time, shining a much needed harsh light into the murky dealings of the Stalinist police state. Though SMERSH was part of the government, it was not under the military's control. In fact it was instead an independent secret organization whose director, Viktor Abakumov, reported daily to Stalin himself.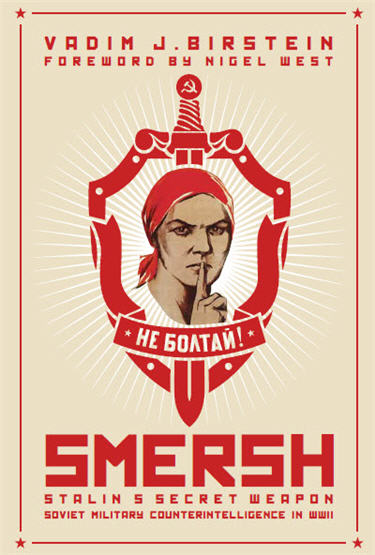 I asked Dr. Birstein how long he had been working on the book, which has just been published by Dialogue. "I started to collect materials for this book in 1990-1991," he told me. At the time he was a member of the International Commission on Raoul Wallenberg, which for a time had access to a secret special archive in Moscow which is now part of the military archive.
What was the research process like for such a work? "Although I used some documents that I found myself in two Moscow archives, my main sources were numerous archival documents published in Russian in various publications," Birstein said. "Since the late 90's, the Moscow-based Alexander Yakovlev's Foundation published about 70 huge volumes of documents. Most of these are from the Presidential Archive in Moscow, and they are are crucial for anyone who wishes to study the Soviet Union under Joseph Stalin's rule. However, the documents are currently inaccessible to researchers."
"Additionally, I used a series of publications of military counterintelligence materials during the Great Patriotic War, as World War II is called in Russia, and a series of publications of war orders and military wartime reports to the highest Soviet authorities," he continued. "A coffee-table book glorifying SMERSH's activities published in 2003 by the FSB (the successor to the KGB) was also useful because it contains many photos of original documents about SMERSH."
It's difficult for Americans to understand just how insidious SMERSH was in Soviet society during its existence. "Millions of Soviet servicemen knew SMERSH not as a successful fighter against German spies (the public mandate at the time), but rather as a brutal organization that arrested its own servicemen en masse on mostly false accusations of treason, espionage, ant-Soviet propaganda, and the like," explained Dr. Birstein. "After the Red Army crossed the border with Eastern Europe, numerous arrests were also made among the local population. SMERSH arrested every person who could potentially be a problem for the future Sovietization. According to some estimates, the activity of SMERSH affected lives of 10 million people."
SMERSH was highly praised in advance of its publication. Richard R. Valcourt, wditor-in-chief of the International journal of Intelligence and CounterIntelligence, called it "an authoritative and much-needed study... bringing to life the increasingly forgotten harsh reality of the Communist police state." Dr. C.G. McKay, author of From Information to Intrigue (Frank Cass, London, 1993) and (with Bengt Beckman) Swedish Signal Intelligence 1900-1945 (Frank Cass, London, 2003) wrote, "I find it hard to believe that there is any work on SMERSH in the English language comparable to Dr. Birstein's book... Birstein concentrates on presenting the evolution of this terror machine, its operators and their activities, in meticulous detail."
Birstein has been invited to speak at Washington D.C.'s International Spy Museum tomorrow, Thursday January 12th, at a noon presentation open to the public. He will discuss his book and uncover new evidence that suggests that Raoul Wallenberg may have been one of its victims. Wallenberg, a Swedish businessman, is known and loved the world over for his rescue of hundreds of thousands of Jews during the Holocaust. He was detained in 1945 in Budapest by the Red Army on suspicion of espionage, and his actual fate has never been confirmed. This year marks Wallenberg's centenary.

Popular in the Community