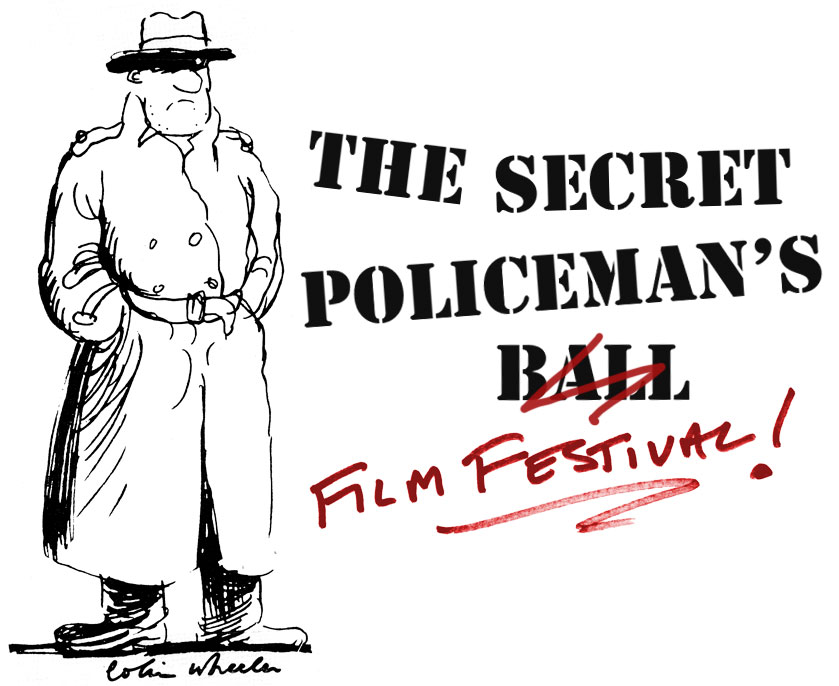 June 2009 marks the 30th anniversary of the pioneering Secret Policeman's Ball series of benefit shows for Amnesty International. The anniversary is being saluted with a major film festival in Los Angeles and New York: June 11 - July 31. Huffington Post bloggers are providing extensive coverage of the festival.
Long ago (well, 1982), on a smallish and awkwardly-shaped but somewhat culturally-significant island in the dismal North Sea, the late great Peter Cook hosted a spoof awards show to salute -- and willy-nilly distribute trophies to -- pretty much any of the cast who bothered to show up for the world premiere of the film of the 1981 Amnesty benefit show The Secret Policeman's Other Ball. (Sample category: "Best Performance By A Rock Musician Whose Name Rhymes With String.")
Attending that evening was a rather tall funny person whose family name was originally "Cheese," but whose father swapped the 'h' for an 'l' sometime during the first great War, in order to avoid acute daily mockery. Fair enough, and astoundingly this "Cleese" character continues today to hover along the periphery of relevance, even allegedly plotting an antipodean tour for later this calendar year. At that special event in March 1982, however, Mr. Cleese (John) was asked by a TV interviewer for his opinion about the people running the global human rights organization Amnesty, and he dead-panned this reply:
"I think they're a bunch of pinko, tennis-shoe-wearing, untrustworthy, slant-eyed gits."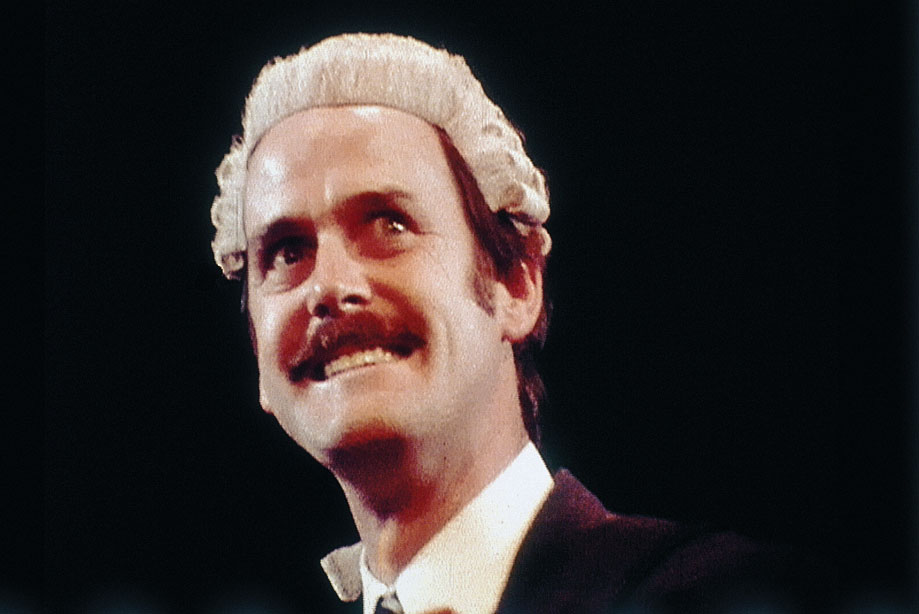 John Cleese at full throttle.
Now everyone -- except for Ann Coulter -- is entitled to his/her opinion, but what makes this tongue-in-cheek utterance particularly noteworthy is that Mr. Cleese was in fact highly instrumental in the production not only of the Other Ball (1981), but also the first Ball (1979) -- and before that, the two progenitor Amnesty benefit shows A Poke In The Eye (With A Sharp Stick) (1976 -- the film of which was titled Pleasure at Her Majesty's) and The Mermaid Frolics (1977). As this represents quite a lot of effort on behalf of the pink-hued and tennis-shoe-wearing, we are thereby led to conclude that Mr. Cleese is: A. An irredeemable schizoid mess of a man; B. A covertly compassionate yet relentlessly sharp-tongued freak-papa; or C. A brilliant spoofster with a funnybone of gold.
Assuming something between B and C, we shall explore his mighty philanthropic efforts, and those of his contemporaries, via these exceptional entertainments, super-rare screenings of which I attended last week-end at the glorious Egyptian Theatre in Hollywood, CA, and which next week (starting Friday, June 26) land in New York City at Lincoln Center, all as part of Ball-co-creator/producer Martin Lewis' bi-coastal Secret Policeman's Film Festival.
Opening night, Lewis and "Seventh Python" Neil Innes read a series of droll excuses offered collectively by Monty Python to explain each member's absence from the proceedings. These ranged from: John Cleese: "In a deep depression after the breakdown of his marriage" (strike three!); Terry Gilliam: "Has just had the top of his head sawed off"; World-class swinger Terry Jones: "Pregnant"; Eric Idle: "Was never involved in Monty Python anyway"; Michael Palin: "Hasn't been heard of since he set off from his home to post a letter"; and "... only Graham Chapman has a real excuse for not being here."
After reading the "regrets," Lewis began regaling us with reflections of his beloved Balls -- and he is a particularly skilled regaler, who enjoys regaling very much and can regale for a very, very long time without becoming fatigued. After a few hours (!) somebody had to tackle him and scream up to the booth, "ROLL FILM!" Nonetheless, here are but a distilled few of the many interesting regalements Lewis offered:
"A little bit of preamble -- some of you know this, but not everybody does: Amnesty started in 1961, and in the first fifteen years of its existence, and unless you were really a foreign policy wonk, you probably never heard of Amnesty.
"Amnesty International does its work to release prisoners of conscience, whom they define as people who have been imprisoned for their beliefs -- as long as they have neither used nor advocated violence.
"One day in 1976, the UK office received an envelope containing a generous donation from somebody named 'J. Cleese.' Thinking that this might be John Cleese, Peter Luff (Amnesty's Deputy Director at the time) contacted the donor -- and indeed it was the Monty Python member.
"Peter Luff told Cleese that Amnesty was facing a very dire financial situation and needed some help. John responded by volunteering to put on a show. He said, 'I'll call a couple of friends...'"
So that is how the Balls came to be. In 1979, Lewis and Cleese teamed up again (with new Amnesty fund-raising officer Peter Walker) for the first Amnesty show to bear the now iconic Secret Policeman's Ball nomenclature. The title sprung from Lewis ("I can pin that one on him," says Cleese), and the first meeting took place in Bryan Ferry's former house, which Cleese had just purchased with its Roxy interior decor intact. Apparently it resembled a bordello; "I loved it!" declares Lewis.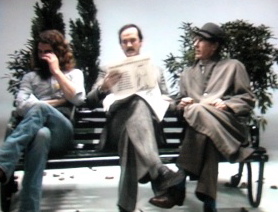 1979's Amnesty show elevated Scottish comedian Billy Connolly to the same elite bench of British comedy as John Cleese and Peter Cook.

Also sharing Ball recollections at the Egyptian Theatre was noted film composer and sometime Python associate John Altman (he arranged "Always Look on the Bright Side of Life" for Life Of Brian) who offered his reflections of the events: "Well, my biggest memory -- apart from having that band with Sting, Phil Collins and Eric Clapton and all those guys back in 1981 -- was from the 1979 show. The first night finished up at about five in the morning or so it seemed. It just went on and on and on. And John Cleese and I sat down and tried to cut things out of the show. He was being pretty ruthless: 'That has got to go! That has got to go!'
The day after the second night, Peter Cook came by, early, about two in the afternoon, and he said that he'd read a rather negative review of the first night that complained that there was no new satire in the show. Peter said, 'I'll show them "new satire"! I've written a little thing, and I'd like to try it out on you.' And he performed, just for John Cleese and me, what turned out to be one of the highlights of the show -- and to many critics, one of the high points of his career. This was his spoof of the judge's directions to the jury of the scandalous Jeremy Thorpe trial that had just ended in the U.K. It became an instant classic -- and I was one of the first two people to hear it! Wonderful!"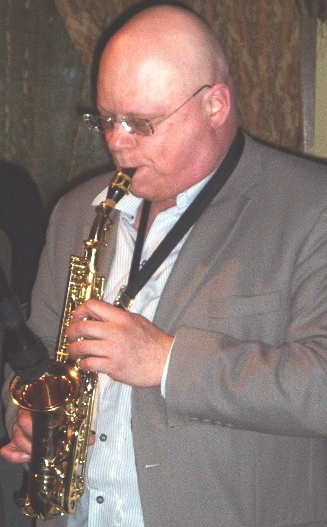 John Altman blowing a mean soprano sax at the festival's opening night after-party jam
(Photo: Gregory Weinkauf)
And now for the mini-reviews:
Pleasure at Her Majesty's (1976) is a film you need to see at least five times before dinner this evening. It documents John Cleese's first benefit show for Amnesty, and while the talent roster is stellar, the production is delightfully uncluttered and intimate. Innes appears, goggled and harmonica'ed, to bring his Dylanesque, legendary "Protest Song," and as sort of a flamboyant countermeasure, Dame Edna (Barry Humphries) cavorts in a long pink evening gown, shrieking a paean to the virtues of British "spunk" before hurling quantities of Australia's national flower, the gladiolus, into the audience. Comedy standouts include Peter Cook's "Miner" sketch, Cleese as an irate Pope in "The Last Supper," and a rousing run through "The Lumberjack Song," with full cast featuring the ever-brilliant Michael Palin -- speaking of whom: Yes, "Parrot Sketch" is very definitely included (hint: don't be late).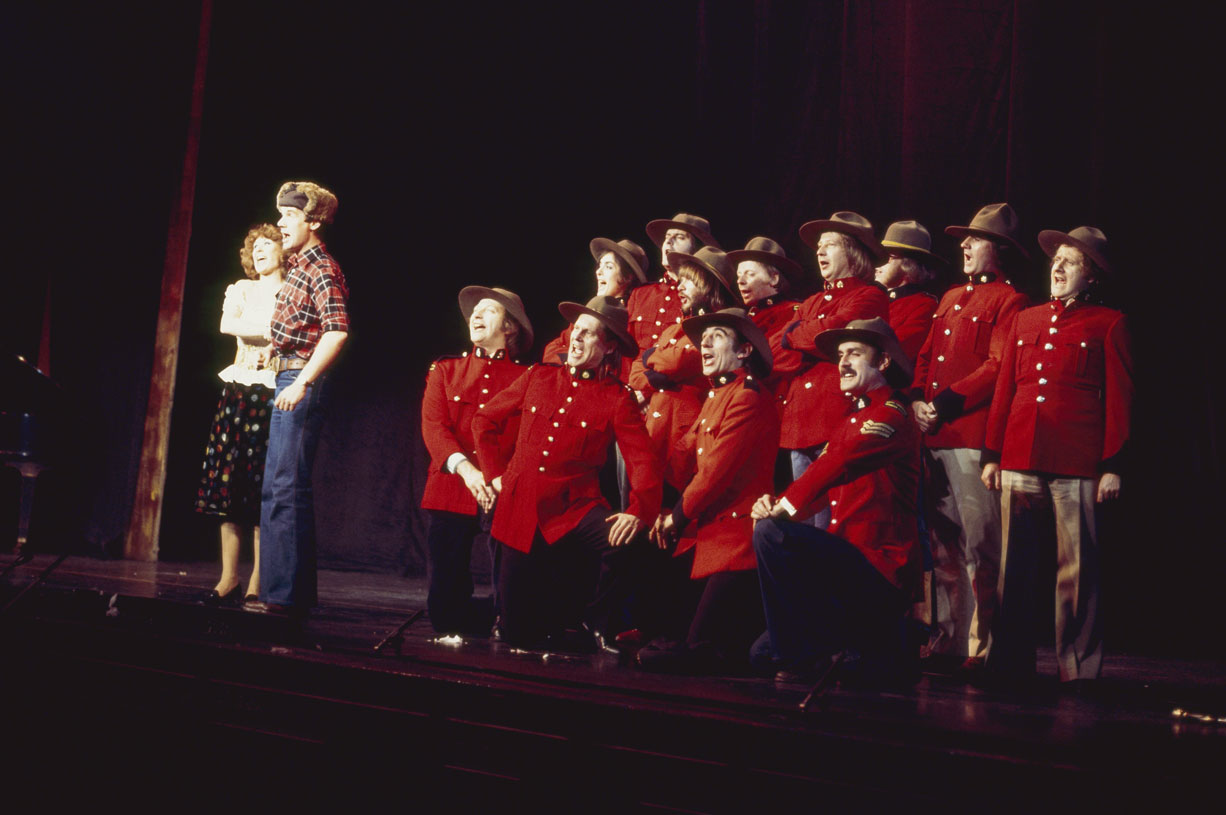 Michael Palin leads a chorus of Pythonic Canadian Mounties in a hymn of praise to the delights of cross-dressing
The Mermaid Frolics (1977) is more an enjoyable curiosity for Python completists, shot on video for television -- think sort of the British variety-show equivalent of Donny & Marie (only funnier) or The Star Wars Holiday Special (only with far, far fewer Stormtroopers -- unless you count Cleese by the end of the famous "Bookshop" sketch, hilariously delivered with his then-wife Connie Booth). Initially called An Evening Without Sir Bernard Miles, this comedy show is leavened with some acoustic music (Julie Covington of Rock Follies fame; Pete Atkin; classical guitarist John Williams) plus a couple of weird and bombastic Peter Ustinov monologues. Alas, one Cleese two-hander with Beyond The Fringe's Jonathan Miller (channeling bumbling Oxbridge philosophers) very nearly fizzles (at least, I didn't quite get it), but director Terry Jones otherwise keeps the energy up, as for himself (in a funny-nasty little solo song) and for the stalwart Peter Cook.
The Secret Policeman's Ball (1979) is a classic from which the Amnesty benefit shows first take form, with brilliant comedy and music, now including rock star Pete Townshend, who delivers a glorious, acoustic "Pinball Wizard," and also duets with classical guitarist John Williams on "Won't Get Fooled Again." The mix proves exhilarating, as Scottish comedian/musician Billy Connolly brings his hilarious work to stand beside Peter Cook plus Python greats Cleese, Jones and Palin. There's also a little comedy-gold discovery here by the name of Rowan Atkinson, a very young man who all but steals the show as a sarcastic prep-school teacher with the oddest-named class in the world, and with his rollickingly hilarious "pianist" routine. Atkinson also holds his own alongside his Python mentors with Cleese, Jones and Palin in the classic "Four Yorkshiremen" sketch. Like Pleasure three years earlier, this was also shot on film over consecutive late nights at Her Majesty's Theatre, and must be incorporated into your video library immediately. No, I am not joking. Go get it. Now.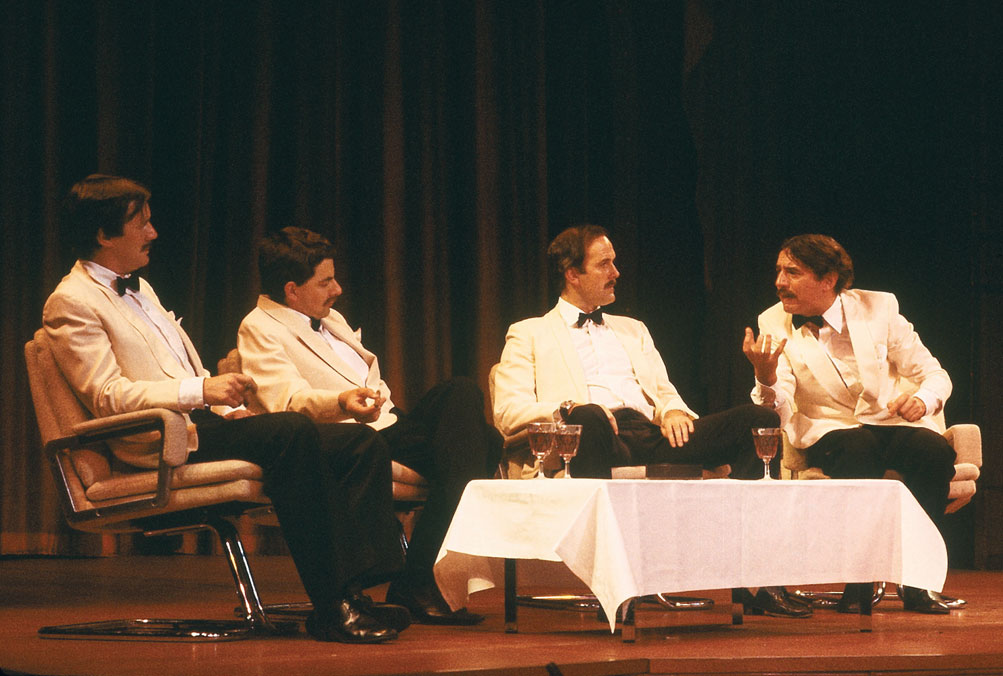 (Left-to-right) Michael Palin, Rowan Atkinson, John Cleese and Terry Jones are the Four Yorkshiremen. ("Luxury!")
The Secret Policeman's Other Ball (1981) is the great one, wherein all the stops are pulled and the medium comes to fruition. Filmed over four late nights, this time at the Theatre Royal, Drury Lane, the Other Ball embraces its predecessors whilst also forging ahead into the frontier retro-actively described by Lewis as "Mock 'n' Roll." The comedy peaks with the return of Billy Connolly, plus Atkinson as an orchestra conductor who gradually loses his grip on Beethoven. Fans (alas, I'm not) of English white chaps pretending to be Southern-American black guys will greatly enjoy Eric Clapton's bluesy duet with Jeff Beck.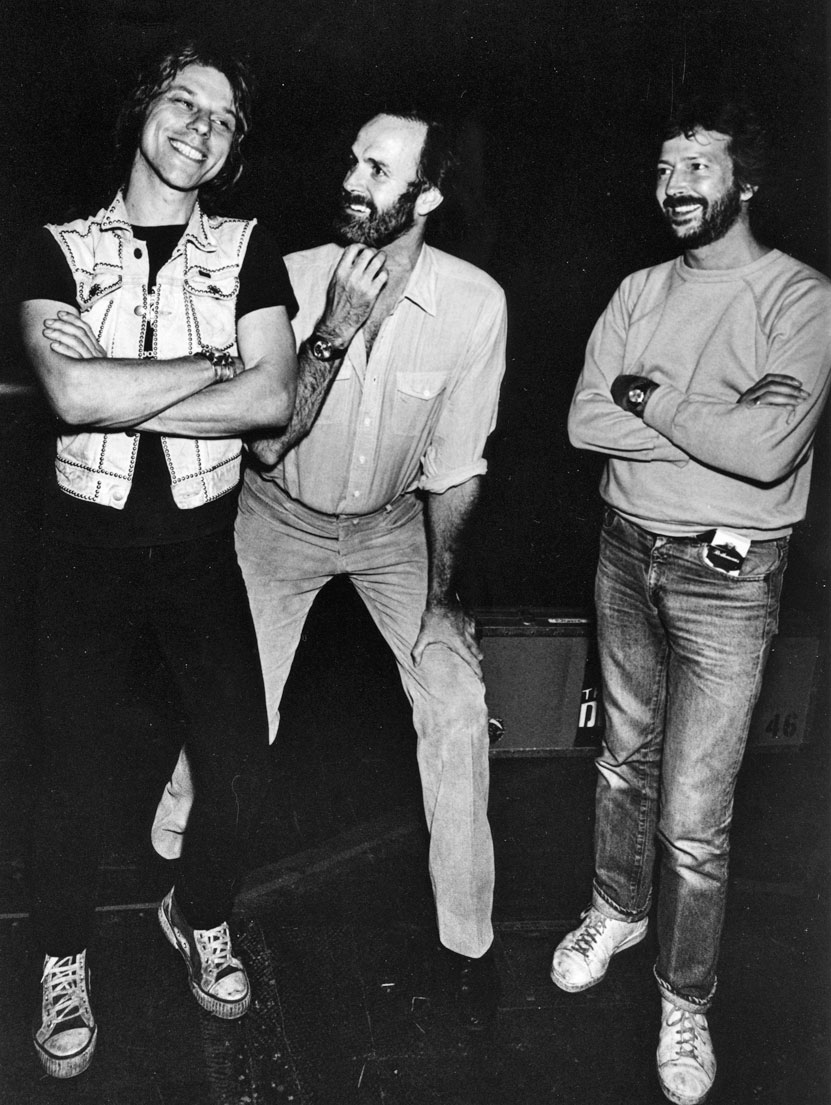 "I say chaps! Which way is the Delta?!"Ex-Yardbirds Jeff Beck (left) and Eric Clapton (right) with John Cleese backstage at 1981's "Secret Policeman's Other Ball."
(Photo: Adrian Boot)
I have to admit that, as an American consumer, I've been force-fed far more than my quota of solo Phil Collins for several eternities (although, to be fair, he was considered quite cool in 1981). Vital are the performances by Sting (both solo, and leading a vast array of musicians on Dylan's "I Shall Be Released" -- with current-day HuffPost blogger Bob Geldof cooking up some early, lofty ideas, stage left, beside Midge Ure). Also behold here Geldof's blazing version of "I Don't Like Mondays" -- which he introduces via spoof-Vegas patter as "a song that's been very kind to us." At the time, I thought Donovan's "Catch the Wind" had something to do with burritos (here the mystical musician magically proves me wrong), and then there's this film's discovery (surely familiar to Young Ones fans): a young, pre-Gorky Park comedian called Alexei Sayle, who delivers his hyperactive antics as a living bridge between comedy and punk rock. Not to be missed.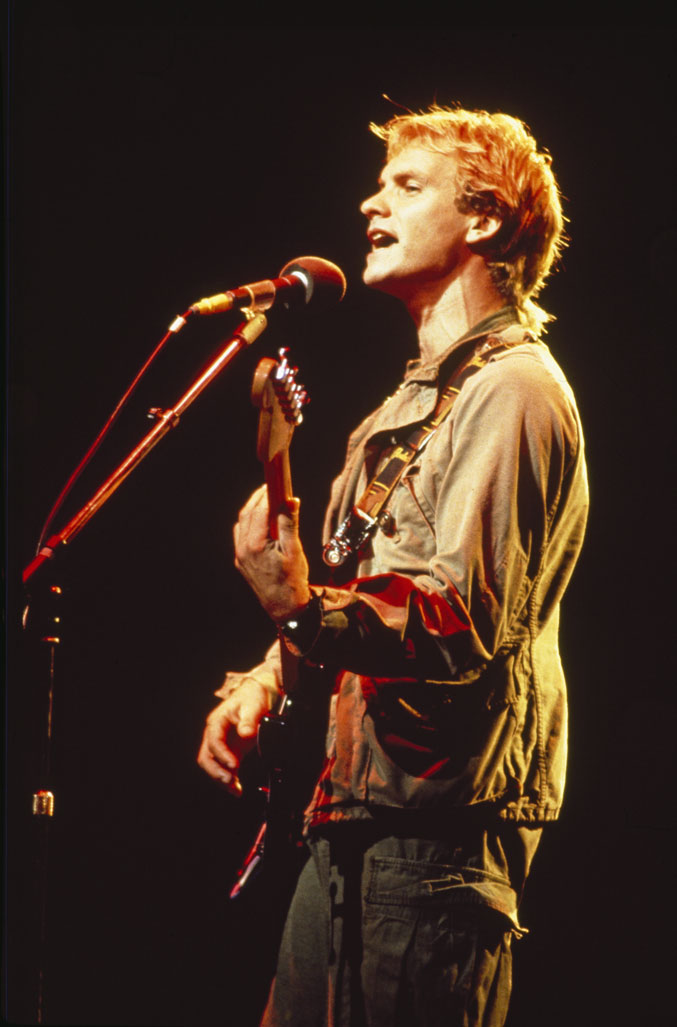 Sting's first-ever solo appearance was at 1981's Secret Policeman's Other Ball. Just two years later the Police-man went solo...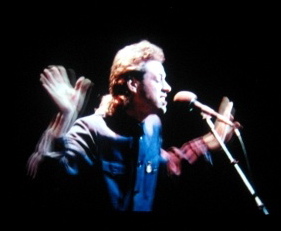 Bob Geldof live - aiding the Amnesty cause at his first-ever charity appearance in 1981.
Amnesty and the American Cinematheque provided a sumptuous week-end for SoCal fans of comedy, music, philanthropy and all of the above, and we almost-witty Yanks owe thanks to Mr. Lewis for bringing us these wonderfully diverse, illuminating and therapeutic entertainments from... wherever... "Britain" or something. I personally intend to extend my appreciation just as soon as Lewis pauses between regalements; but it is of course entirely possible that Mr. Lewis may remain here, tirelessly regaling, long after the rest of us are dust.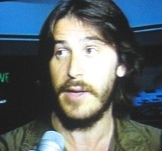 The early-eighties, Puttnam-bearded version of producer Martin Lewis regaling an interviewer at the 1982 Hollywood premiere of The Secret Policeman's Other Ball
MORE ON HUFFINGTON POST ABOUT THE FILM FESTIVAL
• Having A Ball For Amnesty (includes ultra-rare film clips)

• The Secret Policeman's Film Festival: Be There -- With Balls On!

• 30 Years of Mocking and Rocking

• Having a Secret Policeman's Ball

• And Now For Something Completely Different: The Secret Policeman's Film Festival

• Monty Python & The Holy Grail... of Human Rights
OFFICIAL FESTIVAL WEBSITE
• The Secret Policeman's Film Festival -- Official Website
Calling all HuffPost superfans!
Sign up for membership to become a founding member and help shape HuffPost's next chapter