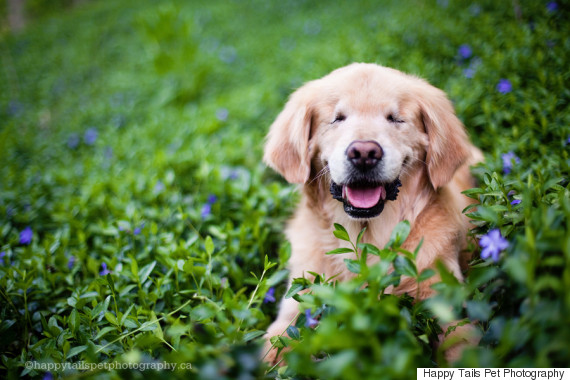 Smiley the golden retriever knows better than anyone that love is blind.
The 12-year-old pooch was born with a condition linked to dwarfism that -- in addition to him being born without eyes -- left him with physical disproportions. His oversized teeth paired with his eye sockets, which were sewn shut to prevent infection, make him look like he's smiling; hence his name.
Rescued in 2004 from a puppy mill by Joanne George, his current owner, Smiley now has a happy home and is a therapy dog in Stouffville, Ontario.
"He does something to people," George told The Huffington Post. "People say they feel like a different person after meeting Smiley."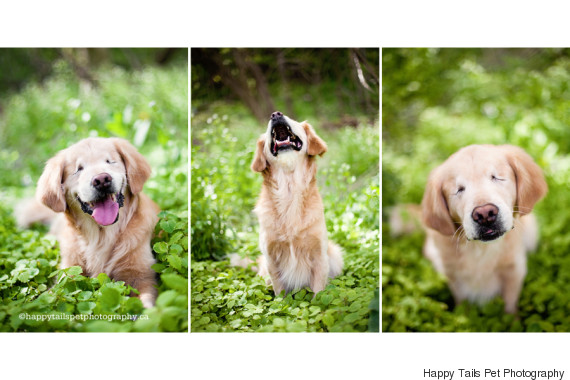 Though he's giving and getting lots of love and support today, Smiley's early days weren't so happy. He was born in a crowded barn with more than 100 other dogs, and had a hard time surviving because of his disability.
George, who was working as a veterinary technician at the time, heard about the mill and went with other technicians to investigate and relieve the dogs from the poor living conditions. When she found Smiley, his ears were split and he had fresh wounds on his face. Along with Smiley, George took 10 pups with her so they could be placed in homes.
"Out of all of them, he was the most stable because he couldn't see where he was," she said.
The other dogs were easy to find homes for, but Smiley was a difficult sell. He would hide under tables and cower at strange sounds. However, after about six months, George realized Smiley was best with her. She already had a Great Dane with a big, boisterous personality who was helping Smiley to come out of his shell and adapt to his new home. Because he is unable to see, Smiley gauges his surroundings based off the energy of others, and the Great Dane's happy energy rubbed off on him.
Currently, the 12-year-old golden retriever works at Canadian first aid training organization, St. John's Ambulance, in the York Region of Ontario. George, a professional behavioral dog trainer, has trained Smiley to become an adaptive and versatile therapy dog, with a large part of his work involving children.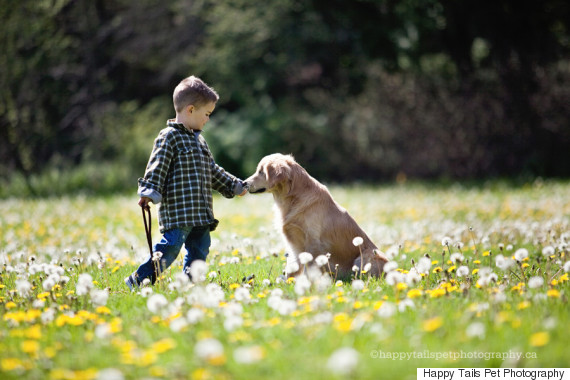 She brings Smiley to funerals and visitations to sit with children who are experiencing a death close to them. The presence of a dog helps relieve the sadness surrounding them in these moments, she said. Smiley also visits a local library to sit with children with autism who have difficulty reading, and spends time in classrooms for students with special needs.
"These kids who were born with different disabilities are able to see that dogs, too, are born with the same disabilities," George told HuffPost. "It's important for them to see that Smiley has overcome, and that he's happy."
Smiley didn't take long to live up to his name, and was spreading joy to others from the moment he came home with George. Because he cannot see, Smiley gets to know people based on feeling.
"Because he needs to feel you, he sits there forever waiting to be patted and stroked," George explained. "He leans up right against you."
George believes this is why Smiley is such a good therapy dog. When training Smiley, George did not follow standard voice commands to teach him, but rather took a step back and let Smiley figure things out on his own.
"He's never been able to see, so he's had to learn to understand his other amazing senses," she says."Smiley just makes people smile."
This wide understanding and sensitivity is what has made has made Smiley so lovable.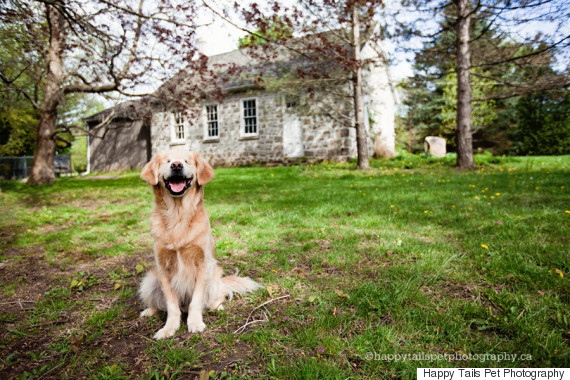 For both her work with Smiley and with her own dog training business, Training the K9 Way, George has been nominated, along with her beloved pooch, for the York Region Character Community Awards -- a local celebration of individuals that have done exceptional work for the community. George hopes Smiley's story can encourage adoption from local shelters, and show that rescue dogs deserve as much of a chance as any other pet.
"No matter where a dog starts from or how broken they may seem, they're not," George says. "If you let them, they can recover and then can do so much more. Just look at Smiley."
Related
Before You Go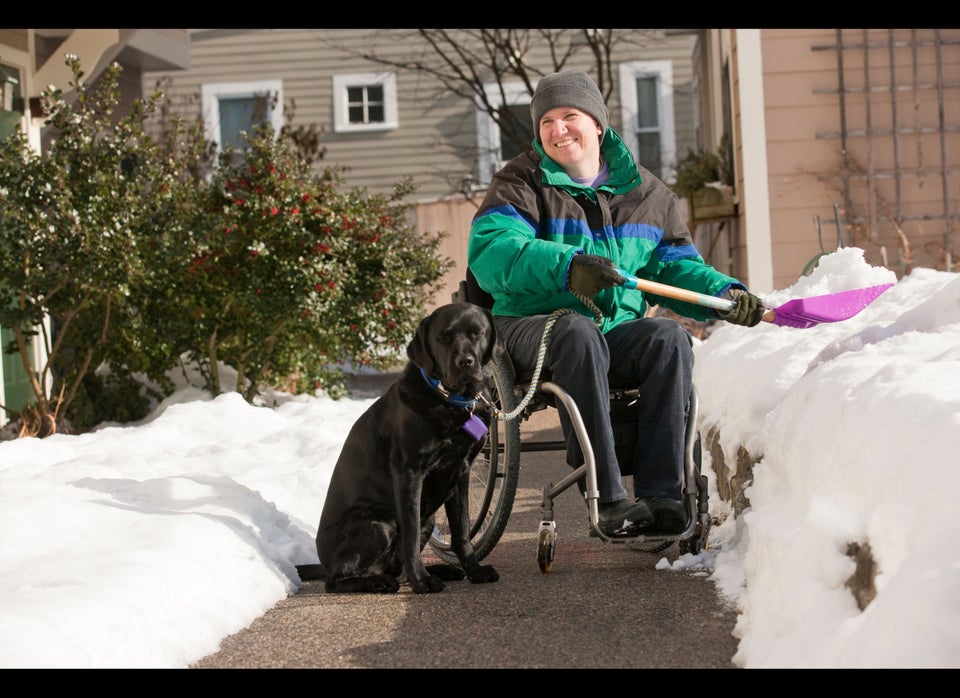 Facts about service dogs
Popular in the Community