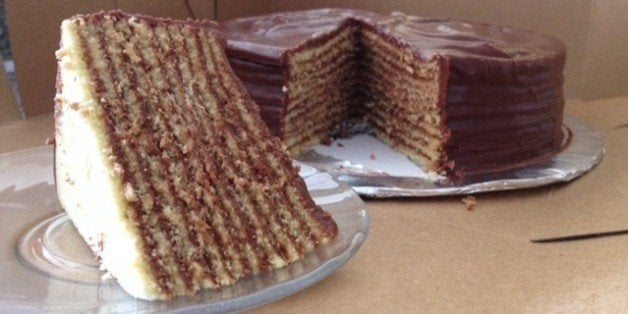 All fine and decent dessert choices but if you want a state dessert with more layers-per-bite than any other dessert option -- and proves the journey matters as much as the destination -- head to Maryland's eastern shore and take a ferry to tiny Smith Island (population: 240).
Inhabited since the 1600s and accessible only by boat, Smith Island boasts both its own distinct dialect and Smith Island Cake, a 10-layer confection of yellow cake and chocolate fudge icing that was designated the official dessert of Maryland in 2008.
Today, the cake is available in a plethora of flavors ("My favorite is banana," one local said) and the number of layers ranges from six to 12. Frances Kitching, a lifelong Smith Island innkeeper and cook, is credited with creating the traditional 10-layer cake; according to The New York Times, "some say [the cake's origins] can be traced to Welsh and English settlers who came to the island in the late 1600s."
It's worth noting that the cake is available on the mainland. But much like eating Prantl's burnt almond torte anywhere but Pittsburgh (sure, you can get it mailed to you but why would you?), such is the case with the authentic Smith Island Cake experience.
Sit down on the dock of a 400-year-old fishing village. Enjoy your slice of cake bite by bite, layer by layer. Enjoy a few minutes of peace in a place where pirates once roamed and a couple hundred hardy souls still call home.
Here's a basic recipe if you want to try your hand at whipping one up at home; note that the layers are created by baking each ultra-thin layer individually, rather than slicing one large cake into layers.
If you go: There are bed and breakfasts on Smith Island; you can also stay in Crisfield, on the mainland, which has a range of condos, motels and B&Bs, and twice-daily ferries to the island.
Where to get the cake: We picked up a whole cake at the Bayside Inn Restaurant, where it's also available by the slice.
Related