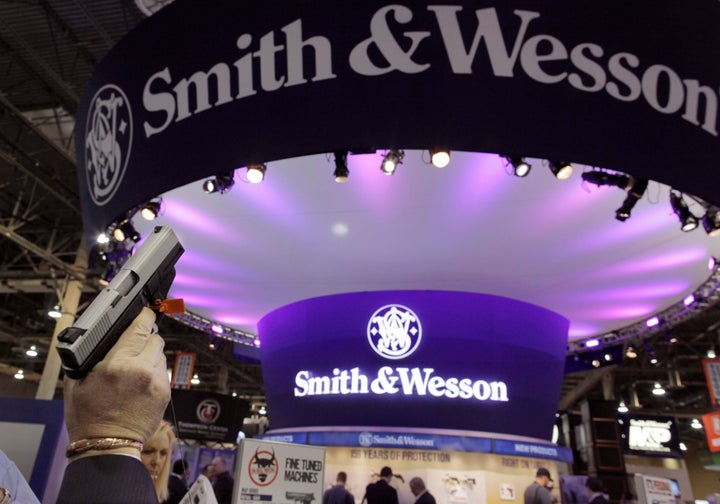 In the early 2000s, Smith & Wesson desperately needed its tough guy mojo back.
The storied gunmaker, which armed Clint Eastwood's Dirty Harry character with his signature .44 Magnum, was under boycott from pro-gun groups for breaking ranks with other firearms makers and signing a gun safety agreement with the Clinton administration in exchange for immunity from pending litigation.
In the agreement, Smith & Wesson pledged that any new firearms would not take a magazine holding more than 10 rounds of ammunition, and that dealers would be required to more aggressively apply background checks to buyers. The Clinton administration called the deal the beginning of an "unprecedented partnership" between government and the gun industry.
But pro-gun advocates saw the agreement as a rank betrayal, and the National Rifle Association said the company had "run up the white flag of surrender." Under pressure from the boycott, sales fell 40 percent, and Smith & Wesson closed two factories. In 2001, Tompkins PLC, its British owner, sold the company to a U.S. buyer for $15 million, a fraction of the price it had paid for it just a few years earlier.
Yet in just a few years, Smith & Wesson was back on its feet and well on its way to regaining its position at the top of U.S. gun manufacturers. A key element of its strategy was openly repudiating the terms of the Clinton gun safety deal and introducing a new line of high-capacity pistols and its first-ever, assault-style rifle, which became top-sellers for the company. The turnaround was facilitated by the Bush administration, which failed to enforce the terms of the gun-safety deal and aided Smith & Wesson with major new federal contracts, according to Jon Cowan, former president of Americans for Gun Safety.
"The Bush administration was deeply in the pocket of the NRA and decided not to enforce this agreement," said Cowan, who worked on the deal while serving as chief of staff to New York Gov. Andrew Cuomo during his tenure as the secretary of the Department of Housing and Urban Development. "Frankly, if there had been a Gore administration, this would have been actively and aggressively enforced."
Smith & Wesson and the National Rifle Association did not respond to requests for comment. Alphonso Jackson, a HUD secretary during the George W. Bush administration, who had responsibility for enforcing the gun-safety agreement, did not return a message left at his home requesting comment.
But Smith & Wesson officials and a Bush administration official at HUD told the Wall Street Journal in 2001 that the Clinton deal was considered non-binding. "HUD is not enforcing it," the official told the Journal. "In fact, HUD is not doing anything with it."
By 2010, the company that had been broadly viewed as "knuckling under" to pressure from the Clinton administration was selling more than 100,000 assault-style rifles a year and earning record revenues and profits.
James Gregory, president of CoreBrand, a marketing consulting firm, worked with Smith & Wesson to resuscitate the company's image. "That boycott was devastating to them," Gregory said. "They were in a downward spiral."
Its new product thoroughly rehabilitated its image among gun owners, said Kristen Rand, legislative director for the Violence Policy Center in Washington, D.C. "It was brilliant of them to come out with an assault rifle," Rand said. "That's the hot trend."
But there were consequences. In August 2012, James Holmes, a disturbed graduate student, allegedly opened fire on a crowded movie theater in Aurora, Colo., with a Smith & Wesson assault-style rifle, killing 12 and injuring 58. The rifle was fitted with an "ultra-capacity" magazine holding 100 rounds.
Smith & Wesson-made assault weapons are also increasingly fueling drug-related violence south of the border, Rand said. "We started seeing them showing up in seizures in Mexico," she said.
The company, like the rest of the U.S. gun industry, now faces intense scrutiny and an uncertain future in the aftermath of the massacre of 20 children and six adults in an elementary school in Newtown, Conn. last week. To a degree unmatched by any other recent mass shooting, the slaughter in Newtown galvanized political pressure, including from President Barack Obama, to tighten the nation's gun laws.
Smith & Wesson stock dropped nearly 20 percent in the wake of the shooting, reflecting market fears that new gun controls could eat into the company sales, analysts said. Smith & Wesson, like much of the rest of the gun industry, is highly reliant on the sale of military-style, semi-automatic rifles and high-capacity handguns to drive growth, said Rommel Dionisio, a securities analyst at Wedbush Morgan Securities who follows the gun industry.
In a statement earlier this week, Liz Sharp, a spokeswoman for Smith & Wesson said it was "inappropriate" to comment on gun control legislation in the aftermath of Newtown. "Our hearts go out to those impacted by this terrible tragedy," Sharp said.
In a press conference Friday, Wayne LaPierre, the NRA's chief lobbyist, called for armed guards in every school to prevent future school shootings, but did not take any questions or offer new proposals to restrict gun sales.
"The only thing that stops a bad guy with a gun is a good guy with a gun," LaPierre said.
In May this year, Smith & Wesson was inducted into the National Rifle Association's "Golden Ring of Freedom," an honor for those who have given the group cash or assets of $1 million or more.
"Smith & Wesson is a valued corporate partner in NRA's fight to preserve the 2nd Amendment," LaPierre said at a press conference announcing the award.
Smith & Wesson response to the latest calls for tightened regulations is unclear. But on the Smith & Wesson Facebook page, fans of the brand urged the company not to buckle under pressure from gun control advocates.
"I hope you will assist the gun community in this fight against tyranny," said one commenter, a young man who held an assault rifle in his Facebook profile photo. "I hope you will stand by your customers."
CORRECTION: A previous version of this post incorrectly stated that Alphonso Jackson was the first secretary of the Department of Housing and Urban Development under the Bush administration. Mel Martinez held the post during Bush's first term.
Before You Go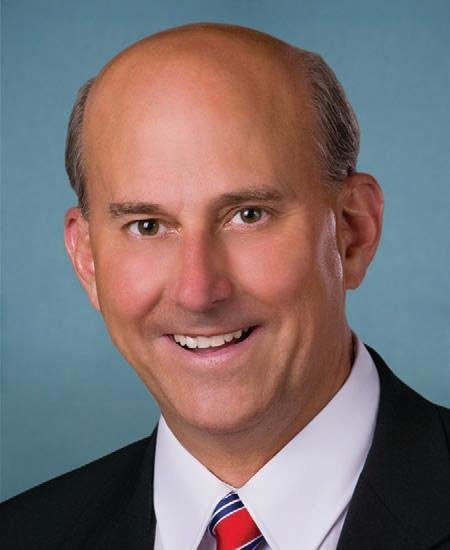 People Who Want More Guns In Schools
Popular in the Community