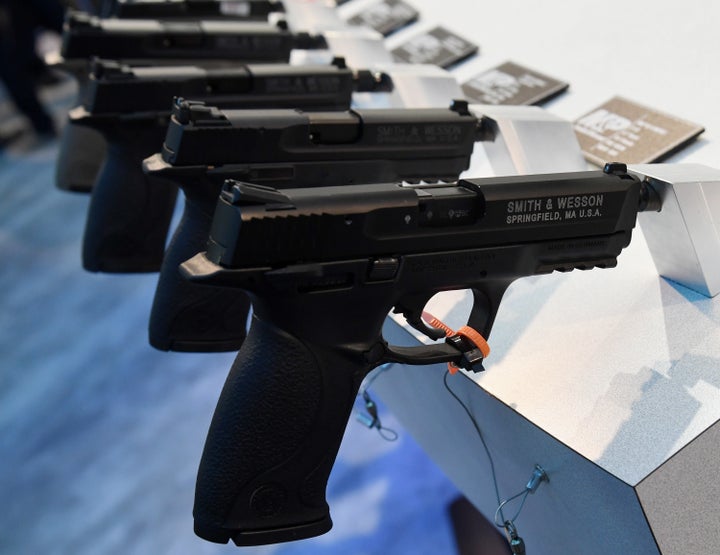 Shareholders of Smith & Wesson, the largest U.S. firearm manufacturer, voted Tuesday to urge the gunmaker to publish a report documenting violent events associated with its products and examining the reputational and financial risks it could face from shootings, as well as efforts the company is taking to make its weapons safer.
The push was spearheaded by a coalition of religious groups organized under The Interfaith Center on Corporate Responsibility. Sister Judy Byron of the Intercommunity Peace & Justice Center introduced the proposal at a virtual shareholder meeting Tuesday afternoon, arguing that gun violence carried out with Smith & Wesson firearms — including high-profile mass shootings like the one in Parkland, Florida, in February — could damage the manufacturer's parent company, American Outdoor Brands Corporation.
"The majority of guns used in crimes in major U.S. cities are AOBC guns," Byron said. "Each event brings new threats of lawsuits, boycotts, divestment and demonstrations — and along with them, a wave of damaging news stories about gun companies and their inability to make their products safer for civilians, and most critically, to help prevent their misuse by children."
The company's proximity to these events means it is "obligated to help find ... solutions to gun violence," Byron added.
In comments after the meeting Tuesday, American Outdoor Brands CEO James Debney disagreed, saying the vote was "politically motivated," according to CNBC. He did not publicly commit to commissioning the report outlined in the proposal. Although publicly traded companies are allowed to ignore shareholder proposals, organizers of the campaign were hopeful that American Outdoor Brands would take their concerns seriously.
"We don't know yet what, if any, action they will take," said Colleen Scanlon, senior vice president of Catholic Health Initiatives, who was involved in the initiative. "One does hope that getting shareholder support for a resolution like this is somehow compelling or influential for the company."
A spokesperson for American Outdoor Brands did not immediately respond to a request for comment.
In previous comments, Debney has claimed that such a report would not be "feasible" and would do "nothing to make our community safer." He's instead maintained that his company has taken an interest in reducing gun violence by calling for "greater vigilance in enforcing the laws and criminal penalties on the books, and the need to meaningfully address the role that mental illness plays in senseless violence."
The American Outdoor Brands shareholder proposal followed a similarly successful effort in May, when investors forced the same sort of report at Sturm, Ruger & Co., the nation's second-largest gun manufacturer. Smith & Wesson and Ruger each manufactured more than 2 million firearms in 2016, the latest year for which federal data is available, meaning they were together responsible for more than one-third of all guns produced in the U.S. that year.
In both votes, the smaller blocs of activist shareholders were joined by large institutional investors at corporations like BlackRock and Vanguard, which together own about a fifth of American Outdoor Brands' shares. Neither firm would provide additional comment to HuffPost on their support for the proposal.
Gun control advocates said they were encouraged by the vote.
"Just one year ago, it was unthinkable that shareholders would demand that gun manufacturers examine their own role in America's gun violence epidemic. Now, it's becoming the norm," said Avery Gardiner, co-president of the Brady Campaign to Prevent Violence, in a statement. "This vote is proof that the tide is turning, that Americans from all walks of life have had enough of gun violence, and that we all demand the gun industry help stop this uniquely American problem."
John Rosenthal, founder of the Massachusetts-based nonprofit Stop Handgun Violence, said he was particularly surprised that BlackRock and Vanguard had thrown their weight behind the initiative.
"These are modest proposals, but this is really a seismic shift that these huge institutional investors are siding with gun safety over purely mercenary corporate greed in an unregulated environment," Rosenthal said.
In August, Rosenthal helped coordinate a student-led march to the Smith & Wesson headquarters in Springfield, Massachusetts, where protesters held a rally demanding accountability from the company on gun violence. Although the gun manufacturer has repeatedly ignored requests by activists, Tuesday's vote suggests investors want to see more from Smith & Wesson, said Rosenthal.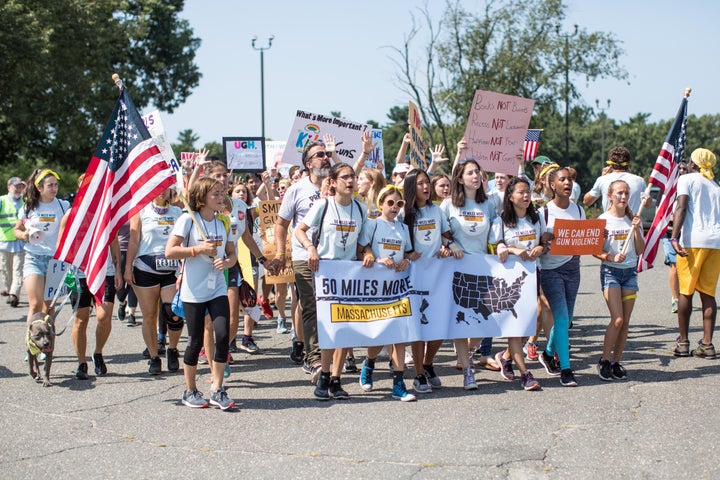 "They're beginning to feel guilty for financing an epidemic of gun violence," Rosenthal said. "They're big, smart investors who sort of see the writing on the wall, that the gun companies can be part of the solution."
A forthcoming report by American Outdoor Brands could weigh the possibility of investing in controversial "smart gun" technology, which allows firearms to be operated only by authenticated users.
In 2000, Smith & Wesson agreed to a set of voluntary safety reforms, including a move to begin developing "smart" guns. The National Rifle Association and other gun groups responded by accusing the gunmaker of running up "the white flag of surrender" and betraying the interests of U.S. gun owners by "selling out" to the U.S. government. Boycotts soon followed, spurring crippling losses that would nearly bankrupt the company.
Since then, the gun lobby and firearm manufacturers have worked together to reject any move toward cooperation on issues of gun safety or gun violence prevention. Investors have meanwhile appeared largely willing to accept that dynamic. With a new wave of activism sweeping the nation, that may finally be starting to change, Scanlon said.
"While we recognize that companies have a fiduciary responsibility to their investors, we also believe they have a broader responsibility to society and that they need to address the issue of gun safety," Scanlon said. "They're not mutually exclusive. We actually think the financial and reputational risk for not getting involved in being a part of constructive dialogue and activity around gun safety is quite risky for gun companies."
Popular in the Community