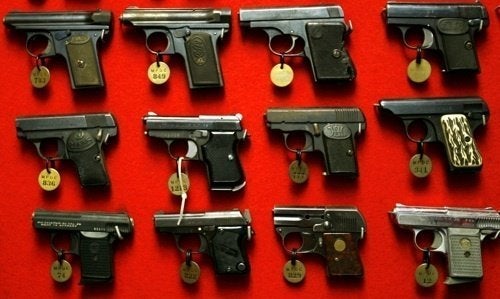 When last heard from, Smith & Wesson was gaining public attention from their marketing of a high-powered revolver that could penetrate the body armor most commonly worn by America's law enforcement personnel.
Now the company is working to wheedle its way back into the news cycle with the announcement that they're producing a "commemorative" snub-nosed "lightweight carry revolver" celebrating the recent Supreme Court decision in District of Columbia v. Heller.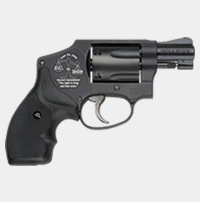 Highlighting the gun industry's insularity and ubiquitous tin ear for irony is the fact that a portion of the profits from the handgun's planned sale in the fall will go to the Second Amendment Foundation -- an organization founded by Alan Gottlieb, a convicted felon who at one time lost the ability to possess guns. (He later regained the ability to own guns through the now-defunct federal "relief from disability" program, a multi-million dollar program that re-armed convicted, often violent, felons, at taxpayer expense.)
Smith & Wesson says that models of the 38 caliber revolver will also be presented to each of the original six plaintiffs in the case -- a total that surpasses the number of already-possessed revolvers that have been registered by DC residents under a recent amnesty program stemming from the decision. According to last Friday's Washington Post, "of the five applicants so far, police said, only Heller brought in a legal gun from outside the District. The others sought to register revolvers under the amnesty program. Three of those applications are pending. The other was rejected and the gun was confiscated because the applicant had a criminal record..."
Smith & Wesson's announcement comes the same week as the 10-year anniversary of an attack at the U.S. Capitol with another Smith & Wesson .38 revolver that left two Capitol Hill police officers dead. On July 24, 1998, Russell Weston, Jr. , who had a history of serious mental illness, shot his way into the U.S. Capitol to "prevent the United States from being annihilated by disease and legions of cannibals." After killing Jacob Chestnut, a uniformed U.S. Capitol police officer, he ran into the building and killed John Gibson, a Capitol police special agent assigned to protect then-Majority Whip Rep. Tom DeLay. Weston was subsequently wounded by police and captured.
So let's review. Smith & Wesson, which manufactures a "vest busting" revolver that can penetrate the body armor worn by law enforcement, issues a special "commemorative" revolver to celebrate the end of a law strongly supported by Washington, DC police and other national law enforcement organizations, with a share of the profits from the revolvers' sale going to an organization founded by a convicted felon, during the same week as the 10-year anniversary of the same caliber and type of Smith & Wesson handgun being used to kill two Capitol Hill police officers.
Now what was that about the gun industry's insularity and ubiquitous tin ear for irony?
Calling all HuffPost superfans!
Sign up for membership to become a founding member and help shape HuffPost's next chapter