Beginning Thursday, a group of students will march westward a quarter of the way across Massachusetts in the latest act of a national, youth-led campaign to save lives and change the conversation about gun violence.
The Massachusetts event will begin in Worcester and end Sunday in Springfield outside the headquarters of Smith & Wesson, where the students say they'll challenge the firearms manufacturer to do its part to prevent mass shootings and other routine gun violence.
The organizers say they were inspired by civil rights activists who marched from Selma, Alabama, to Montgomery in 1965 to pressure lawmakers to enact new national voting rights legislation.
"That 54-mile march was an inspiration for this one," said organizer Vikiana Petit-Homme, a 17-year-old high school student from the Boston area. "They fought for their freedoms, so we're doing the same here."
"These kids are doing what we did in the '60s and '70s with the civil rights movement and the anti-war movement."
The activists have two main goals. The first is to get Smith & Wesson to agree to stop manufacturing military-style weapons like the M&P 15, an AR-15-style rifle that has been used in a number of recent high-profile shootings, including in Parkland, Florida, in February, in San Bernardino, California, in 2015, and in Aurora, Colorado, in 2012.
The second is for Smith & Wesson to donate $5 million to study gun violence and other crimes involving the company's firearms.
Considering the M&P 15 is already restricted in Massachusetts under the state's assault weapons ban, the first objective seems like a no-brainer, said Petit-Homme.
"We're allowing a company like Smith & Wesson to ship out weapons that we don't even want in our own state," she told HuffPost. "We thought that was very hypocritical and we thought it was our chance to stand up against that and actually hold Smith & Wesson accountable for their actions."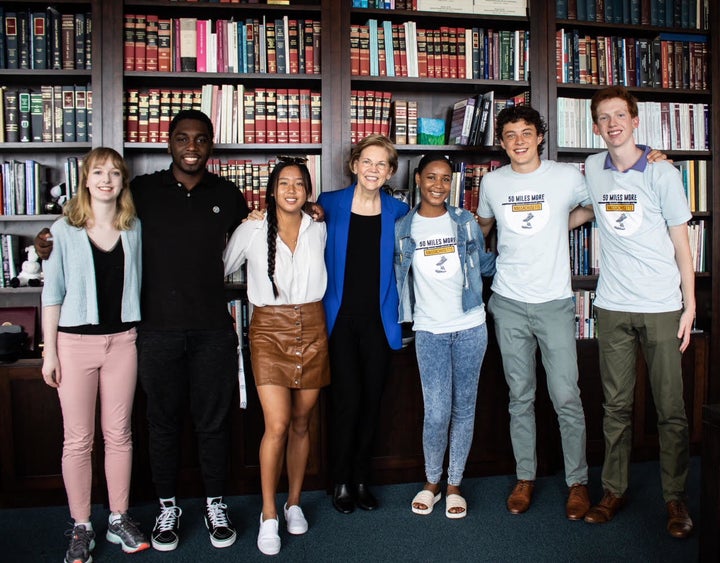 The organizers of Thursday's march say Smith & Wesson highlights the awkward place Massachusetts occupies in the ongoing debate about guns in America. The deep-blue state has some of the country's strongest gun laws, including strict licensing and consumer protection standards that gun control advocates say have helped drive down firearm fatality rates to the lowest in the nation.
"We're allowing a company like Smith & Wesson to ship out weapons that we don't even want in our own state. We thought that was very hypocritical."
Although gun violence may be less an issue in Massachusetts than in other states, it's not uncommon in Springfield, where 18-year-old Trevaughn Smith grew up. Smith said he spent years living in a rough neighborhood and recalled occasional shootings there. In 2017, there were 68 shootings that ended in injury or death in Springfield, the police department told HuffPost earlier this year.
But until recently, many residents of Springfield didn't make the connection between Smith & Wesson and the bloodshed at home or in other places around the U.S., Smith said.
"Because of these recent atrocities, Smith & Wesson is on everybody's radar in Springfield," he said. "Residents have really started to realize that Smith & Wesson is a lot closer to us than we originally thought."
Smith & Wesson has responded with total silence. A spokeswoman for American Outdoor Brands Corporation, Smith & Wesson's holding company, did not respond to HuffPost's request for comment this week.
"They're simply ignoring this, hoping it will go away, but that won't be the case," said Smith.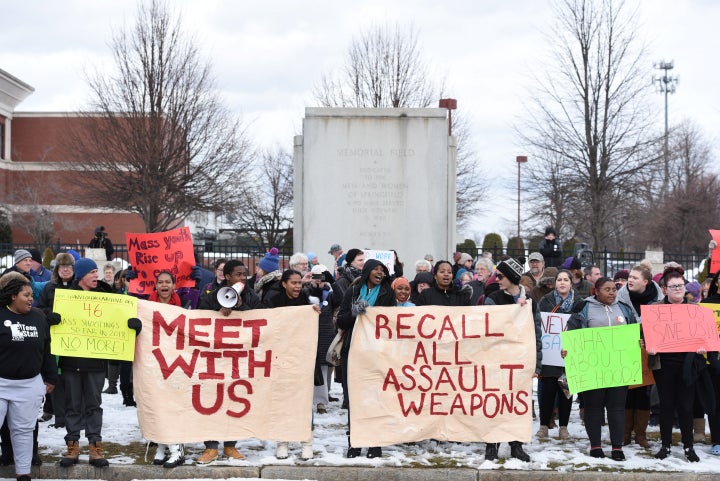 March organizers say it's time for Smith & Wesson to step up and help find ways to reduce gun violence that won't infringe on people's Second Amendment rights.
"We're not asking to shut their doors and stop selling guns," said Jack Torres, a 16-year-old from the Boston area. "We're just asking them to help fund the gun violence research that will help them be a more responsible company in terms of how their guns are used and sold."
Torres said he understands that the idea of gun violence research has become intensely politicized in the current debate. But he disagrees that this sort of data is inherently biased.
"It's just statistics about the way guns are used," he said. "If those facts go against what you're trying to say, then that says more about what you're trying to say than about the facts."
The youth activists will be joined by David Hogg, a former student of Marjory Stoneman Douglas High School in Parkland who survived the February 14 massacre there. Manuel Oliver, whose son Joaquin died in that shooting, will also be in attendance.
Organizers say they plan to host nightly listening sessions to discuss the effects of gun violence. They'll also be dedicating certain stretches of the march to shooting victims, with the final leg set to be completed in memory of Joaquin Oliver. There may not be huge numbers of people completing the entire march, but organizers expect more people to join them in Springfield on Sunday.
So far, the students say the response has been largely positive, aside from a few "vicious" comments on news stories and social media. Those have become par for the course in their campaign for gun reform, they said.
"Smith & Wesson is on everybody's radar in Springfield ... They're simply ignoring this, hoping it will go away, but that won't be the case."
Although the organizers expressed optimism that their continued pressure would eventually lead to voluntary engagement from Smith & Wesson, other say it could take more forceful action to effect the sort of change they say is necessary.
"I would love to see the state legislature and governor try to enact legislation that basically says you can't make and distribute weapons in Massachusetts that are illegal in Massachusetts," said John Rosenthal, founder of the Massachusetts-based nonprofit Stop Handgun Violence, which is offering resources and logistical support for the march.
Rosenthal has been heavily involved in the gun reform movement since 1994, and he acknowledged that there's been very little buy-in from firearms manufacturers on gun violence issues over that time period. The National Rifle Association and other gun lobby forces have effectively blacklisted companies ― including Smith & Wesson ― when their executives have shown a willingness to pursue safety initiatives like "smart gun" technology, which is meant to prevent anyone but a firearm's owner from shooting the weapon.
But with a new generation of youth leadership at the helm, Rosenthal said the winds may finally be starting to shift.
"These kids are doing what we did in the '60s and '70s with the civil rights movement and the anti-war movement," he said. "It's the most encouraging, hopeful thing I've seen in 25 years of gun violence prevention activism."
Popular in the Community