Hank Aaron, who bats leadoff in the Smithsonian Channel's new Major League Legends series that starts Monday, was baseball's quiet man.
It was the world around him that got noisy, and this production reminds us that the commotion and tension for Aaron began long before he broke Babe Ruth's all-time home run record in 1974.
He hit his 715th home run, the one that moved him past Ruth, on April 8, 1974, and it's hard to convey outside the baseball world what that meant.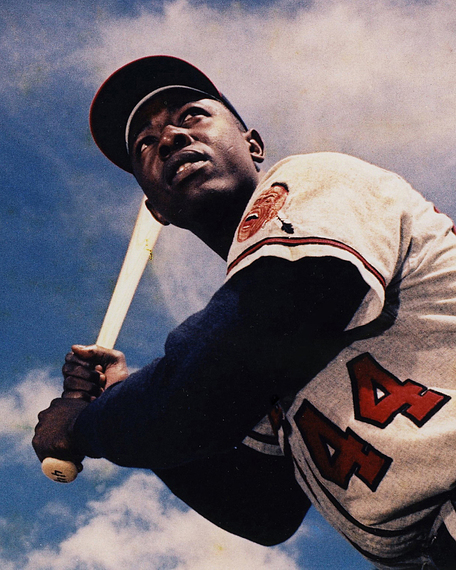 Having more home runs than Babe Ruth, to baseball fans, was like having one more commandment than Moses.
For too many athletes today, it would call for chest-thumping that could be heard in Outer Mongolia.
Aaron wasn't that guy. He worked silently and efficiently. Hitting was his job, something he did for 24 years. Every season, 30 home runs, a hundred runs batted in, a .300 average. Take it to the bank.
He was a machine without an off switch, and his disinterest in flamboyance at times got him overlooked.
Still, he has gradually been acknowledged as one of the best there's ever been, which is why Monday's Legends (8 p.m. ET) wisely narrows its focus mostly to the racial battles Aaron faced and the racial tension that clouded the air as he approached Ruth's record.
It is suggested by several commentators in the film that what should have been the crowning triumph of Aaron's career, months of glory and adulation, instead become a worrisome marathon of grim stress.
Aaron, who is interviewed for the special, only admits he was glad when it was over.
Narrated by Martin sheen, Legends traces Aaron's unavoidable racial struggles back to his childhood in Mobile, Ala., when the local Ku Klux Klan burned crosses on his family's front lawn.
He started his pro career at 17 with the Indianapolis Clowns of the Negro League. With major league teams scrambling to snag the best black players in the early years of the Jackie Robinson era, Aaron was signed by the Boston Braves, who would soon move to Milwaukee.
Before he got there, though, he had a season in the Sally League, a minor league in the deep South.
This was around the time the Supreme Court mandated school desegregation, helping fuel the modern Civil Rights movement. Tensions were starting to rise and life for black ballplayers, like for black entertainers and black anybody else, was often 40 miles of bad road.
This special acknowledges the demeaning harshness of that life without going into corrosive details. In a way that omission is too bad, since the "good old days of the 1950s" myth can always use a slap of reality.
Aaron remembers Milwaukee as a kind of respite. But by the time he was on the doorstep of Ruth's record, the Braves had moved to Atlanta, which Aaron points out is surrounded by the South.
The story of the vicious mail he received during the Ruth chase has been told often. Legends suggests it was downplayed at the time, but doesn't really try to quantify its extent - or, for that matter, note there was a counter-campaign of supportive letters.
In a sense, Legends suggests, the angry, near-illiterate death-threat letters may have become a spur, firing the competitor in him.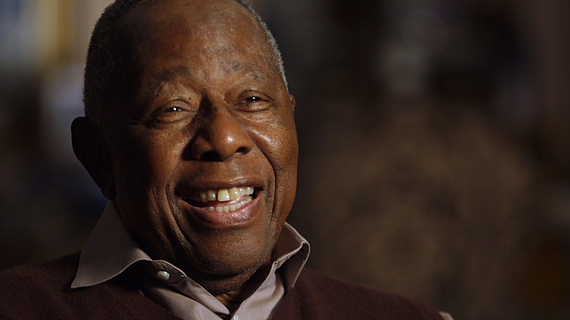 Whether that's true or not, Aaron's pursuit of the Ruth record would have been a sunnier story without those letters. Sadly, they remind us that announcer Vin Scully was only partly correct on April 8, 1974, when he rhapsodized about this great day when all America came together to cheer for Hank Aaron.
Watching Legends, we do feel the triumph. It's impossible not to admire both Aaron's baseball skill and the grace with which he developed the public persona that fans demand of great athletes.
Still, because this Legends spotlights the racial angle, it's also impossible not to see a hole.
The show identifies some of the racist institutions and sentiments that made life so unnecessarily hard for Aaron and other talented people who never got the chance he did.
But it's produced by Major League Baseball and perhaps not incidentally, it doesn't acknowledge that baseball, the American national pastime, was itself one of those institutions for a shamefully long time.
Even when Jackie Robinson broke the wall, all the issues didn't magically dissolve.
A celebration of Hank Aaron can celebrate baseball. It just shouldn't ignore the fact baseball needed some atoning of its own.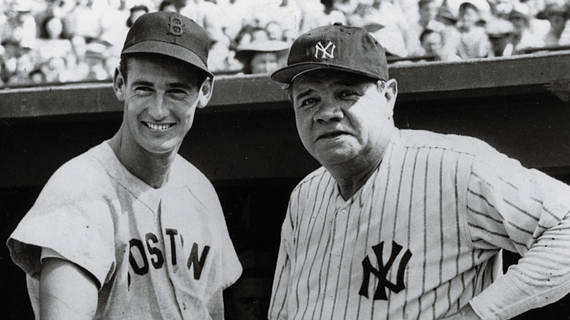 [The next three Monday night episodes of Legends will feature, in order, Babe Ruth, Lou Gehrig and Ted Williams.]
Popular in the Community