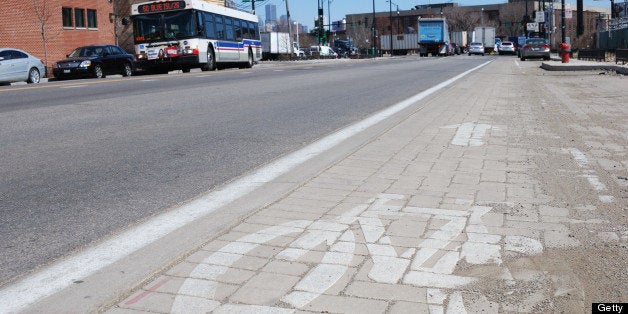 Dutch scientists are heralding the results of an experimental pavement they say was able to cut air pollution by wide margins.
The news was published online in June after researchers working for the Eindhoven University of Technology spent years studying smog-eating pavement used on a city block in Hengelo, Netherlands.
According to the paper titled "Full scale demonstration of air-purifying pavement," the block with the special pavement reduced nitrogen oxide air pollution up to 45 percent in some ideal weather conditions, resulting in an average reduction of 19 percent over a day.
The "photocatalytic" pavement used in Hengelo had been sprayed with titanium oxide (TiO2), a chemical that can take air pollutants, such as nitrogen oxide, and convert them into less-dangerous chemicals, such as nitrates, the paper's authors report.
"[The concrete] could be a very feasible solution for inner city areas where they have a problem with air pollution," Brouwers said.
This could be good news for urban areas with high automobile traffic such as Los Angeles. (In a poll conducted by the Los Angeles Times close to 70 percent of respondents said they felt similar streets could be coming to Southern California.)
The AFP notes that titanium dioxide pavement is more expensive that average cement, which is why it is only be used in a limited capacity at the moment. But Janet Attarian, project manager for the Chicago plan, explained that the cumulative effect of the city's innovations is the key takeaway.
In an email to The Huffington Post, study co-author Brouwers acknowledged the cost issue, noting that the special paving stones so far have been used on "smaller streets downtown," not unlike how they are being used in Chicago. However, Brouwers added that "when the integral costs of the pavement are considered (foundation works, labor etc), the price increase will be about 10% of the works."
At the time, scientists appeared to be eying the cement with cautious optimism.
"Philosophically, it is better never to form pollutants than to find ways to destroy pollutants, but this is a useful technique for air pollutants that humans already make," Dr. Howard Liljestrand, a specialist in environmental chemistry at the University of Texas at Austin, told The New York Times in 2006. He added that catalysts like the ones in photocatalytic "tend to lose their effectiveness over time."
Calling all HuffPost superfans!
Sign up for membership to become a founding member and help shape HuffPost's next chapter
BEFORE YOU GO
PHOTO GALLERY
10 Hot Green Innovations