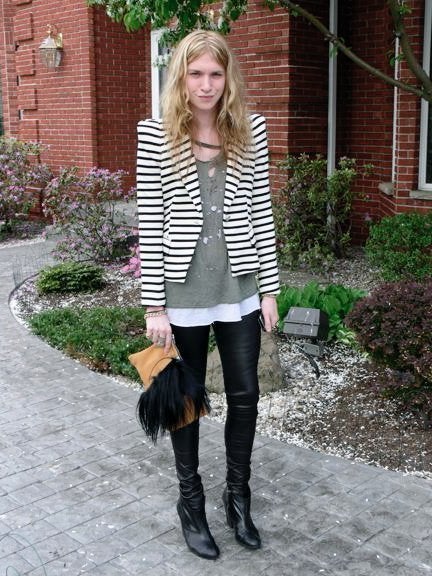 We are pleased to introduce Stylelist Blogger Network member Marcus Holmlund of Smoke And Mirrors. The Buffalo, NY native credits everyone from Steven Tyler to Jesus Christ for influencing his unexpected style, and would rather spend his days shopping vintage than designer. Read on to learn why Janet Jackson is his ultimate fashion icon, and how he can't stand when things are too tidy:
How do you put together an entire look?
I can wear an outfit for a week if I'm really feeling it. I always follow the same silhouette for myself -- I'm so comfortable with it that if I'm going to take a risk, it'll be with the accessories. I focus more on achieving my silhouette with certain staples -- I can't go out without my rings -- and I don't feel right until I have at least one thing that's 'off'. I don't like anything to be too tidy except for my house.
You grew up in Buffalo, NY. How did that influence your style?
It made my mind wander. I'd use the Internet, magazines and music videos as visual escapes from the norm since I was about six years old. I hated living in the suburbs and going to school with kids that dressed the same and enjoyed such conformity. I needed to get out and I did. It was the only way I could truly come of age and find myself.
What goes through your mind when you get ready in the morning?
Will I be able to access the men's restroom in this?
You're a huge fan of Janet Jackson. What is it about Janet that you find so inspiring?
I started listening to Janet as a child because of my teenage babysitters. I recall them all owning her cassette tapes since she was, at one point, even more popular than Madonna in the mainstream popscape, around 1989-1993. I think the connection I had with her stemmed from how accessible she was at the time -- I recall thoroughly being enamored by her sound and her accompanying visuals. What really amazed me was how such a shy, soft-spoken woman could get so nasty and become such a domineering force while performing. Her rhythmic music is what led to my love for hip-hop and R&B music. She, in a way, was a second mother to me. She taught me to dance and find my sexuality. She taught me to be independent and love myself as an individual.
How are fashion and music related?
Fashion is the outer embodiment of our innermost expressions. Like our silent, visual language. Music and fashion are both expressive in that they both send messages whether they be cultural or otherwise, that aren't necessarily objective, but rather makeup the way we understand sound and image.
In your mind, who are the most stylish musicians?
The most stylish musicians, to me, are the most individual. Those with a signature or an identifying trait linked to their sound or message. I've always loved David Bowie's ever-changing looks and appreciate Mick Jagger and Steven Tyler for defining probably the most recognizable male rock aesthetic -- women's scarves, bellbottoms, large brim hats and over-accessorizing.
I also respect Prince -- he would wear heels and tights as if it were totally acceptable for a man to do so. Other than Michael Jackson, I don't think there's any other musician out there who has so decapitated cultural norms and expectations through music.
Stylelist celebrates style in its many forms. So, with that philosophy in mind, we've teamed up with some of the most vibrant -- and varied -- voices on the internet to bring you the Stylelist Blogger Network.
Meanwhile, take a look at Marcus' style: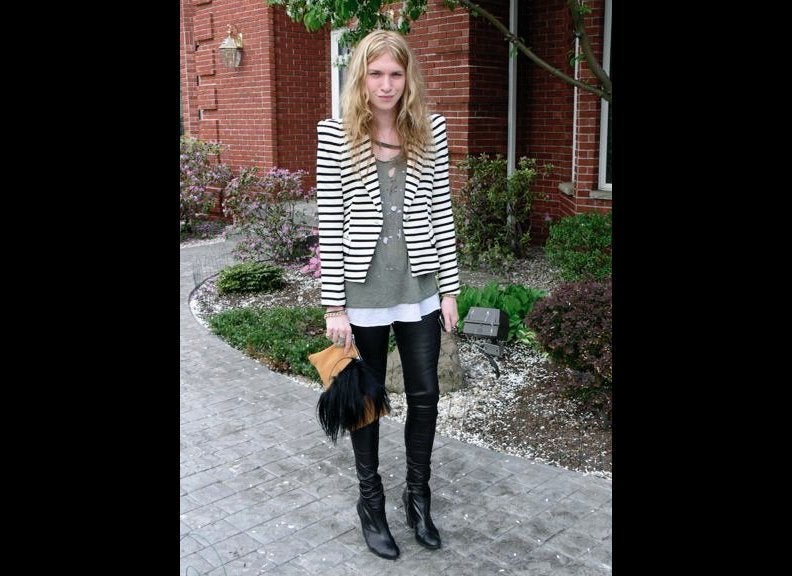 Marcus Holmlund's Style