This blog post is part of a series of profiles of Atlanta-area drag queens and is funded by a grant from Idea Capital.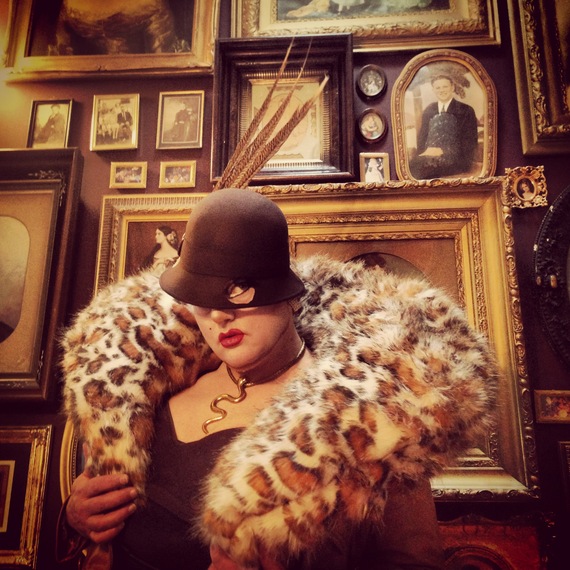 "Today I feel like a model doing a Bonnie and Clyde themed spread for Vogue Italia in the early seventies," muses David Richardson, quite aptly.
From him, and only him, can words like these make complete sense. Richardson designs outfits in the style of "Tribal Clown" and "Elizabethan Punk", so the day I interviewed him he served a toned-down look. David and his partner Dave make these get-ups out of items reaped from Value Village, eBay, or fabric stores. Husband Dave, who has no interest in doing drag or partying at the club, machine-sews many of the items David wears (such as a full-on Italian Renaissance gown). But, more often than not, the extravagant looks are hand-sewn, glued, taped, and constructed by David Richardson himself.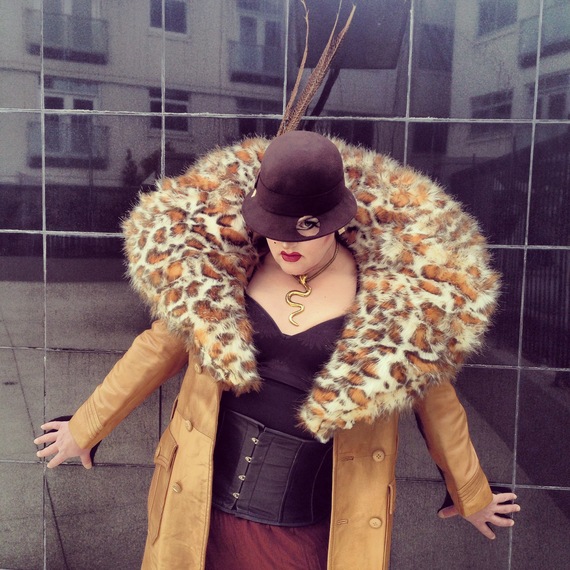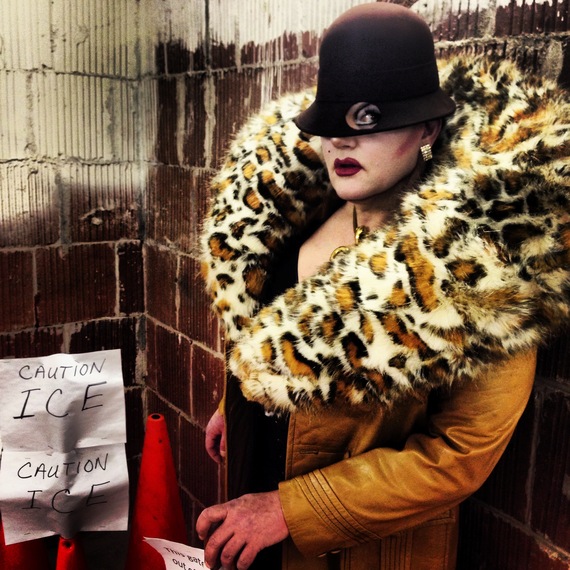 "I was a fat kid when I started going out, so I didn't get much play," he says. "Drag allowed me to hide myself and have more fun when I went to clubs."
The Atlanta club scene of the '80s and '90s was a glorious, wild time for the city. Backstreet Atlanta (where David and Dave met 20 years ago) operated as a 24-hour gay dance club with 47,000 square feet of debauchery. The party energy of New York City and London trickled down to the South, and folks flocked from all over the world to celebrate Hotlanta. A night out in the city could begin with world-class strippers; progress to an underground punk club; degrade into the Clermont Lounge; and end, blearily, writhing with the boys on the dance floor at Backstreet. Atlanta soon wanted to move beyond their reputation as the party capital of the South; eventually, the scene got cleaned up and wiped out by the Olympics. The city no longer parties until the new day comes.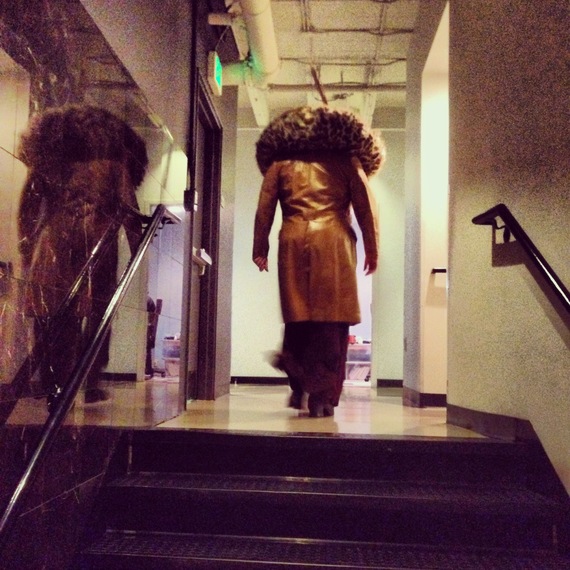 "These young queens--the new guard--are bringing energy back to the Atlanta drag scene," says Richardson. "Now these young queens are putting the freak back in the scene. They are exuberant about their art and it's infectious."
Richardson loves the new generation of queens making their mark in the Atlanta scene, and he hopes they can continue the legacy that his peers started. Even though he no longer performs, local queens certainly draw influence from the outfits David creates just for fun. He doesn't strive for simple female illusion or campy pageantry in his looks; he uses makeup and costume to become a gender-bending creature of the night. One night he transforms himself into red-carpet Aztec sacrifice and the next night he's a sexy Minotaur. David shows that drag is not about trying to become a pretty woman, but altering the artifice of the body into never-before-seen surreal forms. The new generation of Atlanta queen resemble performance artists more than pageant girls, so of course they find inspiration in David Richardson's drag.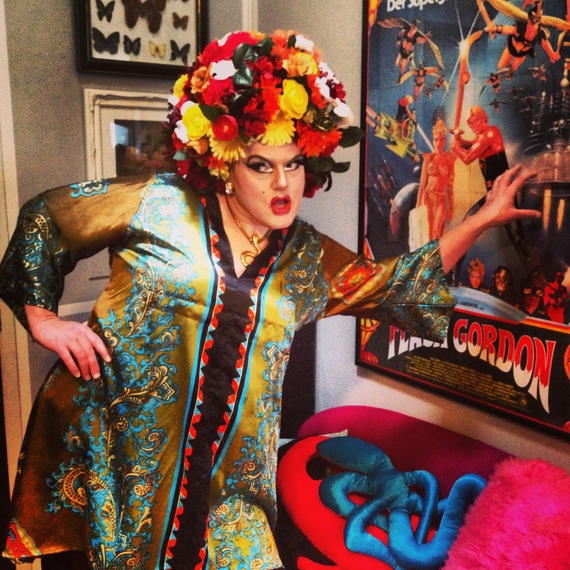 In a way, David Richardson acts as Atlanta's Leigh Bowery--the gay man who stretched the fashion imagination of many London and New York performers. You see the same goddess in both Richardson and Bowery--they're both large, pasty gay men who tape-up, reconstruct, and redefine the masculine body. Bowery famously loved the metamorphosis--into Mrs. Peanut or Sargeant Pepper Vishnu--as much as actually going out. Similarly, David pushes and pulls his pudge around with girdles, duct tape, and elastic pulleys to create creatures that defy all categorization for the creative thrill. For these men, performing or selling their art is not an objective; rather, they both seem consumed with the transformation of self that their work allows them.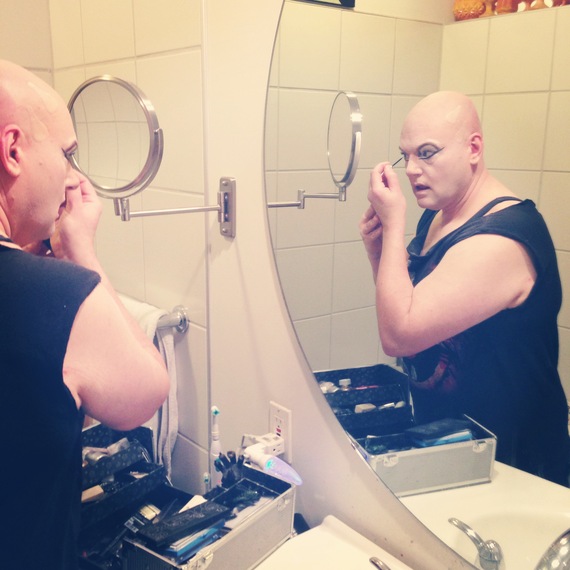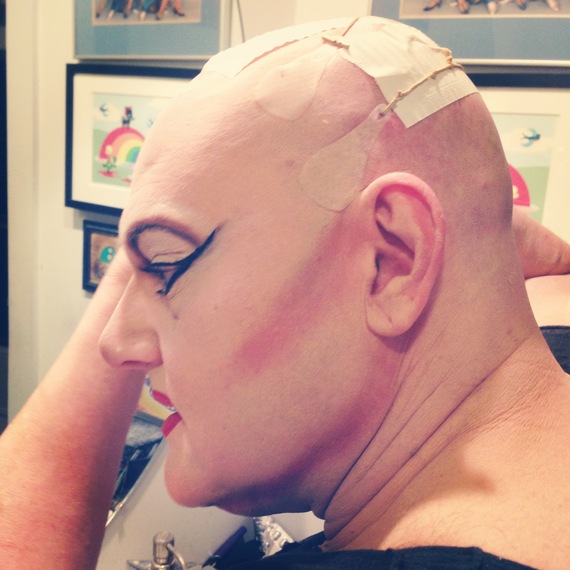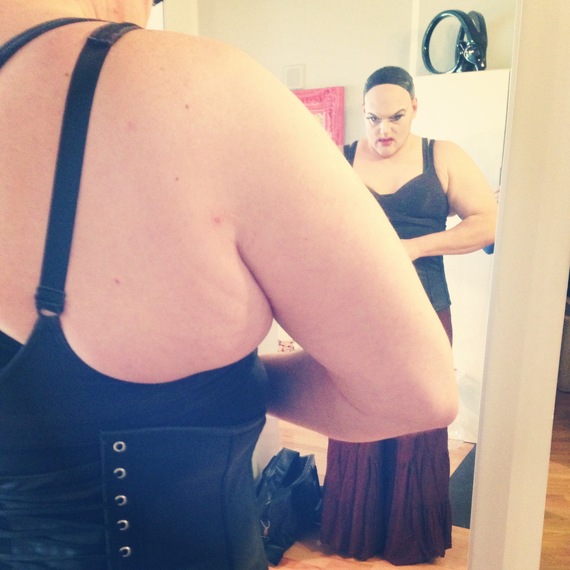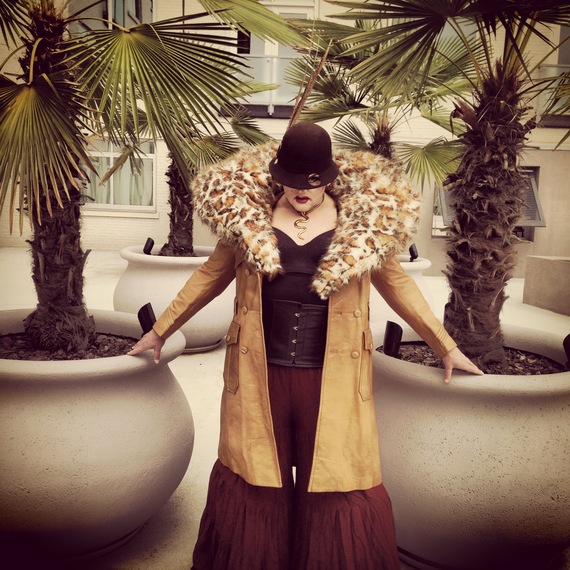 As much as David has grown, earned money, and learned new tricks, he's very much like his old Club Kid self. He still uses the same cheap makeup--in all these years he's never bought a MAC product. When I ask what's his favorite lipstick, he holds up a green Marks-A-Lot marker. Puffs of powder fill the bathroom and the air smells like drugstore grandma as he dilligently puts on his face.
When David began performing, it was up to the kids to play around and find ways to look good with the tools at hand. With the internet--in particular YouTube makeup tutorials--even baby queens can learn to create stunning looks.
"It sucks when you are older and your hand shakes when you go to draw on your eyebrows," says Richardson. "That line isn't as straight as it used to be."
David often talks a self-deprecating game, but a fierce amount of creativity and craft sits at his fingertips. He watches those same makeup tutorials, and he knows how to make himself pretty. But he bends the prescribed lines into oblique shapes that change his face and the way our eyes are drawn to his.
"I would like people to see that I am a creative and beautiful person," he says. "Drag is the closest I've been to being beautiful."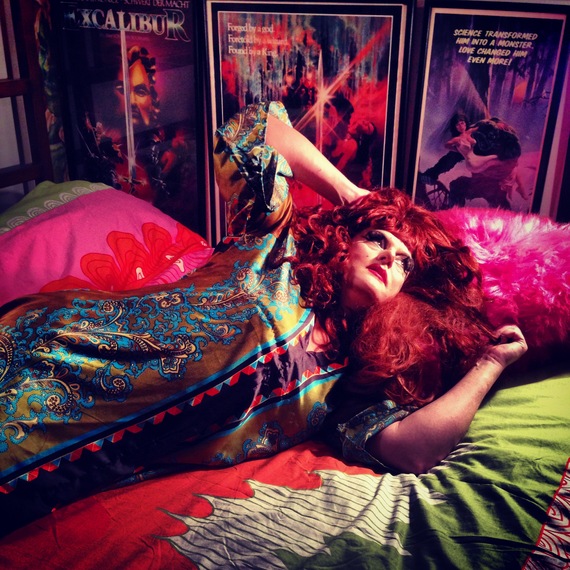 REAL LIFE. REAL NEWS. REAL VOICES.
Help us tell more of the stories that matter from voices that too often remain unheard.