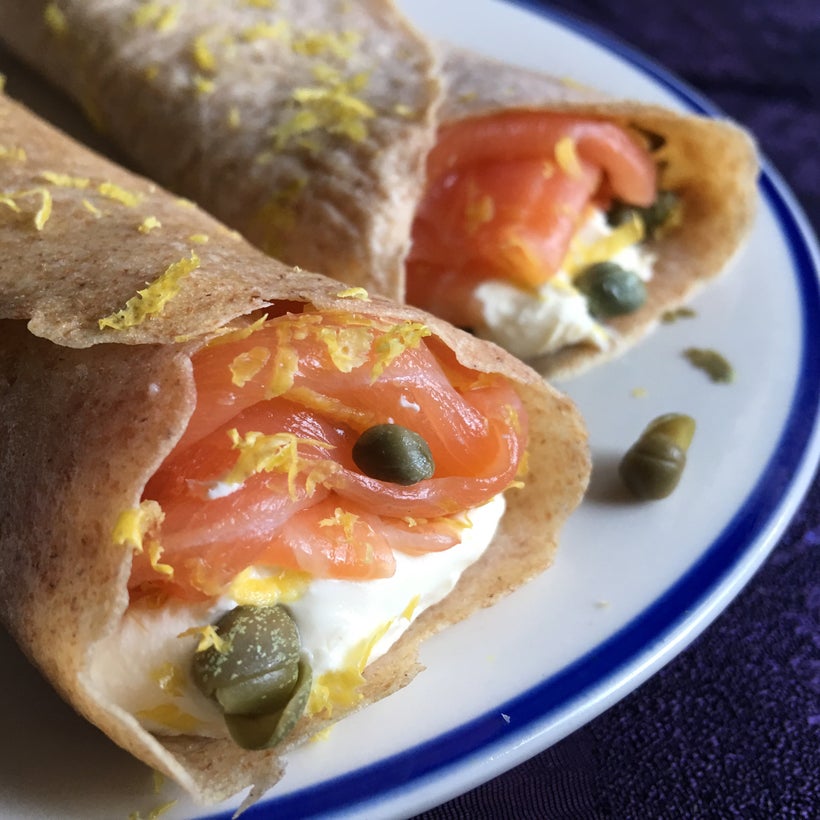 For a delicious luscious breakfast, brunch, lunch, teatime or anytime meal, these scrumptious savory smoked salmon & cream cheese crepes are a splendid solution.
Red Fife Wheat French Crepes
Makes 15 (~7 Inch) Crepes
3 eggs

2 cups unsweetened almond milk, room to body temperature
1 ¼ cup Red Fife Whole Milled Wheat Flour
2 tablespoons Plu Gras (European style extra fat) butter or organic coconut oil, melted
1 teaspoon honey, warmed
¼ teaspoon salt
Extra butter or coconut oil for seasoning the pan between each crepe
Directions for Crepe Batter:
Sift together flour and salt in one bowl and set aside.
In another larger bowl whisk the eggs until homogenous.
Slowly whisk almond milk and warmed honey into eggs until even.
Gradually whisk dry ingredients into the wet ingredients.
Whisk in the melted coconut oil or butter until the batter is smooth.
Let the batter stand for at least 15 minutes before cooking.
Directions for Cooking Crepes:
Heat crepe pan or a very low-sided 8-9 inch skillet on medium.
Lightly brush pan in between each crepe with melted coconut oil or butter.
When drops of water sizzle lively but not violently in the pan it is ready.
Ladle a ¼ cup of batter into the pan, swirling it around so that it is even.
Cook 1-2 minutes until the sides lift slightly, then carefully flip the crepe.
Cook the crepe on the second side for less than a minute.
Stack crepes on a warm plate, keeping them moist by covering with a dishtowel. Do not use plastic or they may wrinkle.
Tip: If you want to use them later, place parchment paper in between each layer. Store the cooled crepes in an airtight zipper style freezer bag or box in the refrigerator. To store them for over a week place them flat in the freezer. I use a plastic box for storage to keep them flat
Salmon Filling Ingredients for 12 Stuffed Crepes:
½ lb thinly hand sliced quality smoked salmon
½ pint of organic whole milk cream cheese
¼ cup capers in white wine, drained
Juice of one lemon
Zest of one lemon for garnish
Directions for Filling the Crepes:
Spread 2 tablespoons of cream cheese down the center of each crepe.
Divide ½ lb. of smoked salmon slices in to 12 even portions, ~ 1.3 Oz. each.
Apply the salmon portion on top of the cream cheese on each crepe.
Brush or sprinkle a bit of freshly squeezed lemon juice onto each of the salmon portions.
Sprinkle capers evenly onto the salmon.
Roll up each filled crepe and plate on a serving platter or onto individual plates.
Garnish the crepes with fresh lemon zest.
Tip: For a family style meal, serve the makings on individual platters to allow each person to assemble their own crepe to their liking. Add additional condiments such as chopped chives, tarragon, dill, cilantro, chervil and minced red onion. Use your imagination and personal taste, adding ingredients to customize the meal as your own.
REAL LIFE. REAL NEWS. REAL VOICES.
Help us tell more of the stories that matter from voices that too often remain unheard.
This post was published on the now-closed HuffPost Contributor platform. Contributors control their own work and posted freely to our site. If you need to flag this entry as abusive,
send us an email
.