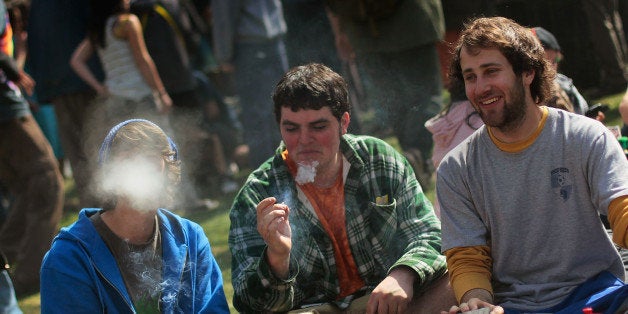 The Denver City Council gave initial approval to a new controversial city ordinance that would effectively ban smoking pot on private property if it happens in public view, including front porches, yards and balconies.
Council members voted 7-5 in favor of the ban on first read Monday, but must vote one more time next week for it to become law.
Suvi Miller is one of the ordinance's supporters.
"The council has an obligation to protect the health and welfare of the citizens of Denver," she told 9News. "This is not a property issue; it's a public health issue."
Even if it passes, Denver Police Chief Robert White told the Denver Post that enforcement of the ordinance would be the lowest priority. If a complaint was called in about a person smoking pot in public view on their private property and the person was finished by the time the police arrived, "that would be the end of our action," White said.
For weeks the Denver City Council has been trying to come up with an ordinance that defines "open" and "public" consumption of marijuana in Mile High City after an overreaching first draft of the law called for the smell of marijuana, or even just the sight of someone smoking marijuana, to be illegal if it can be smelled or seen by others.
The latest draft states that "it shall be unlawful for any person to openly and publicly consume one ounce or less of marijuana." The ordinance explicitly defines the terms "openly" and "publicly":
The term "openly" means occurring or existing in a manner that is unconcealed, undisguised, or obvious.

The term "publicly" means (a) occurring or existing in a public place; or (b) occurring or existing in any outdoor location where the consumption of marijuana is clearly observable from a public place.

The term "public place" means a place to which the public or a substantial number of the public have access, and includes but is not limited to streets and highways, transportation facilities, schools, places of amusement, parks, playgrounds, and the common areas of public and private buildings or facilities.
But opponents of this latest version of the ordinance say it still goes too far because it's dictating what people can and can't do on their own private property.
"When 66 percent of Denver voters approved Amendment 64, they expected marijuana would be treated like alcohol," said Mason Tvert, communications director for Marijuana Policy Project and key backer of Colorado's marijuana legalizing A64, to The Huffington Post. "Yet some council members are continuing to look for any way possible to defy their will."
"The council members who supported this absurd measure should explain why they believe it is okay for adults to drink alcohol and smoke cigarettes outside on their private property, yet needs to be illegal for them to consume a far less harmful substance in the same areas," Tvert added.
Tvert also said the the ordinance appears to be unconstitutional and will likely result in a costly lawsuit for the city if it passes during final voting next week.
"I hope every supporter on the council is absolutely certain that it is worth the risk," he said.
Calling all HuffPost superfans!
Sign up for membership to become a founding member and help shape HuffPost's next chapter
BEFORE YOU GO
PHOTO GALLERY
27 Reasons Why The U.S. Shouldn't Lead The War On Drugs