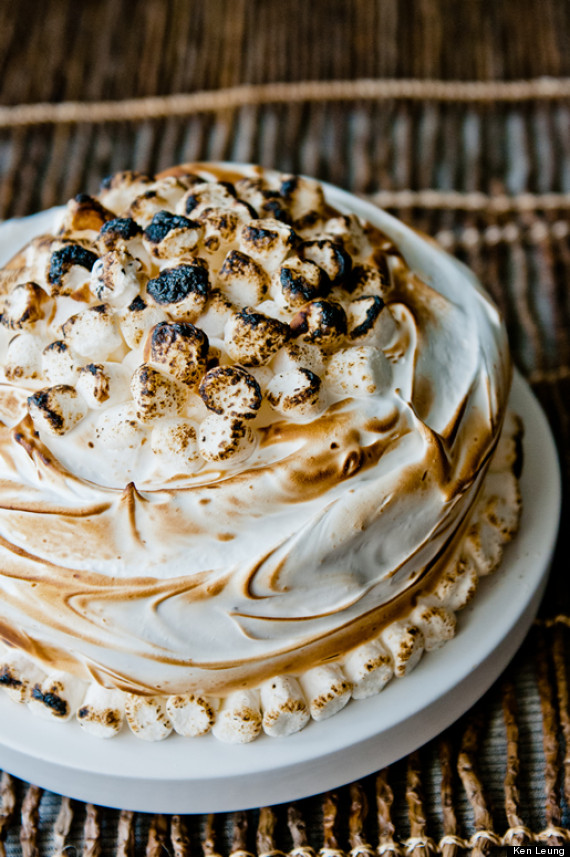 Fall is absolutely my favorite season. I love the chilly fresh air in the morning as the day begins and cool breezes at night for sleeping. I welcome the sight of falling leaves and squirrels hopping about to gather nuts for the winter. Fall may announce the end of the growing season, but it also reawakens my senses. I breathe a little slower and ease up on the fast stream of city life--at least for a while.
Perhaps because I never lived in a home with fireplace when I was a child, I now love a warming fire every chance I get. Regardless of the electronic trinkets that may rule our lives, there's something compelling and comforting about burning logs and smell of hardwood embers.
Well, it's not quite cold enough, yet. As I get ready for some cozy fireside time, I'm thinking about roasting marshmallows to make s'mores. As a kid growing up in Hong Kong, I experienced nature only in spirits. Luckily, my middle school in Hong Kong sat on a semi-wooded hill, so I did have the opportunity to enjoy one campfire BBQ with my schoolmates.
Now, I'm making up for missed treats.
Yes, the weather has turned and those cool nights have recently arrived, but making a fire seems too zealous even for me--and especially for M who doesn't want to light kindling until there's frost on the windows.
To get in the mood, I came up with this Inside-Out S'mores Cake to tie us over. In this version, layers of graham crackers cake alternate with a rich dark chocolate ganache. I smear marshmallow frosting all over the exterior to scorch brown. For a bit of whimsy, I decorate the cake with mini-marshmallows, so the center resembles a fire pit.
In a way, this cake is less messy than a true S'mores and certainly allows for generous servings. On the other hand, perhaps the warm, gooey stickiness is the major draw of this American tradition.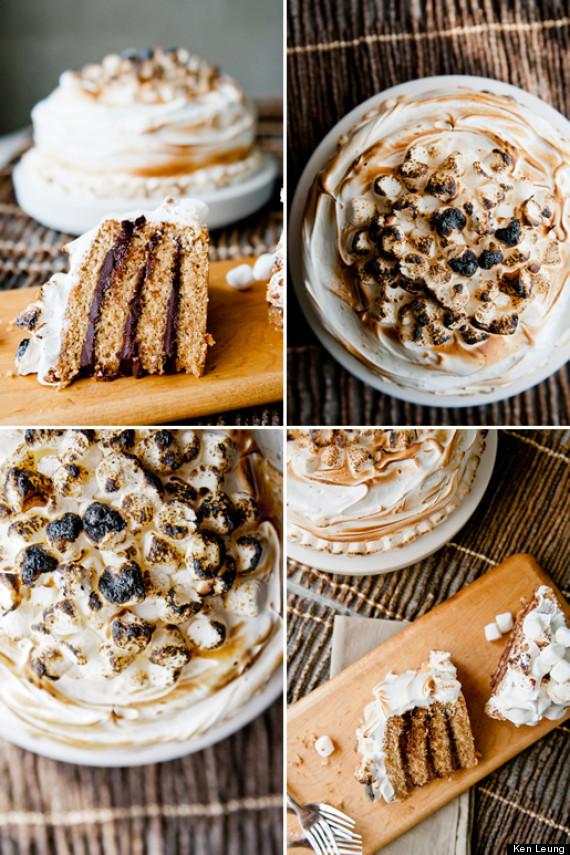 Inside-Out S'mores Cake
Graham Cracker Cake
Recipe adapted from Cook's Country
Yield: one 8-inch cake
Ingredients
17 whole graham crackers, (about 9-1/2 ounces) broken into rough pieces
1/4 cup (1-1/4 ounces) all-purpose flour
1-1/2 teaspoon baking powder
1/8 teaspoon fine sea salt
3/4 cup (6 ounces) whole milk
1 teaspoon vanilla extract
1cup (7 ounces) granulated sugar
8 tablespoons (4 ounces/1 stick) unsalted butter, softened
3 large eggs, room temperature, separated
Chocolate Ganache, recipe to follow
Marshmallow Frosting, recipe to follow
Mini marshmallows, homemade or store bought, for decoration, about 3-4 cups
Directions
1. Adjust oven rack to middle position and heat oven to 350 ℉. Grease and flour two 8-inch cake pans set aside
2. Grind graham crackers, flour, baking powder, and salt in food processor to fine crumbs. Whisk milk and vanilla in measuring cup.
3. With electric mixer on medium-high speed, beat sugar, and butter until light fluffy, about 2-3 minutes. Beat in egg yolks, one at a time, until combined. Reduce speed to low and add graham cracker mixture in 3 additions, alternating with 2 additions of milk mixture, until incorporated.
4. Using clean bowl and beaters, beat egg whites on medium-high speed until soft peaks form, about 2 minutes. Whisk one-third of whites into batter, then fold in remaining whites until combined with no white streaks. Divide batter into prepared pans and bake until toothpick inserted in center comes out clean, 20 to 25 minutes. Cool cakes in pans 10 minutes, then turn out onto rack. Cool completely, about 2 hours.
Ingredients
1 tablespoon corn syrup
1 tablespoon instant espresso powder
1/8 teaspoon fine sea salt
6 ounces heavy cream
12 ounces dark chocolate, chopped into small pieces
1/2 teaspoon pure vanilla extract
Directions
1. Combine corn syrup, espresso powder, salt and heavy cream in a small saucepan. Bring to a simmer on medium-low heat; add chocolate and stir until smooth. Remove from heat, add the vanilla extract and stir to combine. Cool to room temperature, 45 minutes. (For faster cooling, pour ganache into a medium bowl.)
Ingredients
8 large egg whites
2 cups sugar
1/2 teaspoon cream of tartar
2 teaspoons pure vanilla extract
Directions
1. Place egg whites, sugar, and cream of tartar in the heatproof bowl of a stand mixer. Set over a saucepan with simmering water. Whisk constantly until sugar is dissolved and whites are warm to the touch, 3-4 minutes.
2. Remove bowl from heat, wipe dry and attached to stand mixer fitted with whisk attachment. Beat on low speed for 1 minute and gradually increasing to high. Beat until stiff, glossy peaks form, 5-7 minutes. Add vanilla, and mix until combined. Use immediately.
Assembly
1. Line an 8-inch cake pan with plastic wrap with ample overhang, about 6 inches. Cut each cake in half horizontally. Place one cake layer on the bottom of prepared cake pan, spread approximately 1/3 ganache over cake layer and top with another layer. Repeat with ganache and cake layers until top with the 4th cake layer. Wrap cake with overlap plastic wrap and refrigerate for 30 minutes.
2. Remove cake from refrigerator, unwrap cake and place it on a serving platter or cake stand. Spread or pipe frosting on top and side of cake. Decorate with mini marshmallows. Using a kitchen torch, toast frosting and marshmallows to desire doneness.