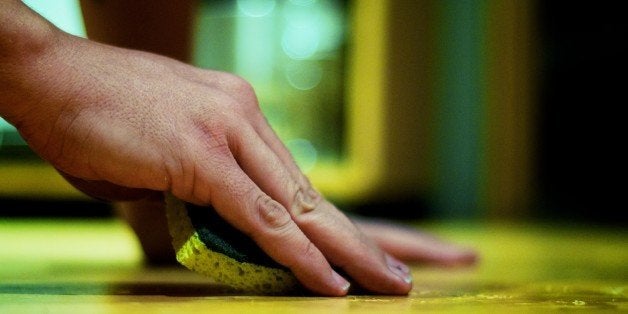 Fifty-eight-year-old Kasturi Munirathnam is the latest casualty of Saudi Arabia's willful neglect of migrant workers and its failure to protect them.
The sole breadwinner of her family, Kasturi landed in Riyadh three months ago to work for a Saudi family. And throughout this period she was repeatedly abused, denied communication with her family, overworked and underfed. What she suffered over the two months is the reality of hundreds of thousands of migrant domestic workers in Saudi Arabia, and the wider Gulf region. The prevalence of abuse is so rampant, it is no longer news in itself.
It's considered par for the course if you are a domestic worker in the Gulf. But when her right hand was chopped off, she immediately hit global headlines and became the human face of migrant abuse in the Kingdom.
In the very year Saudi Arabia was elected to chair the UN Human Rights Council, the country executed two Indonesian maids without any notice, and several videos of brutality against migrant workers emerged on social media.
In a country where all migrants are at the mercy of their kafeels (sponsors) under the kafala system, domestic workers are even more vulnerable as they are not protected by the labour law and have no access to the minimal protections that do exist.
This begs the question: Why have moratoriums from sending countries and repeated criticism of Saudi policies has had little to no effect on Saudi policies?
Background Information:

Some sending countries, having failed come to an agreement with Saudi Arabia on minimum wages and increased protection for their citizens, have stopped sending their female citizens to do domestic work. Indonesia, is the most notable example, as it was once among the top senders of domestic workers to Saudi. Negotiations with Nepal have failed, and Sri Lanka has also restricted maids going to the Kingdom following the beheading of 17-year-old Rizana Nafeek in 2013, a Sri Lankan domestic worker accused of murdering the child in her care.

The deaths of Rizana, Karni Binti Medi Tarsim and Siti Zainab, are state-sanctioned brutality against domestic workers. None of them had access to legal defense, whereas abusive sponsors enjoy virtual impunity.

While the country does feel the pinch of these bans, it manages to find other sources to fill the always-fervent demand for domestic workers; impoverished economies that are ever-willing to sign agreements bartering its citizens' rights and safety for remittances and trade.

Just this year, Saudi signed a five-year agreement with Uganda to employ a million of its citizens, including in domestic work. In 2014 Saudi Arabia signed a new agreement with India, promising a standard contract that includes a minimum wage and weekly off. But the contract does not address other key human rights issues including mobility, minimum work hours and private access to communication, which is essential to reach out embassies or hotlines in case of problems. In 2015, Saudi was expected to issue 100,000 visas for Indian domestic workers. One of them was Kasturi.
Kasturi's family says they hadn't been able to speak to her freely in the two months of her employment, and only knew of her situation through the agency that recruited her. While she lies critical in a Riyadh hospital, her family is struggling to make sense of this, and seek compensation and justice -- neither of which is easy to receive. For instance, the Indonesian maid in Qatar who was cruelly beaten up by her employer, 'forgave' her employer, and left the country without justice or compensation. For her to fight her case would mean to continue staying in the country, for which she would need resources and support -- both in short supply in countries like Qatar and Saudi that do not have a strong civil society or legal aid.
Crippling isolation is one of the main reasons domestic workers are unable to escape torture and abuse. They receive help only when it's too late. They cannot leave their employer's home without their permission, as it would be considered 'absconding' or 'runaways,' which is illegal under the kafala system. Something as simple as access to private mobiles would go a long way in making sure they can reach out for help when required. In the lopsided power equation, even that basic choice is not the maid's to make.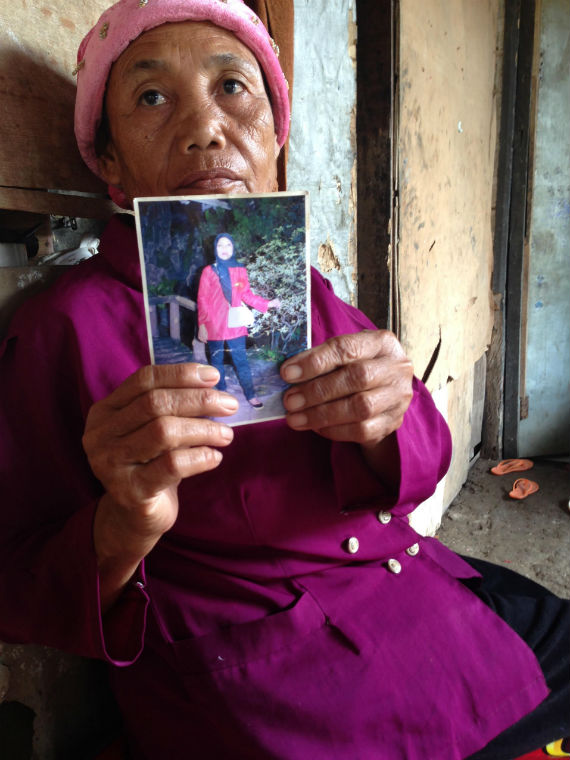 Darasih holds up a photo of her daughter Kartini who works in Saudi Arabia. She has neither heard nor received money from her in the last couple of years.
Photo Credit: Migrant-rights.org
Hivos is leading a pilot project with its partners Migrant Care (of Indonesia) and Migrant-Rights.org to develop an SMS-based app to reduce their isolation and allow workers to build their community in countries of employment; and through that inform and educate them. Pre-departure surveys of workers headed to Saudi Arabia at the Jakarta international airport reveals that nearly half the workers don't have access to a phone. This means half of them are unable to freely speak to friends and family, and in times of need will not be able to reach out to their embassy.
As part of the same project, employers were interviewed in receiving countries, and excuses for not allowing their help a mobile phone ranged from, 'she will be distracted from work' to 'she will feel homesick if she keeps talking to her family' and 'she will make boyfriends and bring them home.' Similar arguments are given for restricting the mobility of domestic workers on the their day off, if they get one.
The problem faced by MDWs is deep and steps from GCC countries' indifference to their plight.
With the exceptions of Kuwait and Bahrain, MDWs are not covered by the labour law. This means their place of employment does not fall under the purview of labour inspectors. This leaves the worker completely at the mercy of her employer. If employers continue to wield unquestioned power and Gulf states continue to disregard basic human rights, there will be more domestic workers returning to their homelands dead, emotionally battered and/or physically crippled.