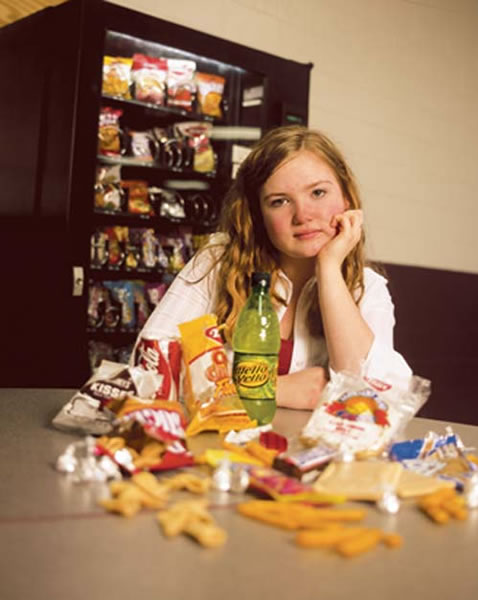 Who doesn't love a tasty snack? I do. But unlike many children, I understand why a packet of Oreos or Sun Chips will taste better than it makes me feel. President Obama obviously understands the importance of good nutrition and this fall he is breaking ground by giving the USDA the power to regulate all solid food in schools, including vending machines.
The glitch? Obama's nominee to run the USDA's food and nutrition program, Kevin Concannon, who also ran food stamp public nutrition programs in Iowa, Maine and Oregon said that he has seen "pushback" from schools over the years. Why pushback? Schools count on vending machine revenue to fund students activities.
I was a secondary school teacher and I'm in obvious favor of extracurricular and academic enrichment activities. Many children need more than the school day can offer and I witnessed their gains when supervising drama club, dance instruction, homework tutoring and the like. Of course money is needed for supplies and staffing. But it just doesn't make sense to encourage a child to run a soccer field with the "empty calories" of Doritos in her stomach.
Some schools around the U.S. are addressing that health contradiction. YoNaturals vending machines continue to be installed in schools in San Diego. And The Washington Post reports that a school dietitian in Kenton County, Kentucky (the "seventh-fattest" state in the country) provides a model in which she offers students less junk food and increases her profits. Maybe more schools could follow her lead and minimize current monopolies like Nabisco and Coca-Cola by utilizing smaller organic food companies: Coleman Natural already produces meat products for lunchrooms. Maybe they could create a healthy meat jerky or cold cut that would hold up in a machine.
Another thought -- turns out Italy, which has more vending machines than any other country in Europe, has a pizza machine -- Let's Pizza -- that will make a fresh pie in three minutes. Kids do love pizza. Creative precedents are being set in favor of childhood nutrition and I hope that Obama's administration pushes schools right back on their heels.
Popular in the Community