We're becoming a nation of snackers.
Americans are spending much more on snacks like protein bars, chips and beef jerky, while overall grocery spending has remained almost flat, according to data provided by Nielsen to The Huffington Post. Worldwide, snack sales rose 2 percent to $374 billion for the year ending in March.
The chart below, based on Nielsen data, shows how sales of snacks grew much faster in the U.S. than grocery spending overall during the year ended Sept. 6, 2014.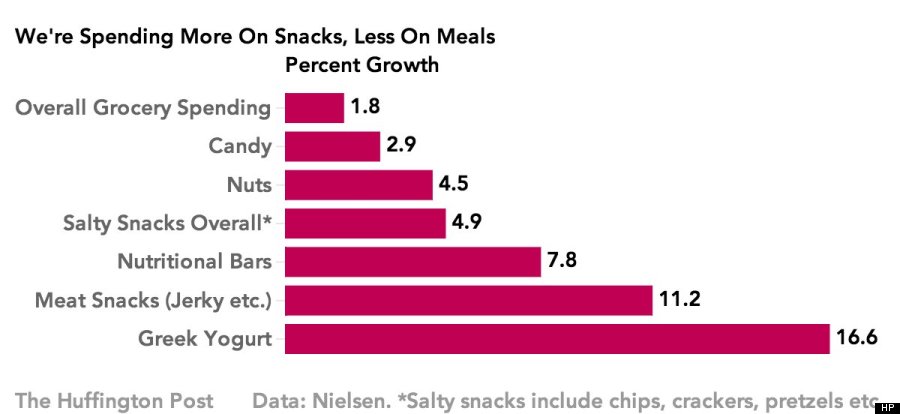 Why Are We Buying So Many Snacks?
When asked why they're snacking so much, most of the 490 Americans Nielsen polled said they "enjoyed" eating all the time. Because, of course. After enjoyment, the second most common reason Americans cite for eating a snack in the past 30 days is "to satisfy hunger in between meals," Nielsen found.
Of course, the reasons we're snacking all the time go much deeper than "hunger" and "fun":
And family life has gotten more hectic. Over the past few decades, the number of households with two working parents has grown, making June Cleaver-style meals more of a rarity. In addition, kids these days are more likely to grab a Go-Gurt, while racing between swim practices, violin lessons and debate team prep than to sit down for dinner.
2. Big Food brainwashed you (a little) with delicious jerkies and salted chips: Food giants want us to eat processed foods -- the companies can charge more for potato chips than for potatoes. Big Food obsesses over creating super-addictive snack items in the battle for "stomach share," so there are tons of snacks for you to choose from at the store. For example, more than a dozen varieties of Doritos are available.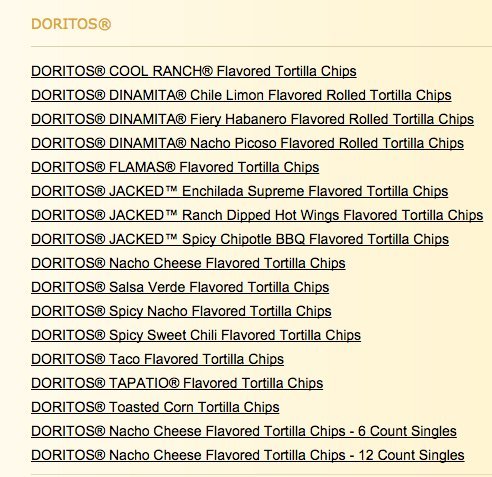 A comprehensive list of Doritos flavors, according to the Frito-Lay website.
Our need to snack has even changed the way we view certain foods, said James Russo, a senior vice president of consumer insights at Nielsen. Take breakfast cereal. Instead of eating it just for breakfast, we now see items like Kix as more of a snack food. While sales of breakfast cereal are declining overall, an increasing number of us are eating Cheerios throughout the day. Forty-four percent of Americans said they ate cereal outside a meal in the past 30 days, compared to just 19 percent who said they ate a nutrition bar during that time period, according to Nielsen.
"One of the big stories here is the blurring of what is a snack and what is a meal," Russo said.
And the number of snacks we eat at mealtimes is expected to grow by 5 percent over the next five years. That means that in 2018, Americans will be eating snacks as meals 86.4 billion times a year, according to the NPD Group, a market research firm.
NPD predicts most of that growth will come from healthier snacks, but that doesn't mean we're over chocolate and chips. Instead, because we're snacking constantly, we want snacks to be available in both decadent and healthy forms. Pepsi's recent patent for a granola bar with Pop Rocks is one food that combines these desires, but for the most part we're looking to eat carrots and hummus around lunchtime and then grab some candy a few hours later.
Russo pointed to Americans' contradictory feelings toward salt as an example of this dynamic. While the top snack in North America over the past 30 days was chips or crisps, the third-highest health priority for respondents was low salt/sodium, Nielsen found.
"We want indulgent snacks but we also want healthy options for a snack," Russo said. "We're increasingly using all these different food products to satisfy our hunger."
Related
Popular in the Community