Question: When is a doormat not a doormat?
Answer: When the "doormat" is just two NFL jerseys taped side by side on the ground so they read "Lynch Kaepernick."
A Lake Ozark, Missouri, bar named SNAFU (yes, really) is living up to its name this week, after strategically affixing the Marshawn Lynch and Colin Kaepernick jerseys to the sidewalk outside the bar's entrance.
Passerby Taylor Sloan noticed the display on Sunday and called out the bar on Facebook.
"There's a reason why the NAACP issued a travel warning for Missouri," Sloan wrote in the post, alongside a photo of the doormat. "Pretty obvious the lack of professionalism at this bar. You lost my business the moment you decided to showcase this kind of behavior."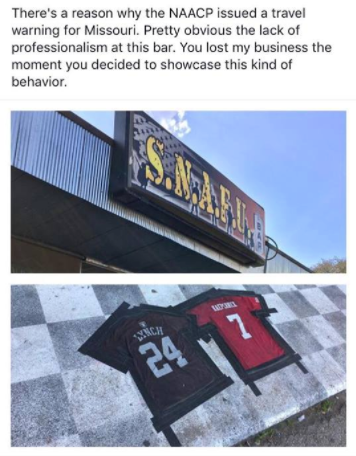 SNAFU owner Jason Burle responded, and the two proceeded to engage in a passionate back and forth on the merits of the display: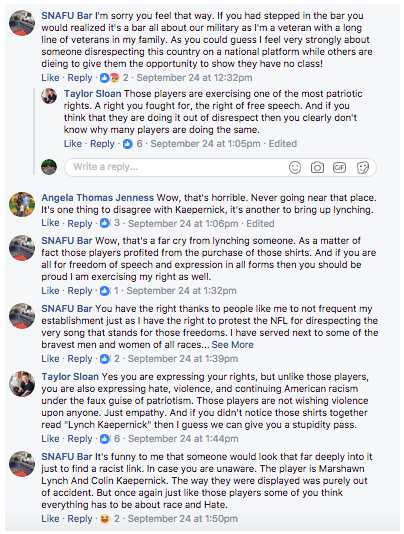 In a follow-up interview with KOMU, Burle said his bar caters to and honors veterans of the armed forces. He crafted the "doormat" in response to former San Francisco 49ers quarterback Kaepernick's pregame protest, which he finds disrespectful.
Kaepernick began taking a knee during the national anthem before games last year to raise awareness of racial inequity and police brutality in America.
Lynch returned from retirement in the 2017 season and sparked notice when he sat during the national anthem during his first preseason game. His coach said the running back told him he's been sitting during the anthem for the past 11 years. Lynch later refused to answer reporters' questions about it.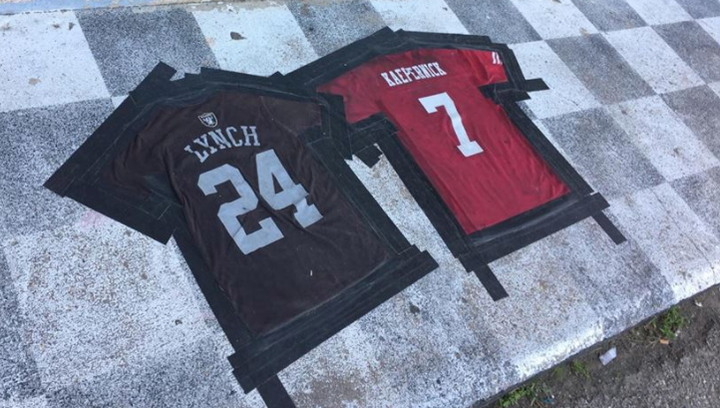 Burle said he doesn't understand why so many people found his display to be deeply racist. Nevertheless, he has since reversed the jerseys to read "Kaepernick Lynch," instead of the other way around.
"It's not a race thing," he told KOMU. "A lot of people want to twist it around to be a race thing."
Sloan told HuffPost he welcomed the repositioning of the jerseys into a slightly less offensive position, but noted the issue is far, far bigger than many people realize.
"This is bigger than me or him, it's about racism so systemic that some don't even acknowledge it happening."
"It saddens me to see that kind of behavior, albeit out of ignorance or not," Sloan told HuffPost Thursday.
"This is bigger than me or him, it's about racism so systemic that some don't even acknowledge it happening, or disguising it as patriotism ― which in their mind is absolute."
SNAFU didn't respond to calls and Facebook messages from HuffPost seeking clarification.
Popular in the Community