If you were to poll ten people on the street about whether or not they'd enjoy a genre of music described as "vomitstep," I am willing to guarantee that all ten of them would give you a disgusted look and turn away, probably somewhat offended. The crowds of people who swarmed Webster Hall on Friday night for Snails' special brand of filth, however, would utter something more along the lines of "yes, please." This was my first time getting Snailed, and I can say it was most definitely a slimy, yet satisfying experience.
Snails is a French-Canadian producer from Montreal who earned his stripes with Kannibalen Records in 2012. Since then, his rise has been meteoric (to say the least). Bending and twisting sounds to near organic frequencies, Snails' brand of bass music has left dubstep fans in awe. His unique sound has garnered him attention from some of the biggest names in the electronic music world, and earned him a spot on Skrillex's heavy-hitting label OWSLA. When I saw he was playing the EDC pre-party at Webster Hall, I knew it was my duty to attend and try to describe my experience to the outside world.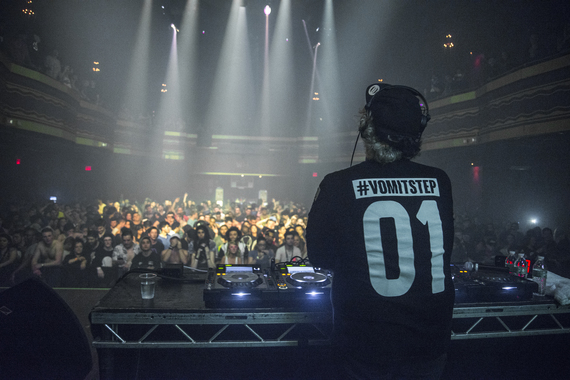 I arrived a bit later than I usually do, and for the first time in a long time I arrived alone. It's been quite some time since I'd attended a show by myself, but considering that I was going into this show with minimal expectations, flying solo seemed like the best way possible for me to truly absorb the sonic slime and gunk that engulfs Snails' set. As I made my way to the stage and set up my camera gear, Callie Reiff was mixing in some awesome dubstep tracks and stirring the crowd into a frenzy before the main event.
When Snails took the stage that frenzy turned into a swell to get close to the front. There are very few times I've seen that many people, that ready to rage at Webster Hall -- save for maybe the Never Say Die showcase the week prior. That involved a completely different breed of basshead. There was no hesitation from the Montreal native. He opened strong and didn't slow down for even one second. There were no breaks, no down-tempo moments, just pedal-to-the-metal savagery for close to two hours.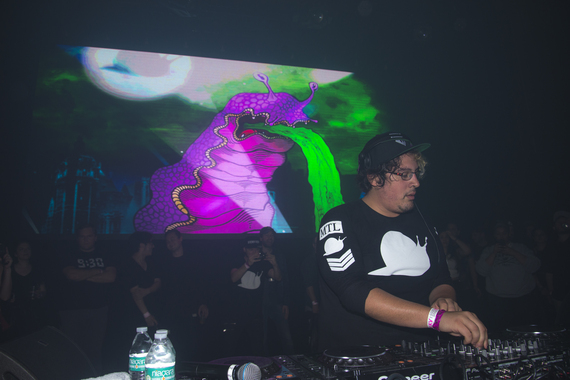 There are very few live shows that compare with what I saw onstage at Snails. I'm not simply talking about the crowd, or the way that he presented himself behind the CDJs, but more the grotesque nature of the music, as well as the visuals put on screen (you don't earn the descriptor "vomitstep" without good reason). Oozing visuals that depicted maniacal snails with cartoonish grins and pointy teeth, an oversized slug spewing neon green sludge from its mouth as it overlooked a broken city skyline. These are just a few of the pieces of imagery that accompany the liquid-bass and organic-sounding synths that make up Snails' special blend of dubstep.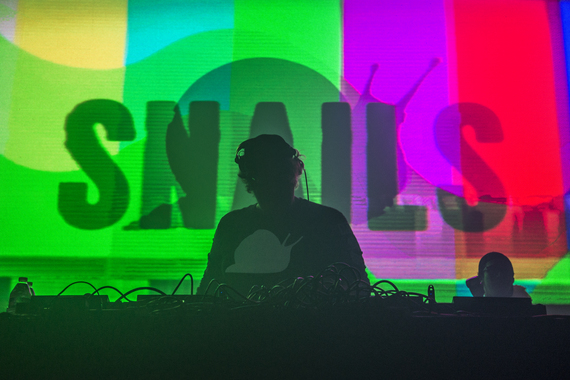 The crowd was a sea of bass fans decked out in Snails attire and holding signs reading "Hoping to get SNAILED for my birthday," "F*ck Salt," "Snailed it," and much more. When the evening came to an end, it was clear that an event like this was absolutely the best kind of lead-in to an event like the Electric Daisy Carnival. When the last remnants of bass echoed through the Grand Ballroom, and the deep god-like voice that came through the sound system declared "Snailed it," I was in absolute concurrence. I had indeed, been Snailed. And by golly, I liked it.
----------------------------------------
Follow Shawn:
Instagram: @shawnrussellphoto
Facebook: /ShawnRussellJohnson
www.shawnrusselljohnson.com
Calling all HuffPost superfans!
Sign up for membership to become a founding member and help shape HuffPost's next chapter