"It's the stuff of nightmares" -- that's what a Greenwood, South Carolina man said after finding two giant snakes dangling from his hallway ceiling when he returned home from work on Tuesday.
Mark Hyatt had only just passed under his attic door when he returned to find the creepy crawlies "squirming in all their glory" in front of his face.
"They were just slithering around. I could see two heads and their tongues flashing," he told The Huffington Post on Thursday by phone.
"Of course, I was in shock," Hyatt said. "But I thought my dad would really get a kick out of this, so I pulled out my phone and started shooting video."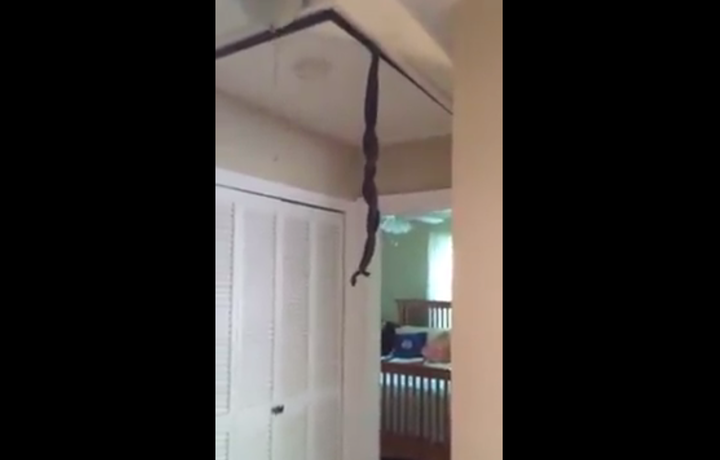 Hyatt's one-minute video has blown up on social media. It's been viewed hundreds of thousands of times on his Facebook page and millions more through other media outlets.
But getting the snakes to go viral was apparently the easy part. Getting them to go was a whole other story.
"I propped my front door open and I used my broom to kind of swat them down to the ground. I made a little barricade that would lead them out the front door," Hyatt said.
One of the snakes successfully made it out the door, only to "charge right back into the house" three times, he said.
Hyatt had to grab the persistent reptile by its tail and toss it outside to finally remove it. As for the second snake, he said, "It's still in my house and I don't know where it is."
"I'm on pins and needles," he added. "I think they're black snakes, so I doubt they're any danger. In fact, I think they're a benefit to have around your property."
That doesn't make the situation any easier, however.
"It's the stuff of nightmares," Hyatt continued. "I'm surprised that I'm laughing about it, because last night I slept in the house and thought, what choice do I have? I left the lights on. I'll eventually have to go into the attic and look around with a flashlight because there could be a whole den up there."
Calling all HuffPost superfans!
Sign up for membership to become a founding member and help shape HuffPost's next chapter
BEFORE YOU GO
PHOTO GALLERY
Creepy Dolls